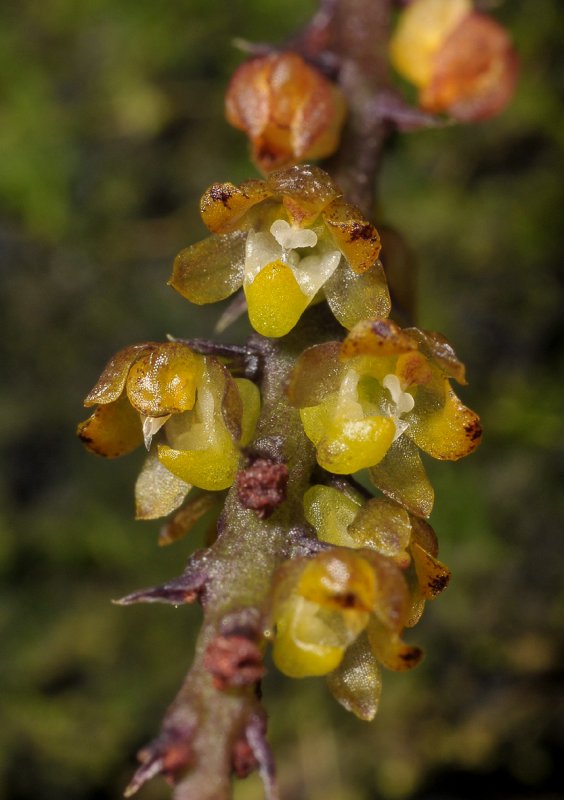 !Abdominea minimiflora (Hook. f.) J.J. Sm. 1917
Another Flower Photo by © Lanhua and Orchid Works Website
Inflorescence Photo courtesy of Andy's Orchids Copyright © 2002 All rights reserved.
Plant and Flowers Photos courtesy of Peter O'Byrne, André Schuiteman, Dr. E.F. de Vogel and Jaap Vermeulen and Their Netherlands National Herbarium Website. and Flora Malesiana Vol III


to



Common Name The Tiny flowered Abdominea
Flower Size .041" [1.2 mm]
Found in Selangor, Perak and Pahang, Malaysia, Borneo, Bali, Java and the Philippines in humid, lowland, hill and lower montane forests at elevations of 150 to 1000 meters on mossy tree trunks as a miniature sized, hot to warm growing epiphyte or lithophyte on limestone with a short, erect to pendant stem completely enveloped by distichous leaf bearing sheaths and carrying 2 ranked, strap-shaped, unequally bidetate apically, plicate, leaves that are basally narrowed to a short petiole that blooms on an erect to spreading, very slender, racemose, to 4 3/4" [12cm] long, many flowered inflorescence with persistent bracts that occurs at any time of the year.
Synonyms Abdominea micrantha J.J.Sm. 1914; Gastrochilus minimiflorus (Hook.f.) Kuntze 1891; Saccolabium cortinatum Ridl. 1898; *Saccolabium minimiflorum Hook. f. 1890; Schoenorchis minimiflora (Hook.f.) Ames 1915; Schoenorchis philippinensis Ames 1915
References W3 Tropicos, Kew Monocot list , IPNI ; Icones Plantarum Vol 22 Hooker 1893 as Saccolabium minimiflorum drawing fide; Orchids of Malaysia Vol 1 Holtum 1953; The Orchids of Thailand Seidenfaden & Smitinand 1963 drawing fide; Encylopedia of Cultivated Orchids Hawkes 1965; Orchids of Java Comber 1990 phot ofide; Orchidiana Philippiana Vol 1 Valmayor 1984; Opera Botanica # 95 Seidenfaden 1988 drawing fide; Rudolf Schlechter Die Orchideen Band 1B lieferung 22 1329 - 1392 Brieger 1989 drawing fide/photo ok; The Orchids of Penninsular Malaysia and Singapore Seidenfadden & Wood 1992 drawing fide; The Plants of Mount Kinabalu Vol 2 Orchids Wood Beaman & Beaman 1993; A Checklist of the Orchids of Borneo Wood & Cribb 1994; Orchids of Borneo Wood, Shim & Lamb Vol 4 2003 photo/drawing fide; Flora Malesiana Orchids of the Philippines Vol I Agoo, Shuiteman and de Vogel 2003; The Orchids of Mount Kinabalu Vol 2 Wood, Beaman, Lamb, Chu Lun and Beaman 2011 drawing/photo fide; Wild Orchids of Penninsular Malaysia Ong, O'Byrne, Yong & Saw 2011 photo fide; A to Z of South East Asian Orchid Species Vol 2 O'Byrne 2011 photo fide; Genera Orchidacearum Pridgeon, Cribb, Chase & Rasmussen Vol 6 Part 3 2014 as Abodominea micrantha;
---------------------------------------------------------------------------------------------------------------