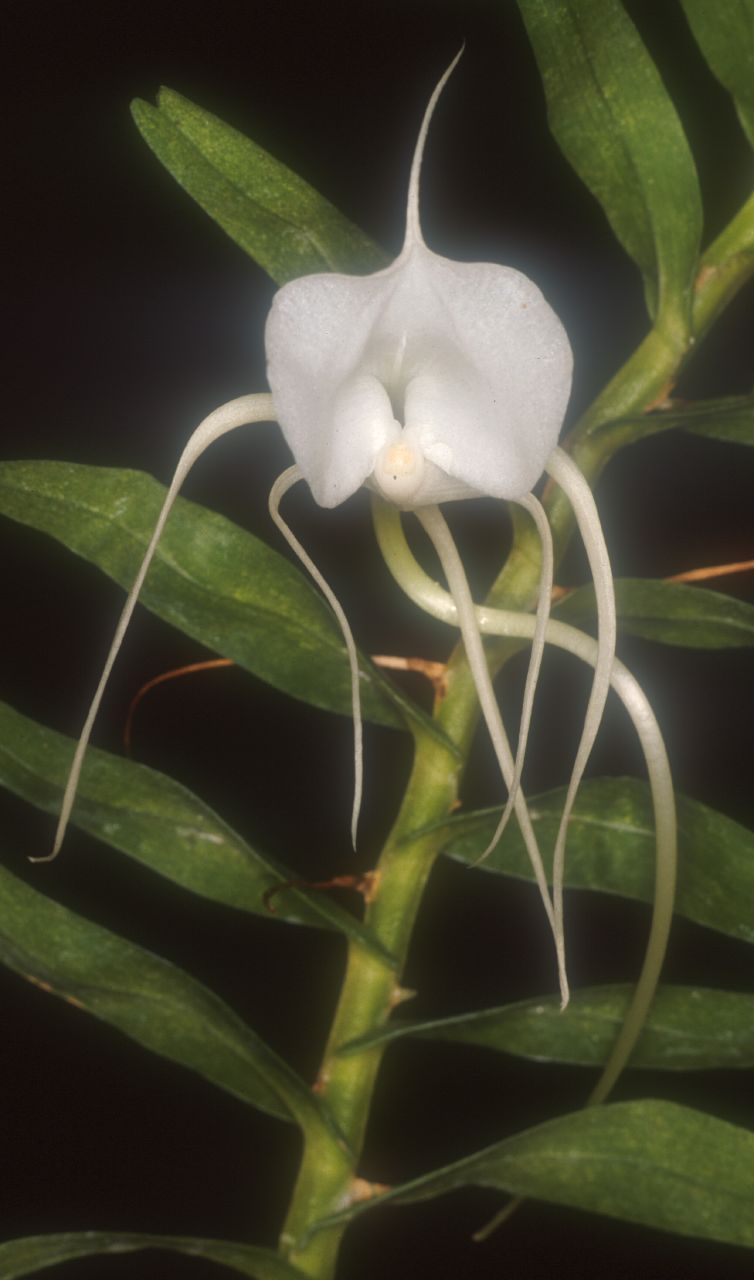 Angraecum germinyanum Hook. f. 1889 SECTION Arachnangraecum Photo © Lourens Grobler.
Plant in situ Reunion Photo by © François Vandeschricke and The Orchidees de Reunion Website



TO


and

Common Name or Meaning Germiny's Angraecum [French count and orchid enthusiast 1800's]
Flower Size 3 1/2" [8.75 cm]
Found in Madagascar at elevations of 1000 to 2000 meters as a small to medium sized, pendant to scandent, cool to cold growing, monopodial epiphyte with an elongated, slender stem carrying distichous, linear-oblong, bright glossy green, unequally bilobed apically leaves that blooms in the spring and summer with a wiry, .76" [1.9 cm] long, single flowered inflorescence that carries a solitary, fragrant jasmine scented, long-lasting, non-resupinate, waxy flower.
Synonyms Angraecum bathiei Schltr. 1925; Angraecum ramosum subsp. bidentatum H. Perrier 1941; Angraecum ramosum var. bathiei (Schltr.) H. Perrier 1941; Angraecum ramosum var. peracuminatum H. Perrier 1941; Arachnangraecum germinyanum (Hook.f.) Szlach., Mytnik & Grochocka 2013; Mystacidium germinyanum (Hook. f.) Rolfe 1904
References W3 Tropicos, Kew Monocot list , IPNI ; Die Orchideen Schlechter 1915; Atlas des Orchidees Cultivees Constantin 1920 as Macroplectron ramosum var germinyanum drawing good; Flora Of Madagascar Perrier 1939/81; Encyclopedia of Cultivated Orchids Hawkes 1964 as Angraecum ramosum; AOS Bulletin Vol 48 #4 1979 as A ramosum var aracnites photo fide; AOS Bulletin Vol 54 No 5 1985 photo fide; An Introduction to the Angraecoid Orchids of Madagascar Hillerman & Holst 1986 as A ramosum subsp bidentatum; An Introduction to the Angraecoid Orchids of Madagascar Hillerman & Holst 1986 as A ramosum var arachinites; An Introduction to the Angraecoid Orchids of Madagascar Hillerman & Holst 1986 as A ramosum var bathei; An Introduction to the Angraecoid Orchids of Madagascar Hillerman & Holst 1986 as A ramosum var peracuminatum; An Introduction to the Angraecoid Orchids Of Madagascar Hillerman & Holst 1986 drawing/photos fide; Miniature Orchids Northern 1988; A Culture Manual for Angraecoid Orchid Growers Hillerman 1992 photo fide; The Illustrated Encyclopedia of Orchids Pridgeon 1992; Manual of Orchids Stewart 1995; Orchid Digest Vol 62 #4 1998 photo fide; AOS Bulletin Vol 67 No 2 1998 photo fide; Boletim CAOB #52 2003; AOS Bulletin Vol 73 no 9 2004 photo fide; Angraecoid Orchids Stewart, Hermans, Campbell 2006; Mille et Une Mini Orchideees Roguenant 2009 photo fide; Orchid Digest Vol 80 #2 2016; AOS Bulletin Vol 86 #6 2017 photo fide; AOS Bulletin Vol 88 #3 2019 photo fide;
--------------------------------------------------------------------------------------------------------------------------