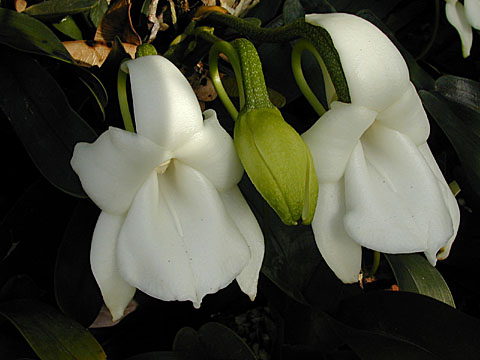 Angraecum magdalenae Schltr. & H. Perrier 1925 SECTION Humblotiangraecum Photo courtesy of Andy's Orchids Copyright © 2002 All rights reserved.



TO


THROUGH

Common Name or Meaning Madalaine's Angraecum [refers to Madelaine Drouhard original collector of species 1900's became wife of Perrier] - The Snow-White Angraecum
Flower Size 3 to 4" [7.5 to 10 cm] Spur 4" [10 cm]
A medium sized, warm to cool growing lithophytic monopodial species found in central Madagascar in areas with a distinct cool, dry season through the winter on or near quartzite boulders in leaf litter around 800 to 2000 meters in altitude with 6 to 8, short, distichous, fleshy-coriaceous, oblong-ligulate, unequally bilobed apically leaves that blooms in the spring through summer on a bracteate, .8 to 1.2" [2 to 3 cm] long inflorescence with yellow, rigid, triangular floral bracts that arises from below the first leaf and can have from 1 to 5, fleshy, large, white, enticingly fragrant flowers.
Synonyms Angraecum magdalenae var. latiilabellum Bosser 1965
References W3 Tropicos, Kew Monocot list , IPNI ; Flora Of Madagascar Perrier 1939/81 drawing fide; AOS Bulletin Vol 49 No 10 1980 photo; Orchid Digest Vol 46 No 3 1982 photo fide; The Illustrated Encyclopedia of Orchids Pridgeon 1982; AOS Bulletin Vol 55 No 2 1986 photo; Rudolph Schlechter Die Orchideen Band 1B lieferung 16/17/18 945-1128 Brieger, Senghas 1985 drawing/photo fide; Cultivated Angraecoid Orchids Of Madagascar Hillerman & Holst 1986 drawing/photo fide; Manual of Cultivated Orchids Bechtel, Cribb, Laurent 1992 photo fide; Manual of Orchids Stewart 1995; Orchid Australia Vol 11 No 6 1999 photo; Botanica's Orchids Laurel Glen 2004; AOS Bulletin Vol 73 no 9 2004 photo; AOS Bulletin Vol 74 No 1 2005 photo; AOS Bulletin Vol 74 No 11 2005 photo; Angraecoid Orchids Stewart, Hermans, Campbell 2006; Orchids of Madagascar Hermans, Du Puy, Cribb & Bosser 2007 photo fide; Field Guide to the Orchids of Madagascar Cribb & Hermans 2009 photo fide
--------------------------------------------------------------------------------------------------------------------------