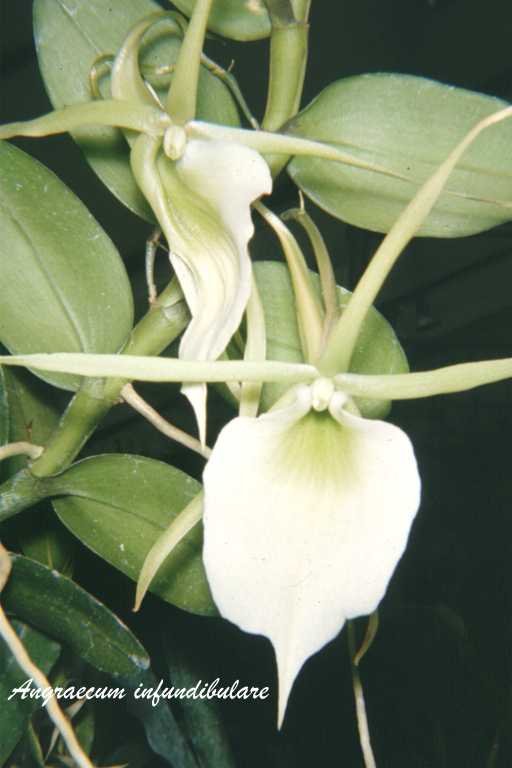 Angraecum infundibulare Lindley 1862 SECTION Arachnangraecum Schlechter Photo by Carl Withner.
Side Flower View Photo by Ben Berliner and Willow Pond Orchids.





and

Common Name or Meaning The Funnel-Shaped Angraecum [refers to the Lip shape]
Flower Size 3 1/2" maximum horizontally and 6 to 8" vertically [8.75 cm x 15 to 20 cm]
A large sized, monopodial, hot to cool growing epiphyte from Nigeria, Cameroon, Principe, Congo, Zaire, Ethiopia, Uganda and Kenya in hot to cool and humid rainforests at elevations of sea leavel to 1350 meters that has an elongated, leafy, terete, somewhat fractifex, rarely branching stem subtended by leaf sheaths and having roots all along the length carrying, thin textured, narrowly oblong-elliptic or oblanceolate, unequally bilobed apically leaves that blooms in the fall and winter on a pendant, 6 to 8" [15 to 20 cm] long, bracteate, solitary flowered inflorescence with long-lasting, strongly fragrant, waxy flowers.
Because this species has roots that occur all along the long rambling stem in the leaves, it is best potted with a moss pole [as for climbing indoor plants] so the stem can be tied up until the roots can enter the pole.
Synonyms Angorchis infundubularis (Lindl.) Kuntze 1891; Eichlerangraecum infundibulare (Lindl.) Szlach., Mytnik & Grochocka 2013; Mystacidium infundibulare [Lindl.] Rolfe 1898
References W3 Tropicos, Kew Monocot list , IPNI ; Die Orchideen Schlechter 1915; AOS Bulletin Vol 32 No 10 1963 photo fide; AOS Bulletin Vol 33 No 5 1964; Encylopedia of Cultivated Orchids Hawkes 1965 photo fide; AOS Bulletin Vol 37 No 10 1968 photo fide; Orchids of East Africa Piers 1968 photos fide; AOS Bulletin Vol 48 No 2 1979 photo fide; Rudolph Schlechter Die Orchideen Band 1B lieferung 16/17/18 945-1128 Brieger, Senghas 1985; An Introduction to the Cultivated Angraecoid Orchids Of Madagascar Hillerman & Holst 1986; Flora of Tropical East Africa Orchidaceae Part 3 Cribb 1989 photo/drawing fide; The Manual of Cultivated Orchids Bechtel, Cribb, Laurent 1992 photo fide; The Illustrated Encyclopedia of Orchids Pridgeon 1992; Manual of Orchids Stewart 1995; Orchids of Kenya Stewart 1996 photo fide; African Orchids in the Wild and Cultivation La Croix 1997; AOS Bulletin Vol 72 No 4 2003 photo fide; Flora's Orchids Nash & La Croix 2005; Field Guide to the Ethiopian Orchids Demissew, Cribb & Rasmussen 2004; AOS Bulletin Vol 83 #9 2014 photo fide; AOS Bulletin Vol 85 #12 2016 photo fide; Angraecoid Orchids Stewart, Hermans, Campbell 2006; AOS Bulletin Vol 86 #6 2017 photo fide; AOS Bulletin Vol 88 #3 2019 photo fide;
--------------------------------------------------------------------------------------------------------------------------