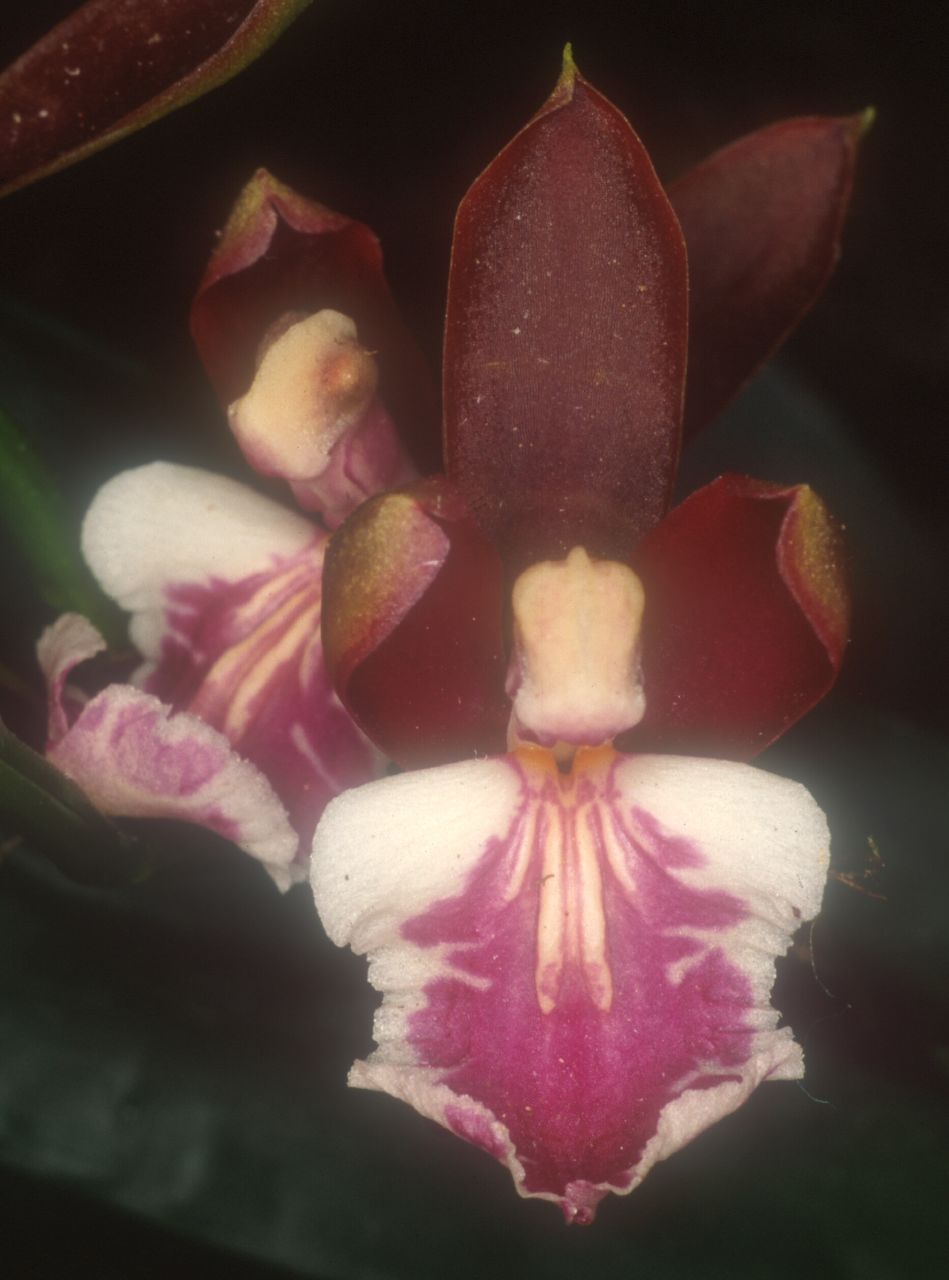 !Aspasia epidendroides Lindley 1834
Photo by © Lourens Grobler.
Photo by Jay Pfahl
Photo courtesy of Eric Hunt





TO

Common Name The Epidendrum-Like Aspasia
Flower Size 1 1/2" long [3.75 cm]
Found as a large sized, hot to warm growing epiphyte at elevations below 1000 meters in Guatemala, Honduras, Nicaragua, Costa Rica, Panama, and northern South America overhanging rivers in moist forests and have compressed, ovate pseudobulbs and two to three apical, linear-oblong, to narrowly lanceolate, acute or acuminate, subcoriaceous leaves that blooms in the late fall on an erect, 4 to 10" [10 to 25 cm] long, basal, racemose inflorescence with scarious, appressed, acuminate floral bracts arising on a newly formed pseudobulb and has a few longlasting, distichously arranged, color variable, fragrant flowers that open in sucession from winter through spring.
A fragrant, winter to fall bloomer that is often used in hybridizing and makes the new genera Miltassia when crossed with Miltonia. I grow mine in a pot with OFE special mix with a handful of Fennel rock [expanded shale] added to drain faster. It needs crowded pot conditions and hot to warm temperatures to flower best.
Synonyms Aspasia barclayi Rolfe, Bull. 1892 ; Aspasia fragrans Kl. 1853; Odontoglossum aspasia Rchb.f 1861
References W3 Tropicos, Kew Monocot list , IPNI ; Lankester's Epidendra Website CR; *Gen. Sp. Orchid. Pl. 139. 1832; Xenia Orchidaceae Rchb.f 1854 drawing; Die Orchideen Schlechter 1915; Atlas des Orchidees Cultivees Constantin 1920 drawing good; Repert. Sp. Nov. Regni. Veg. Beih. 17: 76. Panama Schlechter 1922; Repert. Sp. Nov. Regni. Veg. Beih. 19: 62. Costa Rica Schlechter 1923; Repert. Sp. Nov. Regni. Veg. Beih. 19: 251. Costa Rica Schlechter 1923; Orchids of Belize and Guatemala Ames & Correl 1952/85; The Orchids of Panama L.O. Williams & P Allen 1946 drawing good; AOS Bulletin Vol 28 No 6 1959 photo ok; Encyclopedia of Cultivated Orchids drawing fide 1965; Orchid Digest Vol 38 No 2 1974 photo fide; Orquideas de El Salvador Hamer 1974 drawing/photo fide; AOS Bulletin Vol 48 No 3 1979 as E epidendroides var principissa drawing fide; AOS Bulletin Vol 48 No 3 1979 photo fide; AOS Bulletin Vol 49 No 2 1980; Icones Planetarum Tropicarum Plate 604 Hamer 1982 drawing fide; Orchids Of Panama Williams 1985; Simon & Schuster's Guide to Orchids Fanfani & Rossi 1988; Selbyana Vol 10 Orchids of Central America Hamer 1988 drawing fide; Orchids Travel By Air A Pictoral Safari Mulder, Mulder-Roelfsema and Schuiteman 1990 photo fide; The Manual of Cultivated Orchids Bechtel, Cribb, Laurent 1992 photo fide; The Illustrated Encyclopedia of Orchids Pridgeon 1992; Icones Planetarum Tropicarum Plate 1502 Mora & Atwood 1993 drawing fide; A field Guide to the Orchids of Costa Rica and Panama Dressler 1993; Manual of Orchids Stewart 1995; Rudolf Schlechter Die Orchideen Band 1C lieferung 33 - 36 2057 - 2308 Brieger 1997 photo fide; Fieldiana Biology, Flora Costa Ricensis Family # 39 Orchidaceae, subtribes Maxillariinae and Oncidiinae Atwood & Mora 1999 drawing fide; The Pictoral Encyclopedia of Oncidium Zelenko 2001; Vanishing Beauty, Native Costa Rican Orchids Vol 1 Pupulin 2005 photos fide; Orchid Species Culture: Oncidium, Bakers 2006; Orchids of Tropical America an introduction and guide Meisel 2014 photo fide; Orchid Genera and Species in Guatemala Archila, Szlachchetko, Chiron, Lipinska, Mystkowska and Bertolini 2018 photo fide
--------------------------------------------------------------------------------------------------------------------------------------------------------------------------------------------------------------