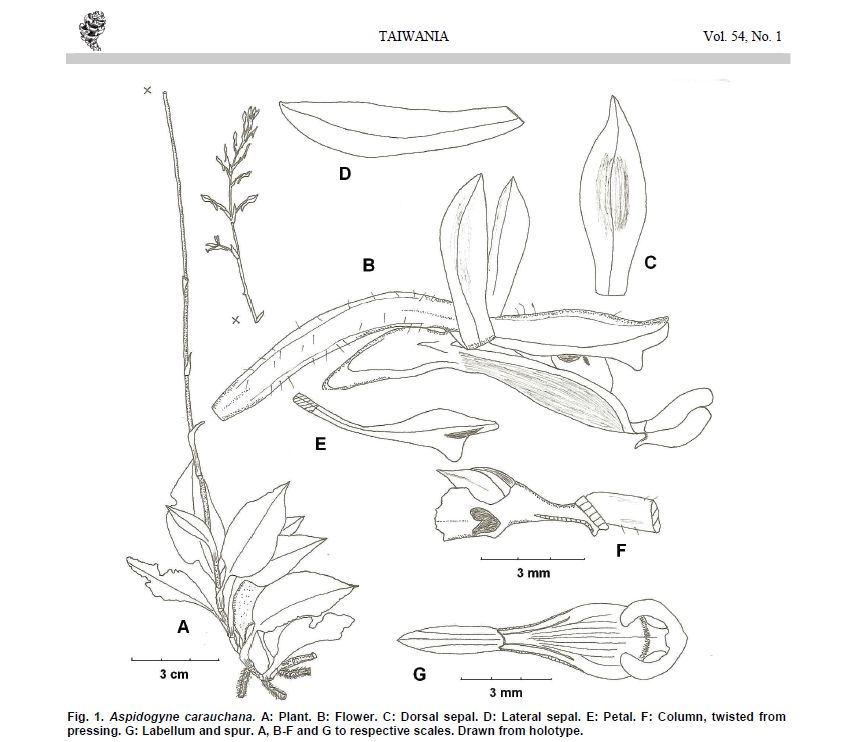 Aspidogyne carauchana Ormerod 2009 TYPE Drawing by © Paul Ormerod and The Notulae Goodyerinae IV, Taiwania Website


LATER

Common Name The Caraucha Range Aspidogyne [A mountain range within Cundinamarca Colombia]
Flower Size .12" [3 mm]
Found in Cundinamarca Colombia at elevations below 1800 meters [the type was reported to be found at an elevation of 2200 meters but this is impossible as the highest elevation in this area is 2000 meters] as a small sized, cool growing terrestrial with a basally decumbent stem becoming erect carrying 10, obliquely ovate-elliptic, acute to subacuminate, narrowing below into the petiolate base leaves that blooms in the later spring on an erect, pubescent, 10.2" [25.5 cm] long overall, peduncle to 7.2" [18 cm] long, 3 bracted, lax, lowest subfoliose, rachis to 3" [7.5 cm] long, laxly 15 flowered inflorescence with ovate-lanceolate, subacuminate floral bracts.
Similar to A colombiana but A carauchana has petals with a distinct obtuse lobule near the apex and the lip has a fusiform spur that is .14" to .16" [3.5 to 3.7 mm] long.
Similar to A chocoensis but A carauchana has 10 leaves [compared to 4 to 5] a narrowly fusiform spur and narrower lateral sepals [1.4 vs 2mm] as well as petals with a less distinct callosity.
Synonyms
References W3 Tropicos Kew Monocot list , IPNI ; *TAIWANIA, 54(1): 45-51 Ormerod 2009 drawing fide;
-----------------------------------------------------------