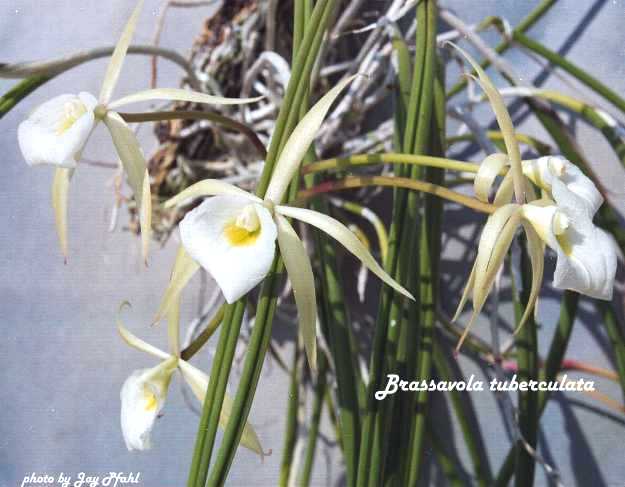 Brassavola tuberculata Hooker 1829 SUBGENUS Sessililabia SECTION Conchoglossa Photo by © Jay Pfahl



to

LATE

to EARLY

Common Name Rough or Tuberculated Brassavola
Flower Size 2 1/2 to 3" [6.25 to 7.5 cm]
Found in Brazil, Paraguay and Bolivia from the cool mountains to the hot, lower savannahs, it certainly prefers a hot to warm environment with bright light and high humidity. The mostly pendant growing plant has very slender, stem-like, strongly sulcate pseudobulbs carrying a single, terete, acute, sulcate, pendulous, whiplike leaf and blooms in the late spring and early summer on a short racemose inflorescence that is shorter than the leaves with up to 6 flowers that are highly fragrant at night.
Water regularly while in growth and give a slightly drier winter. They do well mounted on tree fern or cork and in nature are found as an epiphyte or lithophyte in varied habitats.
Synonyms Bletia tuberculata [Hkr.]Rchbf 1861; Brassavola fragrans Lemaire 1853; Brassavola gibbsiana Wms. 1877; Brassavola trinervis Lindley 1831; Brassavola tuberculata Barb. Rodr. 1882; Tulexis bicolor Raf. 1836
References W3 Tropicos, Kew Monocot list , IPNI ; Xenia Orchidaceae vol 2 Rchb.f 1862 as Bletia tuberculata; Die Orchideen Schlechter 1915; Atlas des Orchidees Cultivees Constantin 1920 drawing ok Encyclopedia of Cultivated Orchids Hawkes 1965;Orchidaceae Brasilense Band 1 Pabst & Dungs 1975 drawing fide; The Manual of Cultivated Orchids Bechtel, Cribb, Laurent 1992 photo fide; Die Orchideen 3 Auflage Bd 1 Sonderabdruck aus Schlechter Lieferung 10 576 - 632 Brieger, Maatsch and Senghas 1977 photo ok; Orchids of Brazil McQueen 1993 photo good; Manual of Orchids Stewart 1995; AOS Bulletin Vol 65 No 7 1996 photo; The Cattleyas and Their Relatives Vol V Withner 1998 drawing ok; Orchidaceae Brasilense Pabst & Dungs 1972; Manual of Cultivated Orchids Bechtel, Cribb & Laurent 1982; Orquideas Da Chapada Diamantina Brito & Cribb 2005; 100 Orquideas Argentinas Freuler 2005 photo fide; Orchid Digest vol 71 #4 Oct, Nov, Dec 2007drawing/photo fide; AOS Bulletin Vol 77 No 4 2008 photo; Orchid Species of Peru Zelenko Bermudez 2009 photo fide; Mille et Une Mini Orchideees Roguenant 2009 photo fide; Orchidees du Bresil As Orquideas da Serra do Castello, Espirito Santo Brasil Chiron & Bolsanello 2013 drawing/photo not!!!
--------------------------------------------------------------------------------------------------------------------------