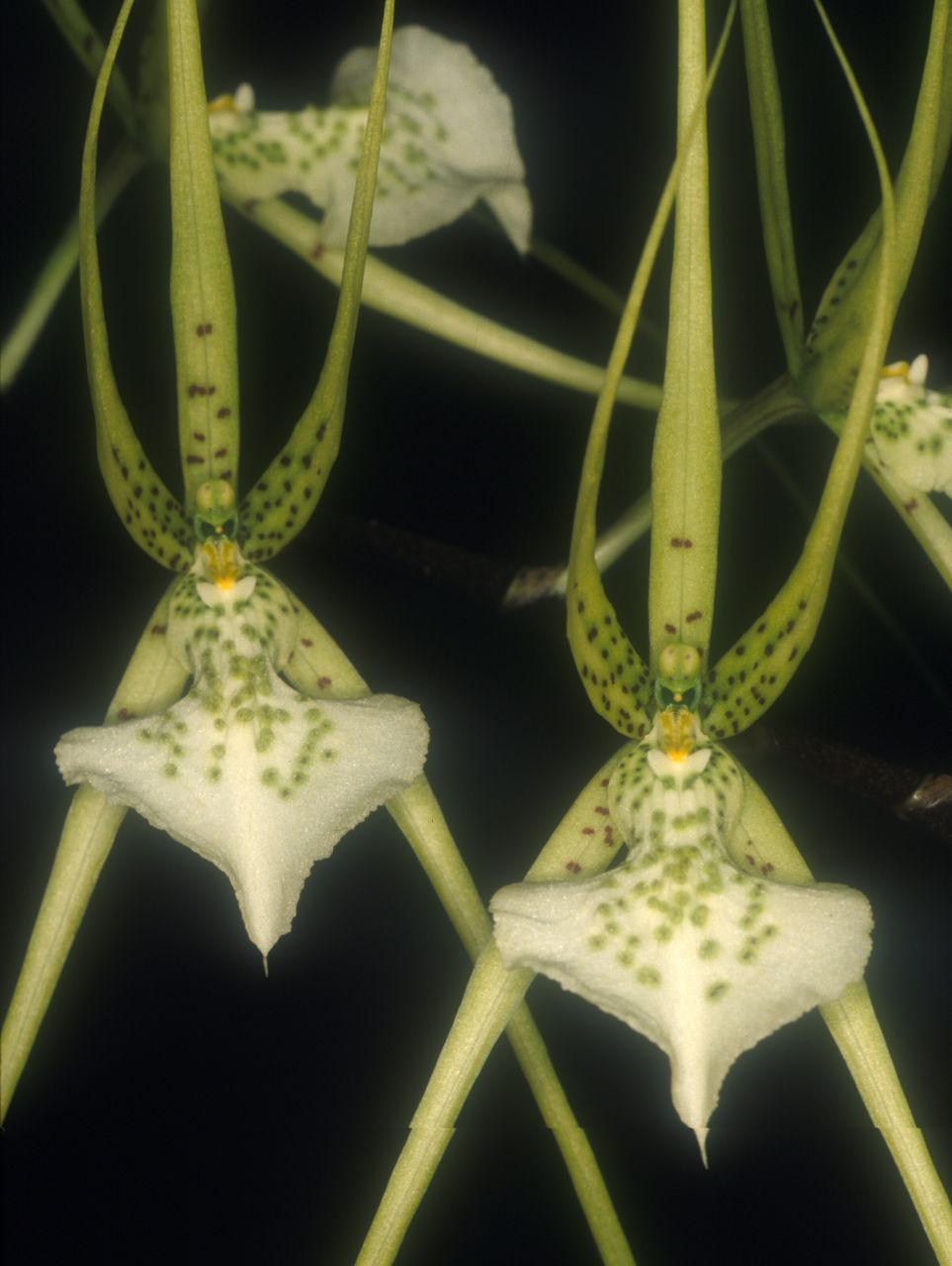 Brassia verrucosa Lindley 1840
Photo by © Lourens Grobler



To

LATE

TO EARLY

Common Name The Warty Brassia
Flower Size 6" or less
Found in Mexico, Guatemala, Belize, El Salvador, Honduras, Nicaragua and Venezuela as a large sized, warm to cold growing epiphyte of open humid, evergreen to semi-deciduous cloud forests on tree trunks and larger branches at elevations of 900 to 2400 meters with ovoid-conic, furrowed, slightly laterally compressed pseudobulbs subtended by 1 to 2 foliaceous bracts and has 2, coriaceous, elliptic-lanceolate leaves that are conduplicate at the base. They flower in the late spring through the early autumn on a basal, to more than 2' [60 cm] long, erect to arching inflorescence arising on a mature pseudobulb which are strongly 2 ranked and carry many [10 to 20] flowers that are slightly scented of black pepper and need regular waterings and fertilizer year round.
The lip of B verrucosa when flattened is oblong-obovate and is essentially unlobed and the flowers are smaller than B brachiata.
It is distinguished from the other Brassia by the green warts on the base of the lip.
Plants found in Costa Rica, Panama and Peru and Brazil with this name are either B brachiata [Central America] or B bidens [Peru and Brazil].
Synonyms Brassia aristata Lindley 1844; Brassia brachiata Lindley 1842; Brassia coryandra C. Morr. 1848; Brassia cowani R.H. Torr. ex Lindl. 1854; Brassia longiloba DC 1848; Brassia odontoglossoides Klotsch & Karst. 1847; Brassia ophioglossoides Klotzsch & Karst.; Oncidium brachiatum Rchb.f 1864; Oncidium verrucosum [Lindley]Rchb.f 1863
References W3 Tropicos, Kew Monocot list , IPNI ; The Orchids of Mexico and Guatemala Bateman 1843 drawing fide; Bonplandia Rchb.f 1855 as B brachiata; Die Orchideen Schlechter 1915 as B brachiata; Die Orchideen Schlechter 1915; AOS Bulletin Vol 28 #1 1959 photo fide; Orquedias de El Salvador Vol 1 Hamer 1960; AOS Bulletin Vol 30 No 9 1961; Encyclopedia of Cultivated Orchids Hawkes 1965; Flora de Venezuela Volumen XV Part 5 Foldats 1970 drawing not = B bidens; AOS Bulletin Vol 48 No 5 1979; Orquídea (Mexico City), n.s., 7[3]: 1979; AOS Bulletin Vol 50 No 3 1981 photo fide; Orquideologia Vol 15 #1 Luer & Escobar 1981 photo good; Las Orquideas De El Salvador Vol 3 Hamer 1981 drawing ok/photo fide; Icones Planetarum Tropicarum plate 625 Hamer 1982 drawing fide; Illustrated Encyclopedia of Orchids Pridgeon 1982; Orchids of Guatemala & Belize Ames & Correll 1985 as B brachiata; AOS Bulletin Vol 55 No 11 1986 photo fide; An Introdution to the orchids of Mexico Wiard 1987 photos fide; Simon & Schusters Guide to Orchids Fanfani & Rossi 1988; Selbyana Vol 10 Orchids of Central America Hamer 1988 drawing fide; The Manual of Cultivated Orchids Bechtel, Cribb, Laurent 1992 photo fide; Icones Planetarum Tropicarum plate 1510 Mora & Atwood 1993 drawing ok; Manual of Orchids Stewart 1995; Guatemala Y Sus Orquideas Behar & Tinschert 1998 photo fide; Fieldiana Biology, Flora Costa Ricensis Family # 39 Orchidaceae, subtribes Maxillariinae and Oncidiinae Atwood & Mora 1999 drawing fide; Rudolf Schlechter Die Orchideen Band 1C lieferung 33 - 36 2057 - 2308 Brieger 1997 photo fide; AOS Bulletin Vol 72 No 3 2003 photo fide; AOS Bulletin Vol 72 No 4 2003 photo fide; Manual De Plantas de Costa Rica Vol III Hamel, Grayum, Herrera and Zamora 2003; Flora's Orchids Nash & La Croix 2005; AOS Bulletin Vol 74 No 2 2005 photo fide; AOS Bulletin Vol 74 No 3 2005 photo; Vanishing Beauty, Native Costa Rican Orchids Vol 1 Pupulin 2005 photo fide; AOS Bulletin Vol 75 No 10 2006 photo fide; Orchid Species Culture: Oncidium, Bakers 2006 as B brachiata; Orchid Species Culture: Oncidium, Bakers 2006; AOS Bulletin vol 78 No 5 2009 photo ok; Orchid Species of Peru Zelenko Bermudez 2009 photo fide; Orchids of Costa Rica Vol 1 Morales 2009 photo fide; Guia de Orquideas de Chiapas Carlos Rommel Beutelspacher Baigts 2013 photo fide; Algunas Orquideas de Mexico Tomo 1 Suarez 2013 as B brachiata photo fide; Algunas Orquideas de Mexico Tomo 1 Suarez 2013 photo fide; Orchid Digest Vol 80 #2 2016; AOS Bulletin Vol 87 #1 2018 photo fide; Orchid Genera and Species in Guatemala Archila, Szlachchetko, Chiron, Lipinska, Mystkowska and Bertolini 2018
--------------------------------------------------------------------------------------
---------------------------------------------------------------------------------------------------------------------------------