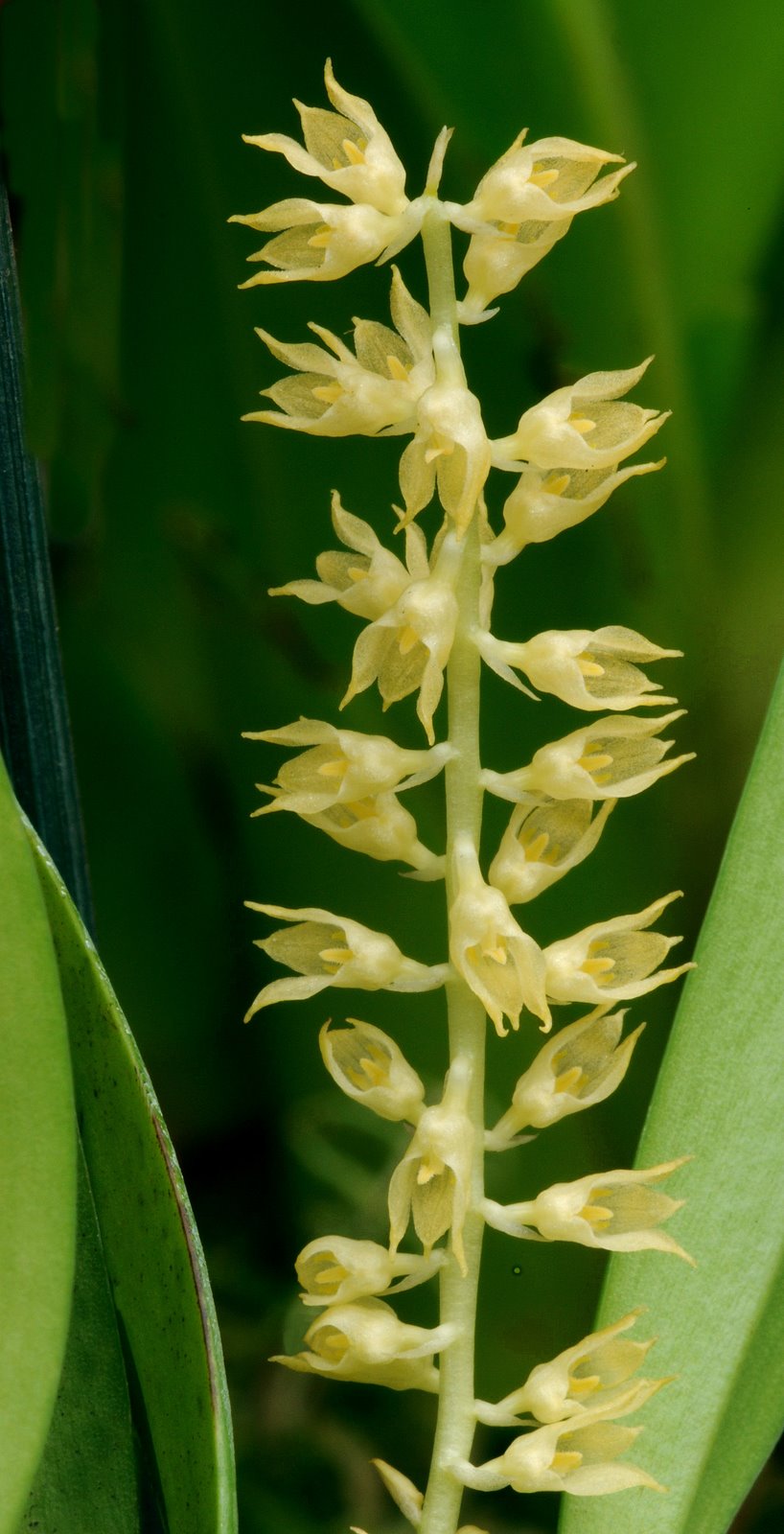 Bulbophyllum flavescens (Blume) Lindl. 1830 SECTION Stachysanthes (Bl.) J.J. Verm. & P. O'Byrne 2008
Photo by © Art Vogel
Photos by © Gary Yong Gee and his Orchid Website




Common Name The Yellowish Bulbophyllum
Flower Size 1/4" to .8" [6 mm to 2 cm]
Found in Malaysia, Borneo, Java, The Philippines and Sumatra in lowland and montane forests at elevations of 30 to 3800 meters as a small sized, hot to cool growing epiphyte with 4" [10 m] between each disc-shaped to globose pseudobulbs carrying a single, apical, erect, linear, acute petiolate basally leaf that blooms in the spring on 1 to 2, 8 to 10" [20 to 25 cm] long, many [30 to 50] flowered, racemose inflorescence with 3 lanceolate, acute, well spaced bracts.
Very similar to B caudatisepalum but differs by not having a large basal sheath enveloping the pseudobulb, leaf base and inflorescence.
The first photo is correct to the lip drawing of B flavescens by Seidenfaden in Peninsular orchids of Malaysia and Singapore but not the flower drawing. The second and third photo does not apply to Seidenfadens drawing but it does to the photo in Orchids of Sumatra and the drawing/photo in The Orchids of Mt Kinabalu vol 2 Wood etal 2011, I await more information. As all the drawings that I have found, not one is the same, I have to think that this is a variable flowered orchid and as such can have very different lips [but all similar] and short to long sepals.
Synonyms Bulbophyllum adenopetalum Lindl. 1842; Bulbophyllum barrinum Ridl. 1912; Bulbophyllum exiliscapum J.J.Sm. 927; Bulbophyllum flavescens var. temelense J.J.Sm. 1931; Bulbophyllum flavescens var triflorum J.J.Sm. 1905; Bullbophyllum lanceolatum Ames & C.Schweinf. 1920; Bulbophyllum montigenum Ridl. 1894; Bulbophyllum puberulum Ridl. 1896; Bulbophyllum ramosii Ames 1912; *Diphyes flavescens Blume 1825; Phyllorchis adenopetala (Lindl.) Kuntze 1891; Phyllorchis flavescens (Blume) Kuntze 1891
References W3 Tropicos, Kew Monocot list , IPNI ; Bonplandia Rchb.f 1857; Die Orchideen Von Java J.J.Sm. 1905; Die Orchideen Von Java Figuren Atlas J.J.Smith 1908 drawing fide; Studies in the Family Orchidaceae Fascile 2 Ames 1908 as B adenopetalumThe Orchidaceae of New Guinea Schlechter 1913; Flora of Malaysia, Vol 1 Orchids Holttum 1957; The Complete Writings on Philippine Orchids Vol 1 Quisumbing 1981 as B adenopetalum; Orchidiana Philippiana Vol 1 Valmayor 1984 as B adenopetalum; Orchids of Java Comber 1990 photo?; Orchids of Borneo Vol 2 Vermuellen 1991 drawing/photo fide; Orchids of Penninsular Malaysia and Singapore Seidenfadden 1992 drawing?/photo ?; Orchids of Malaya Segerback 1992 as B adenopetalum photo good; The Plants of Mount Kinabalu Vol 2 Orchids Wood Beaman & Beaman 1993; A Checklist of the Orchids of Borneo Wood & Cribb 1994 drawing ok; Orchids of Sarawak Beaman & Wood 2001; Bulbophyllum and Their Allies Siegerist 2001; Orchids of Sumatra Comber 2001 photo fide; Wild Orchids of the Cameron Highlands REACH 2009 photo fide; AOS Bulletin Vol 80 #10 2011 photo fide; The Orchids of Mount Kinabalu Vol 2 Wood, Beaman, Lamb, Chu Lun and Beaman 2011 drawings fide/ photo ok; Wild Orchids of Penninsular Malaysia Ong, O'Byrne, Yong & Saw 2011 photo fide; Philippine Native Orchid Species Cootes 2011 photo fide; Orchid Digest Vol 77 #3 2013 photo fide; Bulbophyllum of Borneo J J Verm, P O'Byrne and Lamb 2015 photos/drawing fide; Phytotaxa 369 (1) Averyanov etal 2018: New species of Bulbophyllum (Orchidaceae) photo/drawing fide
----------------------------------------------------------------------------------------------------------