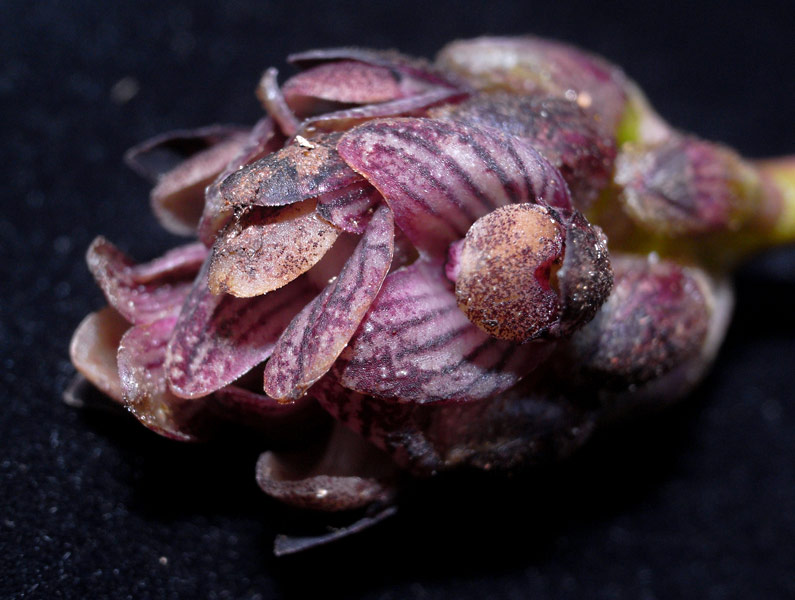 Bulbophyllum apiferum Carr 1930SECTION Brachystachyae Benth. & Hook. f. 1883 Photo by © Peter O'Byrne and the Swiss Orchid Foundation at the Jany Renz Herbaria Website.
Inflorescence Photo by MR.TIPOL RUANGAKSORN and Exotic Bulbophyllum


to



Common Name The Bee Carrying Bulbophyllum
Flower Size 1/4" [6 cm]
Found in Thailand and Malaysia as a small sized, warm to cool growing epiphyte with close set, ovoid pseudobulbs carrying a single, apical, erect, stiff, apically rounded and very shortly pointed leaf that basally narrows into a petiole and blooms in the winter and spring on a slender, erect, then drooping at an obtuse angle, 6" [15 cm] long inflorescence with 14 flowers in a tight apical cluster.
Synonyms Bulbophyllum holttumii A.D.Hawkes 1956
References W3 Tropicos, Kew Monocot list , IPNI ; Orchid Genera in Thailand VIII Bulbophyllum Thou. Seidenfadden 1990 as B holttumii; Orchids of Malaya Holttum 1957 as B holttumi; Orchids of Penninsular Malaysia and Singapore Seidenfaden & Wood 1992 as B holttumii drawing close; Thirty Two New Species of Bulbophyllum (Orchidaceae)from Sulawesi J.J. VERMEULEN 1 AND P. O'BYRNE Gard. Bulletin Singapore 60 (1): 73-153 2008 as B holttumii; Wild Orchids of Penninsular Malaysia Ong, O'Byrne, Yong & Saw 2011 as B holttumii photo fide
----------------------------------------------------------------------------------------------------------