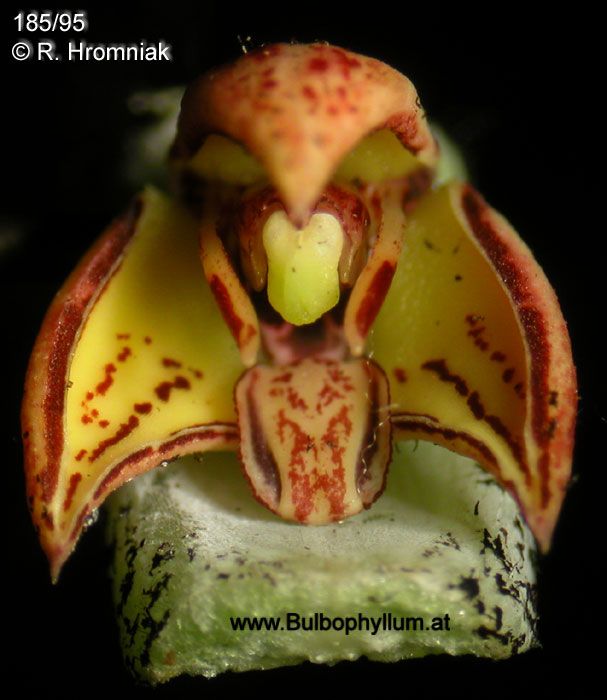 Bulbophyllum lupulinum Lindl. 1862 SECTION Oreonastes G A Fischer & J J Verm in prep.
Photos by Rudi Hromniak and his © and his Orchid Webpage





Common Name The Hops-Like Bulbophyllum [refers to the bracts of the Inflorescence]
Flower Size 1/4" [.65mm]
Found in Guinea, Ivory Coast, Nigeria, Sierra Leone, Togo, Congo, Zaire, Ethiopia Zambia in riverine forests at elevations of 1000 to 1700 meters as a small to medium sized, warm to cool growing epiphyte or lithophyte with 1.2 to 5.2" [3 to 13 cm] between each, ovoid to ellipsoid, slightly compressed, sharply 4 angled pseudobulbs carrying a single to two, lanceolate, to linear-lanceolate, obtusely emarginate, apically gradually narrowing below into the shortly petiolate base leaves that blooms in the fall and winter on an erect, slightly flattened, to 6 to 15.2" [15 to 38 cm] long, 28 to 68 flowered inflorescence with tufted hairs and enveloped below by 10 scarious sheaths and large, scarious, imbricate, triangular, grey-purple with some fine dark hairs, recurved, longer than the flowers floral bracts and carrying distchous, several opening together, not widely opening flowers.
Synonyms Bulbophyllum ituriense De Wild. 1921; Bulbophyllum urbanianum Kraenzl. 1899; Phyllorchis lupulina (Lindl.) Kuntze 1891;
References W3 Tropicos, Kew Monocot list , IPNI ; Orchid Monographs Vol 2 - A Taxonomic Revision of the Continental African Bulbophyllinae Vermeullen 1987 photo/drawing fide AOS Bulletin Vol 32 # 10 1963; Flora Zambesiaca Vol 11 Orchidaceae Part 1 Pope 1995; AOS Bulletin Vol 79 #3 2010 drawing/photo fide; Genera Orchidacearum Vol 6 Epidendroideae Pt 3 Pridgeon, Cribb Chase & Ramussen 2014; Orchidaceae Of West Central Africa Vol 2 Szlachetko, Ejsmont, Baranow, Grochocka, Nowak, Margonska and Naczk 2015 drawing/photo fide
----------------------------------------------------------------------------------------------------------