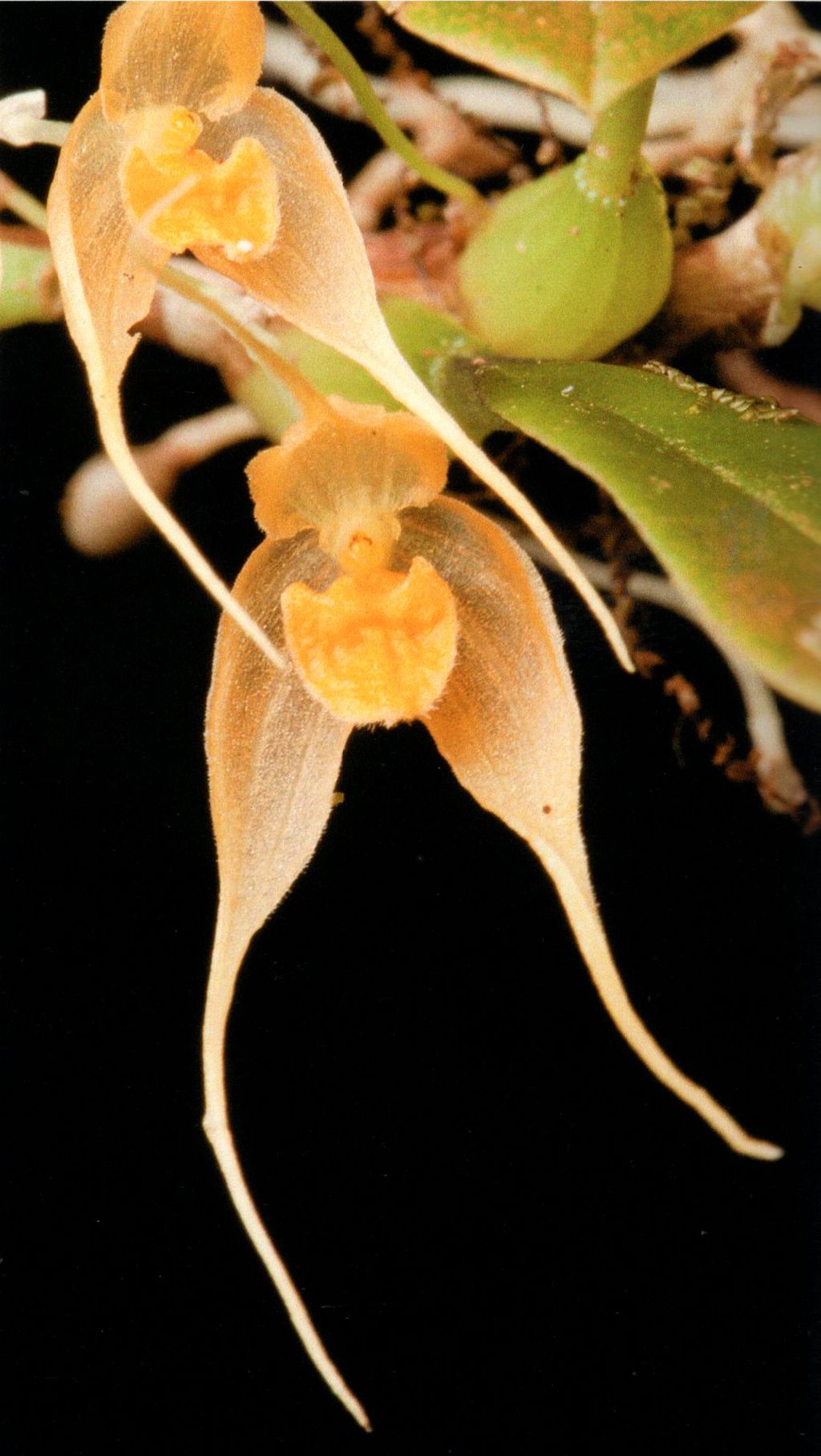 Bulbophyllum minutipetalum Schltr 1913 SECTION Peltopus Schlechter 1913
Photo by © Andre Shuiteman
Photo courtesy of Photo by Leslie Garay Copyright © 1998, 1999 All rights reserved.


to


to

Common Name The Small-Petaled Bulbophyllum
Flower Size 5/8" [1.5 cm]
Found in Papua New Guinea and New Guinea in montane forests on mossy trunks of small trees as a miniature sized, warm to cool growing, unifoliate epiphyte at elevations of 1900 to 2000 meters with subcylindric pseudobulbs carrying a single, apical, erect, ligulate, acute, glabrous leaf with the base narrowly subpetiolate that blooms in the winter and spring on a 2" to 2 3/4" [5 to 7 cm] long, basal, single flowered inflorescence that holds the wide open flower below the leaves.
This species grows in deep shade annd needs cool to hot temperatures, a moisture holding medium and regular fertilizer to grow well in captivity.
Synonyms Bulbophyllum blepharadenium Schltr. 1919; Bulbophyllum squamipetalum Schltr. 1919; Peltopus minutipetalus (Schltr.) Szlach. & Marg. 2001
References W3 Tropicos, Kew Monocot list , IPNI ; *Orchidaceae of German New Guinea Schlechter 1913 drawing fide; Orchids of Vanuatu Lewis & Cribb 1989 drawing ok; Orchid Monographs Vol 7 Vermuellen 1993 drawing/photo fide; AOS Bulletin Vol 66 No 6 1997 photo fide; Bulbophyllums and Their Allies Seigerist 2001 photo fide; Malesian Orchid Journal Vol 20 2017 photo fide;
----------------------------------------------------------------------------------------------------------