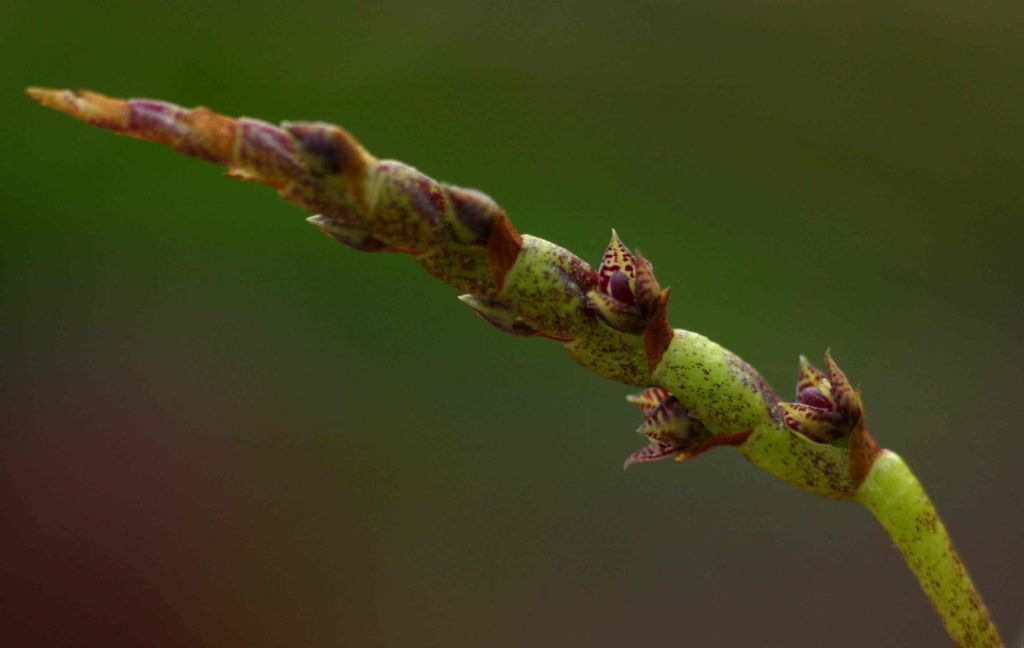 Bulbophyllum unifoliatum De Wild. 1921 SECTION Oreonastes G A Fischer & J J Verm in prep.
Plant In Situ Zimbabwe Photo by Bart Wursten ©, and his Flora Of Zimbabwe WebSite


LATE


Common Name The One Leafed Bulbophyllum
Flower Size .
Found in Rwanda, Zaire, Tanzania, Angola, Malawi, Mozambique, Zambia and Zimbabwe in riverine and submontane forests at elevations of 1100 to 1500 meters as a miniature sized, warm growing epiphyte with .6" [1.6cm] between each, yellow green, four-angled pseudobulbs carrying a single, apical, erect, coriaceous, oblong, apically unequally bilobed, gradually narrowing below into the conduplicate base leaf that blooms in the late spring and early summer on a basal, purple, erect, bent midway to horizontal, 4" [10 cm] long, many flowered inflorescence with tubular, acute bracts and carrying all the flowers in the apical 1/3 and has floral bracts that partly conceal the flowers.
The orchid in the photograph is Bulbophyllum unifoliatum subsp. infracarinatum (G.Will.) J.J.Verm. 1987 and differs from the type in having a glabrous to very finely papillose lip and slightly smaller flowers.
Synonyms Bulbophyllum carinatum G.Will. 1980; Bulbophyllum flectens P.J.Cribb & P.Taylor 1980; Bulbophyllum infracarinatum G.Will. 1981; Bulbophyllum unifoliatum subsp. flectens (P.J.Cribb & P.Taylor) J.J.Verm. 1987; Bulbophyllum unifoliatum subsp. infracarinatum (G.Will.}j.j.Verm. 1987
References W3 Tropicos, Kew Monocot list , IPNI ; The Orchids of South Central Africa Williamson 1977 drawing ok; Malawi Orchids Vol 1 La Croix 1983 as Bulb carinatum and B flectens drawings fide; Flora of Tropical East Africa Orchidaceae Vol 2 Cribb 1984 as B flectens; Orchid Monographs Vol 2 African Bulbophyllinae Vermuellen 1987 drawing fide; Orchid Monographs Vol 2 African Bulbophyllinae Vermuellen 1987 as B unifolium var infracarinatum drawing fide; Orchid Monographs Vol 2 African Bulbophyllinae Vermuellen 1987 as B unifolium var flectum drawing fide; Flora Zambesiaca Vol 11 Orchidaceae Part 1 Pope 1995; Flora Zambesiaca Vol 11 Orchidaceae Part 1 Pope 1995 as B unifoliatum subsp infracarinatum; Bulbophyllum and Their Allies Siegerist 2001 as B flectens; Orchidaceae Of West Central Africa Vol 2 Szlachetko, Ejsmont, Baranow, Grochocka, Nowak, Margonska and Naczk 2015 drawing good/photo fide
----------------------------------------------------------------------------------------------------------