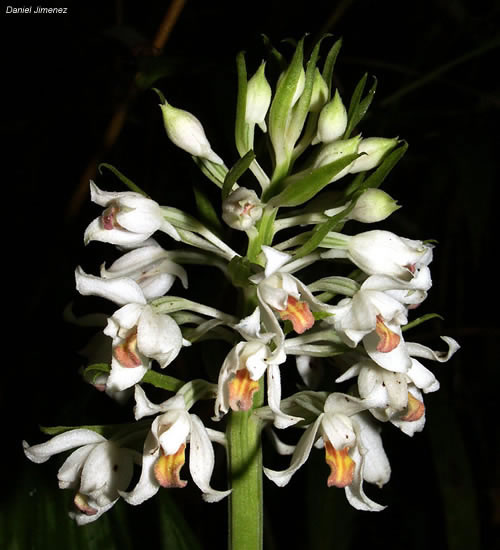 Calanthe calanthoides (A.Rich. & Galeotti) Hamer & Garay 1974 SUBGENUS Calanthe SECTION Ghiesbreghtia
Photo by © Daniel Jimenez.
Photo by Carl Withner.






Common Name The Calanthe-Like Calanthe
Flower Size 5/8" [1.5 cm]
Found in Mexico, Guatemala, Honduras, Costa Rica, Panama, Colombia, Haiti, Dominican Republic, Cuba and Jamaica as a medium sized, cool to cold growing terrestrial in cold shady habitats in montane and lower montane forests at elevations of 1750 to 2600 meters with light green corms enveloped by sheaths of the leaves and foliaceous bracts with oblong-elliptic, acute to acuminate, plicate, prominently veined leaves and is conduplicate at the base into a conspicuous petiole that blooms in the winter again in the summer and again in the fall on a terminal, 2'4" [70 cm] long, erect, many flowered inflorescence that is as long or longer than the leaves and subtended by conspicuous, acute to acuminate bracts.
The plant turns blue if damaged or bruised.
Synonyms Alismorkis granatensis (Rchb.f.) Kuntze 1891 ; Alismorkis mexicana (Rchb. f.) Kuntze 1891; Calanthe cubensis Linden & Rchb.f 1856; Calanthe granatensis Rchb.f. 1856; Calanthe mexicana A Rich & Gale. ex Rchb.f 1844; Calanthe mexicana Rchb.f. 1845; Calanthe mexicana var. lanceolata Correll 1947 publ. 1948; Calanthe mexicana var. retusa Correll 1947 publ. 1948; *Ghiesbreghtia calanthoides A.Rich. & Galeotti 1845; Ghiesbreghtia mexicana A. Rich. & Galeotti ex Rchb. f. 1856; Ghiesbreghtia mexicana (Rchb. f.) Schltr. 1923;
References W3 Tropicos, Kew Monocot list , IPNI ; Lankester's Epidendra Website CR; Xenia Orchidaceae Rchb.f 1854 as C mexicana drawing; Bonplandia Rchb.f 1856 as C cubensis; Bonplandia Rchb.f 1856 as C granatensis; Bonplandia Rchb.f 1856 as C mexicana; Bonplandia Rchb.f 1856 as Ghiesbreghtia calanthoides; Symbolae Antillanae Vol VI Orchidaceae Urban 1909 as C mexicana; Flora of Jamaica Fawcett & Rendle 1910 as C mexicana drawing ok; *Orquideas de El Salvador, Hamer 1974 drawing/photo fide; *Repert. Sp. Nov. Regni. Veg. Beih. 19: 135. Costa Rica Schlechter 1923 as Ghiesbreghtia mexicana; The Orchids of Panama L.O. Williams & P Allen 1946 drawing good; AOS Bulletin Vol 48 No 5 1979 as C mexicana; Orquídea (Mexico City), n.s., 7[3]: 1979; Die Orchideen Band 3 Sonderabdruck aus Schlechter Brieger, Maatsch and Senghas Liferung #14 820 - 880 1984 drawing hmm; Icones Planetarum Tropicarum plate 1204 Hamer 1985 drawing ok; Selbyana Vol 10 Orchids of Central America Hamer 1988 drawing ok; Selbyana Vol 10 Orchids of Central America Hamer 1988 as C cubensis drawing ok; Icones Planetarum Tropicarum plate 1407 Mora Attwood 1992 drawing hmm; Orchids of Guatemala and Belize Ames & Correll 1985; Native Colombian Orchids COS Vol 1 1991; Orquídea (Méx.) 13(1-2): 227-232. 1993.drawing/photo fide; Native Colombian Orchids COS Vol 5 COS 1994 drawing hmm; Orchidaceae Antilensis Nir 2000; Icones Orchidacearum 5 & 6 Orchids Of Mexico Parts 2 & 3 Plate 538 Hagsater, Soto 2002 drawing fide; Manual De Plantas de Costa Rica Volumen 3 Hammel, Grayum, Herrera and Zamora 2003 drawing fide;Orchids of Cuba Llamacho & Laramendi 2005 photo fide; Orchids of Costa Rica Vol 1 Morales 2009 photo fide; The Genus Calanthe Clayton & Cribb 2013 drawing/photo fide; Orchid Flora of the Greater Antilles Ackerman 2014 drawing fide; Orchids, A Colombian Treasure Vol 1 Ortiz & Uribe 2014 drawing fide
--------------------------------------------------------------------------------------------------------------------------