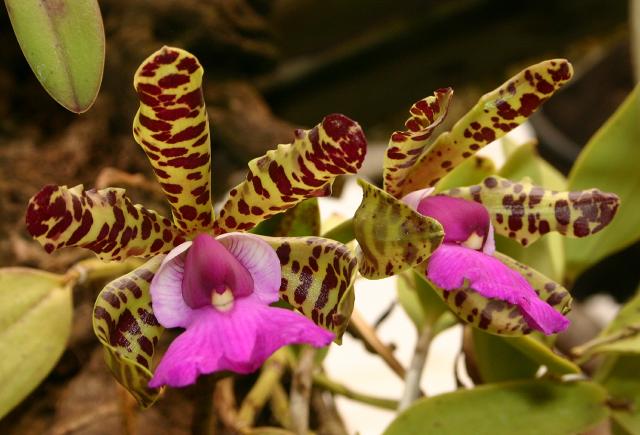 Cattleya aclandiae Lindl.1840 SUBGENUS Aclandia Withner 1989 Photo by © Patricia Harding




to

Common Name Lady Ackland's Cattleya [Engish Orchid Enthusiast 1800's]
Flower Size 2 1/2 to 4" [6 to 10 cm]
Found in Bahia Brazil as a dwarf sized, warm growing epiphytic species found in rather dry areas near the coast at elevations of 100 to 400 meters on rough barked trees with seabreezes but little rain that has slender, jointed, furrowed pseudobulbs carrying 2 apical, spreading, elliptic, thick, fleshy, red spotted, obtuse leaves and blooms in the summer and fall on a short, terminal, inflorescence held within the developing leaves that carries 1 to 2, large in proportion to the plant, fragrant, waxy, long-lasting flowers.
This plant definitely appreciates a dryer winter rest after which it will bloom in the spring and early summer as the new growth appears. This is one of the most light tolerant Cattleya and can withstand a bit of direct sun.
Synonyms Cattleya acklandiae J.E. Planch. 1851-2; Cattleya aclandiae f. alba (L.C.Menezes) F.Barros & J.A.N.Bat. 2004; Cattleya aclandiae var. alba L.C.Menezes 2002; Cattleya aclandiae var. grandiflora F.Buyss. 1878; Cattleya aclandiae var. salmonea auct. 1893; Cattleya aucklandiae Heynh 1841; Cattleya auclandii Beer 1854; Epidendrum acklandiae Rchb.f 1862; Epidendrum aclandiae Rchb.f
References W3 Tropicos, Kew Monocot list , IPNI ; Xenia Orchidaceae Rchb.f 1862 as Epidendrum acklandiae; Die Orchideen Schlechter 1915 photo fide; Atlas des Orchidees Cultivees Constantin 1920 drawing fide; AOS Bulletin Vol 26 No 2 1957 drawing; AOS Bulletin Vol 27 No 9 1958 drawing; AOS Bulletin Vol 29 No 2 1960; Encyclopedia of Cultivated Orchids Hawkes 1965; AOS Bulletin Vol 35 No 10 1966; Orchid Digest Vol 38 No 1 1974 photo fide; Orchidaceae Brasilienses Pabst & Dungs Band I 1975 drawing fide; Die Orchideen 3 Auflage Bd 1 Sonderabdruck aus Schlechter Lieferung 10 576 - 632 Brieger, Maatsch and Senghas 1977 drawing fide; The Brazilian Bifoliate Cattleyas and Their Color Variations Fowlie 1977; Miniature Orchids Northen 1980; AOS Bulletin Vol 51 No 5 1982 photo; Orchid Digest Vol 46 No 3 1982 photo fide; Growing Orchids Vol 2 Rentoul 1982; Miniature Orchids McQueen 1983; AOS Bulletin vol 53 no 7 1984 photo; AOS Bulletin Vol 54 No 11 1985 photo; AOS Bulletin Vol 56 No 12 1987 photo; AOS Bulletin Vol 56 No 5 1987 photo; AOS Bulletin Vol 57 No 2 1988; The Catttleya and their relatives Withner Vol 1 1988 photo fide; Orchid Digest Vol 56 No 2 1992 photo fide; The Manual of Cultivated Orchids Bechtel, Cribb and Laurent 1992 photo fide; Orchids of Brazil McQueen 1993 photo fide; Manual of Orchids Stewart 1995; Botanica's Orchids Laurel Glen 2002; AOS Bulletin Vol 73 No 7 2004 photo; The World's Most Beautiful Orchids Allikas & Nash 2005 photo fide; Flora's Orchids Nash & La Croix 2005; AOS Bulletin Vol 75 No 7 2006 photo; AOS Bulletin Vol 75 No 1 2006 photo; AOS Bulletin Vol 75 No 4 2006 photo; Mille et Une Mini Orchideees Roguenant 2009 photo fide; Las Orquideas del Peru Izerskyy & Bezverhov 2011 photo fide; A Compendium of Miniature Orchid Species Parsons & Garritsen 2013 photo fide; Orchid Digest Vol 78 #1 2014 photo fide;
Cattleya acklandiae var alba

Photos by © Fred Rindlisbacher of and Angel Street Orchids
A color form of the previous species.

Cattleya acklandiae Lindl. var coerulea

Photo by © David Jubineau and His Bulbophyllum Pages Copyright
A blue lipped variety of the previous species.
--------------------------------------------------------------------------------------------------------------------------