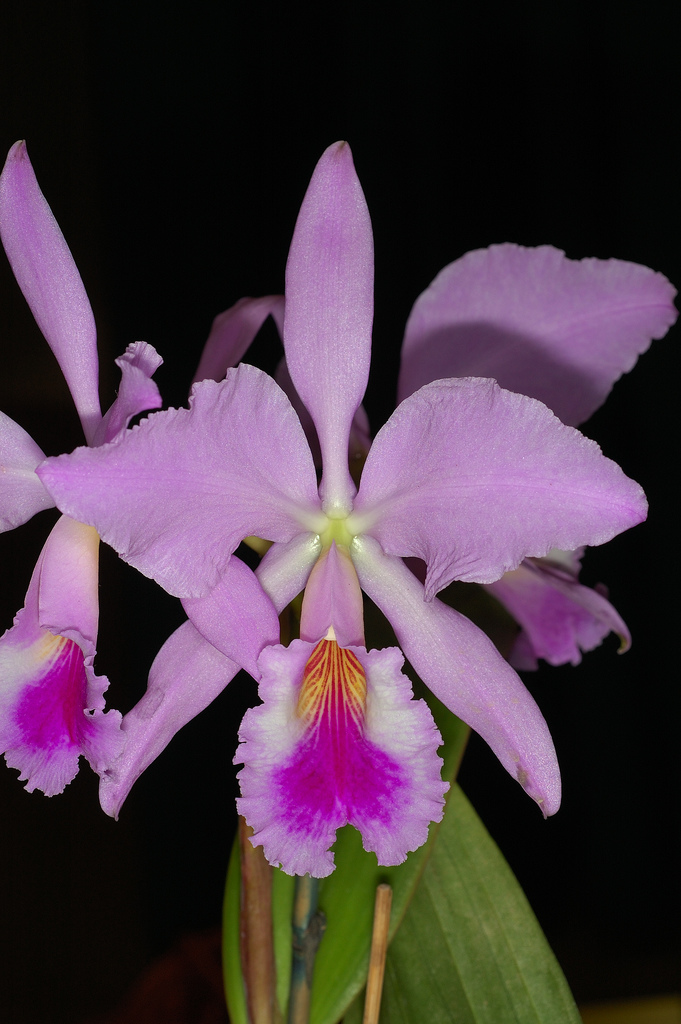 Cattleya jenmanii Rolfe 1906 SUBGENUS Cattleya SECTION Cattleya Lindley Photo by © Eric Hunt and His Orchid Website.
Another Flower Photo by © Patricia Harding
Another Color Variety Photo by © Dale and Deni Borders



to


to

Common Name Jenman's Cattleya [Director of Guyana Botanical Garden 1800's]
Flower Size 5" [12.5 cm]
Found in Guyana and Venezuela as a small sized, hot to warm growing, unifoliate epiphytic species occuring at elevations of 300 to 600 meters in deep forests along rivers with a wet season in the summer and fall and a dry season in the winter and spring. The plants have clavate, clustered, compressed pseudobulbs subtended by 4 persistent sheaths carrying a single apical, elliptic-oblong, coriaceous, acute leaf that blooms in the summer and fall on a short to 4" [10 cm], terminal, few [3 to 7] flowered inflorescence arising on a mature pseudobulb subtended by a basal spathe.
Synonyms Cattleya jenmanii var alba; Cattleya jenmanii var coerula Rolfe 1906
References W3 Tropicos, Kew Monocot list , IPNI ; Venezuelan Orchids Vol 5 Dunsterville & Garay 1966 drawing fide; Die Orchideen 3 Auflage Bd 1 Sonderabdruck aus Schlechter Lieferung 10 576 - 632 Brieger, Maatsch and Senghas 1977; AOS Bulletin Vol 48 No 6 1979 photo fide; The Orchids of Venezuela, An Illustrated Field Guide Vol 1 Dunsterville & Garay 1979 drawing fide; Orchid Digest Vol 48 No 2 1984 photo fide; The Catttleya and their Relatives Withner Vol 1 1988 photo fide; AOS Bulletin Vol 62 No 10 1993 as C jenmanii var alba photo fide; Manual of Orchids Stewart 1995; AOS Bulletin Vol 68 No 4 1999 photo fide; Orchids of Venezuela [An illustrated field guide] Vol. 1 Ramiro and Carnevali 2000 drawing fide; AOS Bulletin Vol 70 No 9 2001 as C jenmanii var coerulaphoto fide; AOS Bulletin Vol 72 No 1 2003 photo fide; Flora of the Venezuelan Guayana Vol 7 Steyermark, Berry, Yatskievych and Holst 2003 drawing fide; The World's Most Beautiful Orchids Allikas & Nash 2005 photo fide; AOS Bulletin Vol 75 No 1 2006 drawing fide; AOS Bulletin Vol 77 No 11 2008 photo; Orquideas de Roirama Luz & Franco 2012 photo fide; Orchid Digest Vol 79 #4 2015 photo fide; AOS Bulletin Vol 86 #4 2017 photo fide; AOS Bulletin Vol 86 #8 2017 photo fide; AOS Bulletin Vol 87 #10 2018 photo fide;
--------------------------------------------------------------------------------------