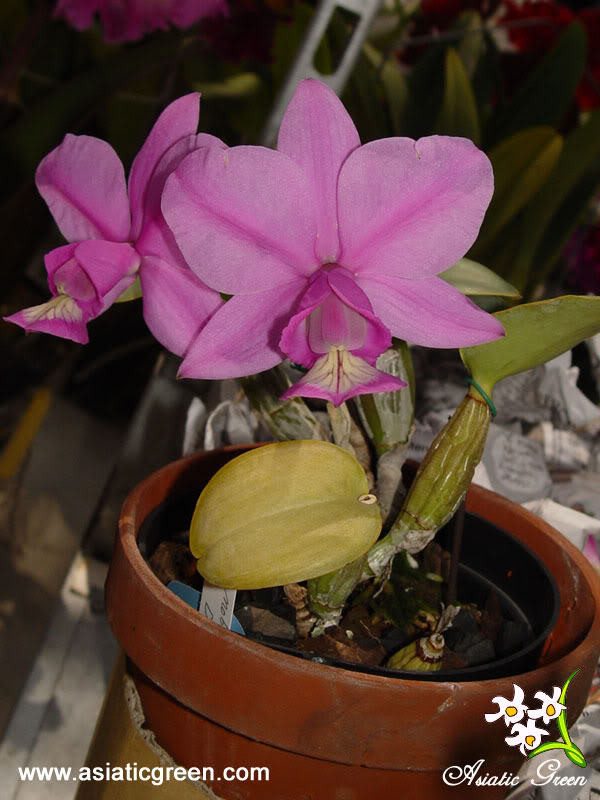 Cattleya nobilior Rchb.f 1883 var amalie SUBGENUS Rhizantha [Cogn.] Withner 1988
Photo By Amos Tan © and his Asiatic Green Website




Common Name The Noble Cattleya
Flower Size 5" [12.5 cm]
Found in Matto Grossa, DF and Goias State of Brazil as well as Santa Cruz Bolivia and Paraguay along rivers on roughbarked trees at the edges of high cliffs in full sun and with ample air circulation at elevations of 170 to 700 meters as a small to medium sized, hot to warm growing epiphyte. This species is characterized by having ellipsoid pseudobulbs carrying 2 apical, elliptic to elliptic-oblong, coriaceous leaves and blooms on a to 3 1/8" [to 8 cm] long, slender, 1 to few flowered inflorescence with up to 5 extremely [vanilla citron] fragrant flowers.
This species is always bifoliate and can be distinguished from Cattleya walkeriana by this fact alone as C walkeriana has only one.
This area has a distinct wet and dry period and it is quite hot. A five month drier rest from November through March is reccomended.
The var amaliae pictured above is cooler growing and comes from the Brazilian states of Goias and Tocantins at elevations to 900 meters on rough barked trees.
Synonyms Cattleya nobilior f. alba (L.C.Menezes) F.Barros & J.A.N.Bat. 2004; Cattleya nobilior f. amaliae (Pabst) M.Wolff & O.Gruss 2007; Cattleya nobilior f. hugueneyi (L.Linden & Rodigas) M.Wolff & O.Gruss 2007; Cattleya nobilior var. alba L.C.Menezes 2001; Cattleya nobilior var. amaliae Pabst 1978; Cattleya nobilior var. hugueneyi L.Linden & Rodigas 1885; Cattleya nobilor var. amaliae Pabst 1978; Cattleya walkeriana Gardner var nobilior [Rchb.f]Veitch 1887
References W3 Tropicos, Kew Monocot list , IPNI ; Die Orchideen Schlechter 1915; AOS Bulletin Vol 31 # 1 1962 photo fide; AOS Bulletin Vol 35 No 10 1966; Orchid Digest Vol 34 #9 1970 drawing fide; Orchid Digest No 36 No 1 1972 photo fide; Orchidaceae Brasilienses Pabst & Dungs Band I 1975 drawing fide; Die Orchideen 3 Auflage Bd 1 Sonderabdruck aus Schlechter Lieferung 10 576 - 632 Brieger, Maatsch and Senghas 1977 photo fide; The Brazilian Bifoliate Cattleya and their Color Variations Fowlie 1977; An Illustrated Encyclopedia of Orchids Pridgeon 1982; Orchid Digest Vol 48 No 4 1984 drawing fide; AOS Bulletin Vol 56 No 11 1987 photo fide; AOS Bulletin Vol 57 No 2 1988 photo fide; The Catttleya and their Relatives Withner Vol 1 1988 photo fide; Icones Planetarum Tropicarum Series II plate 0208 Dodson & Vasquez 1989 drawing fide; Manual of Orchids Stewart 1995; AOS Bulletin Vol 65 No 11 1996 photo fide; Orchid Digest Vol 61 #1 1997 photo fide; Orchid Digest Vol 62 #1 1998 photo fide; AOS Bulletin Vol 72 No 1 2003 photo fide; AOS Bulletin Vol 73 No 11 2004 photo fide; Orchids of Bolivia Vol 2 Laelinae Vasquez and Ibisch 2004 drawring/photo fide; Orchids of The Brazilian Central Plateau Menezes 2004 photo fide; Flora's Orchids Nash & La Croix 2005; Orchid Digest Vol 72 No 3 2008 photo fide; Mille et Une Mini Orchideees Roguenant 2009 photo fide; AOS Bulletin Vol 88 #7 2019 photo fide;
Cattleya nobilior Rchb.f 1883 var alba From Bolivia Photo by © Joe Panozo
Cattleya nobilior Rchb.f 1883 var amalie Pabst 1978 Photo by © Wilma Braga
A color variety of the previous species
References W3 Tropicos, Kew Monocot list , IPNI ; Orchids of The Brazilian Central Plateau Menezes 2004 photo fide; AOS Bulletin Vol 88 #5 2019 photo fide; AOS Bulletin Vol 86 #4 2017 photo fide; AOS Bulletin Vol 86 #5 2017 photo fide;
Cattleya nobilior Rchb.f 1883 var amesiana Photo by © José Luis Panozo Añez
Another variety with a different flower shape
Cattleya nobilior var. hugueneyi L.Linden & Rodigas 1885 Photo by © J A Fowlie
--------------------------------------------------------------------------------------------------------------------------
------------------------------------------------------------------------------------------------------------