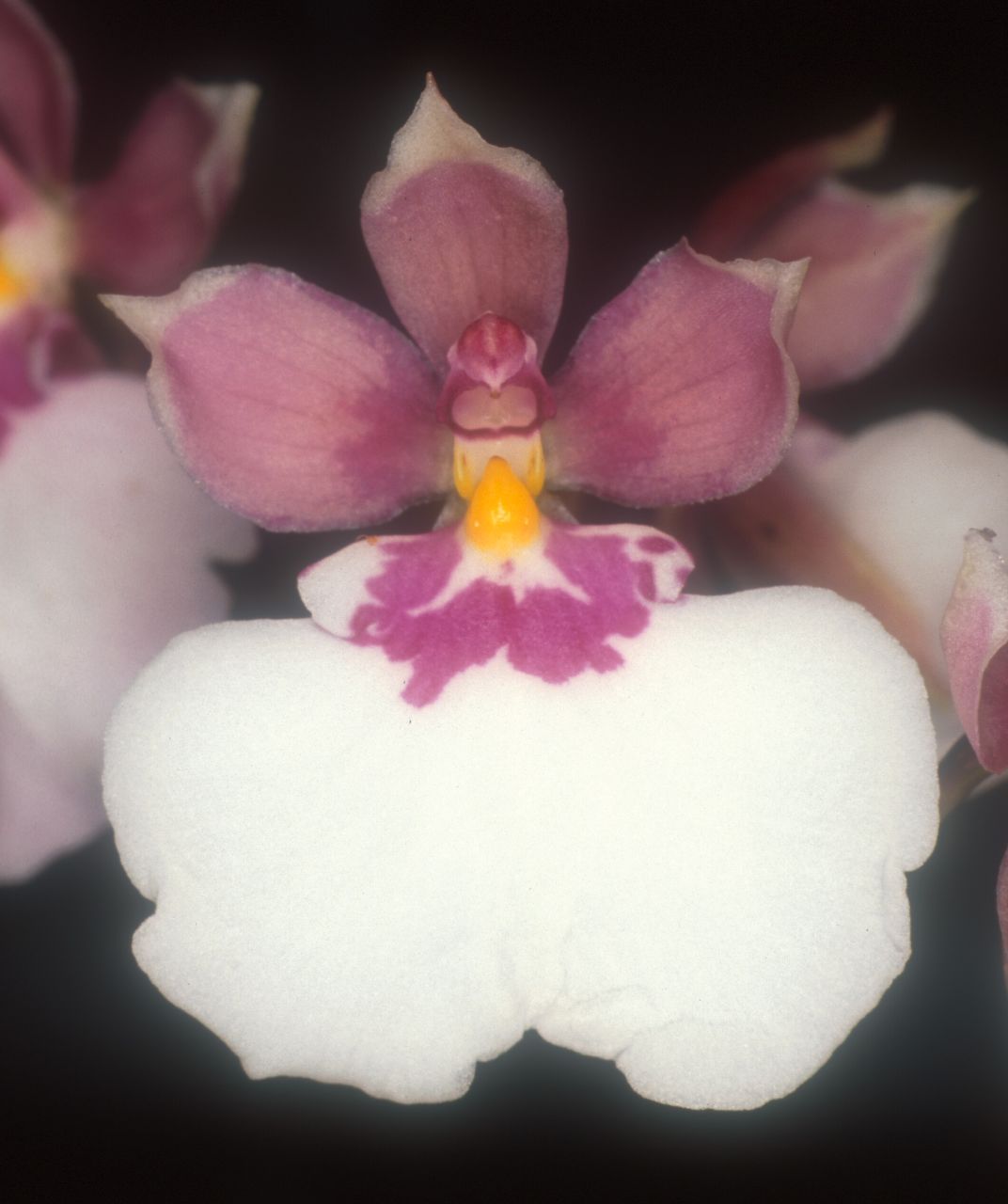 Caucaea nubigena (Lindl.) N.H. Williams & M.W. Chase 2001 Photo by © Lourens Grobler.
White Flower Photos by © Eric Hunt and His Orchid Website


to



Common Name The Mist Growing Oncidium
Flower Size 1 1/2" [3.75 cm]
Found in Venezuela, Colombia, Ecuador and Peru at elevations of 2500 to 3500 meters as a medium sized, cold growing epiphyte with clustered, narrowly ovoid to conical, somewhat compressed pseudobulbs enveloped basally by several pairs of imbricating sheaths and carrying 1 or 2 apical, linear-elliptic to oblanceolate, acute or acuminate leaves that blooms on a 2' [60 cm] long, slender, erect or arching, purplish green in color, loosely paniculate or racemose inflorescence with several to many [3 to 12], small to medium sized, variable colored flowers occuring in the fall and winter.
Synonyms Caucaea aequinoctialis (Stacy) N.H.Williams & M.W.Chase 2001; Caucaea azuayensis (Kraenzl.) N.H.Williams & M.W.Chase 2001; Caucaea erosilabia (Stacy) N.H.Williams & M.W.Chase 2001; Caucaea tunguraguensis (Stacy) N.H.Williams & M.W.Chase 2001; Oncidium azuayense Kraenzl. 1922; Oncidium cucullatum Lindl. 1838; Oncidium cucullatum Lindl. var. dolabratum J.E.Stacy 1975; Oncidium cucullatum Lindl. var. macrochilum Lindl. 1855; Oncidium cucullatum var. nubigenum (Lindl.) Lindl. 1855; *Oncidium nubigenum Lindl.1833; Oncidium olivaceum var. macrochilum (Lindl.) Sander 1901; Oncidium olivaceum var. nubigenum (Lindl.) Sande 1901
References W3 Tropicos, Kew Monocot list , IPNI ; Otia Botanica Hamburgensia Rchb.f 1878 as Oncidium nubigenum; Die Orchideen Schlechter 1915 as Oncidium nubigenum; Atlas des Orchidees Cultivees Constantin 1920 drawing fide; Das Pflanzenreich; Orchidaceae-Monandre, Tribus Oncidinae-Odontoglosseae Pars II Kranzl. [1922] 1957 as Oncidium nubigenum; Das Pflanzenreich; Orchidaceae-Monandre, Tribus Oncidinae-Odontoglosseae Pars II Kranzl. [1922] 1957 as Oncidium azuayense; AOS Bulletin Vol 27 No 11 1958 drawing as Oncidium nubigenum; Orchids of Peru Schweinfurth 1958 as Oncidium nubigenum; AOS Bulletin Vol 32 No 11 1963 photo as Oncidium nubigenium; Encyclopedia of Cultivated Orchids Hawkes 1965 as Oncidium cucullatum var nubigenum; Flora de Venezuela Volumen XV Part 5 Foldats 1970 as Oncidium nubigenum drawing not = C mimetica; Orquideologia Vol 14 No 1 1979 photo; Manual of Cultivated Orchids Bechtel, Cribb & Laurent 1982 as as Oncidium nubigenum; An Illustrated Encyclopedia of Orchids Pridgeon 1982 as as Oncidium nubigenum; Icones Planetarum Tropicarum Series II Orchids of Peru Plate 0136 Dodson & Bennett 1989 as Oncidium nubigenum drawing fide; The Manual Of Cultivated Orchid Species Bechtel, Cribb & Launert 1992 as Oncidium nubigenium drawing/photo fide; Manual of Orchids Stewart 1995 as Oncidium nubigenum; Rudolf Schlechter Die Orchideen Band 1C lieferung 33 - 36 2057 - 2308 Brieger 1997 as Oncidium nubigenum photo fide; AOS Bulletin Vol 69 No 10 2000 photo as Oncidium nubigenum; Australian Orchid Review Vol 66 No 2 2001 photo as Oncidium nubigenum; *Lindleyana Vol 16 No 4 2001; The Pictoral Encyclopedia of Oncidium Zelenko 2002 drawing fide; Native Ecuadorian Orchids Vol 4 Dodson 2003 photo fide; Orquideologia Vol. 23 No 2 2004 as Oncidium nubigenum; Oncidium Vol 2 Koniger 2005 as Oncidium nubigenum drawing/photo fide; Orchid Species Culture: Oncidium, Bakers 2006 as O nubigena; Orchid Species of Peru Zelenko Bermudez 2009 photo fide; Mille et Une Mini Orchideees Roguenant 2009 photo ok; Orquideas del Peru Freuler 2010 photo ok
--------------------------------------------------------------------------------------------------------------------------