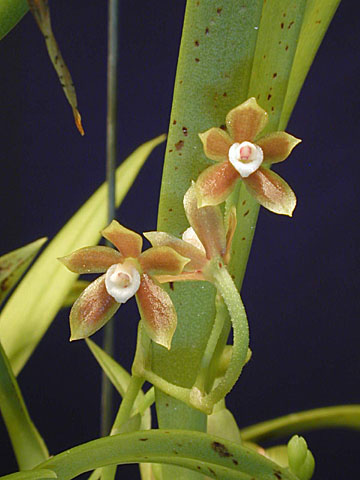 Cischweinfia jarae Dodson & D.E. Benn. 1989
Photo by © Andy's Orchids. Copyright © 2002 All rights reserved.




Common Name Jara's Cischweinfia [Ecuadorian Discoverer of Species current]
Flower Size 3/8" [1.5 cm]
Found in Peru and Bolivia as a miniature sized, warm to cool growing epiphyte in wet montane forests at elevations of 600 to 1500 meters with ovate, complanate, approximate pseudobulbs with foliaceous basal sheaths carrying a single, apical, narrowly linear-ligulate, acuminate leaf which has a shortly conduplicate base and blooms in the fall on an axillary, 2" [5 cm] long, several [4 to 5] flowered inflorescence carrying campanulate flowers.
Synonyms Cischweinfia kroemeri R. Vásquez & Dodson 1999; Cischweinfia suarezii Dodson 1989
References W3 Tropicos, Kew Monocot list , IPNI ; *Icones Planetarum Tropicarum Series II Orchids of Peru Plate 0028 Dodson & Bennett 1989 drawing hmm; Icones Planetarum Tropicarum Plate 420 Dodson 1989 as C suarezii drawing fide; Orchids Travel By Air A Pictoral Safari Mulder, Mulder-Roelfsema and Schuiteman 1990 as C jaraephoto fide; Native Ecuadorian Orchids Vol 1 Dodson 1993 drawing fide as C suarezii; Icones Orchidacearum Peruviarum Plate 220 Bennett & Christenson 1995 drawing ok; Rudolf Schlechter Die Orchideen Band 1C lieferung 32 1977 - 2056 Brieger 1996; Rudolf Schlechter Die Orchideen Band 1C lieferung 32 1977 - 2056 Brieger 1996 as C suarezii; Rudolf Schlechter Die Orchideen Band 1C lieferung 44-45 pg 2763 - 2898 Brieger 2001 as C kroemeri; AOS Bulletin Vol 72 No 2 2003 photo fide; Flora Of Ecuador # 76 225[2] Dodson & Luer 2005 as Cischweinfia suarezii drawing fide; Orchid Species Culture: Oncidium, Bakers 2006; Orchid Species Culture: Oncidium, Bakers 2006 as C suarezii; Orchid Species of Peru Zelenko Bermudez 2009 photo fide; Orchids, A Colombian Treasure Vol 1 Ortiz & Uribe 2014 photo fide;
--------------------------------------------------------------------------------------------------------------------------