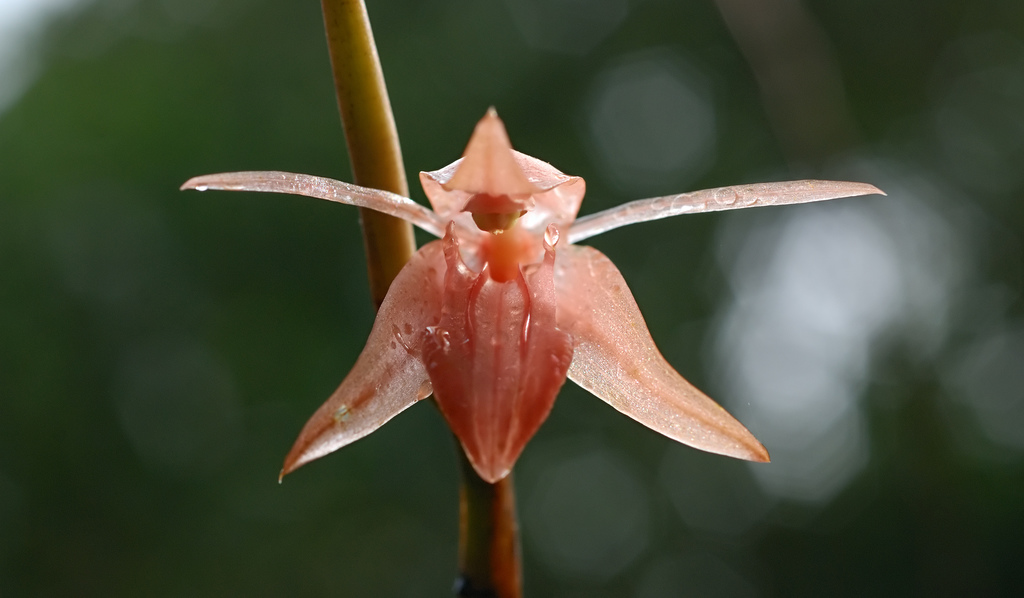 Coelogyne cuprea H.Wendl. & Kraenzl. 1892 SECTION Longifoliae
Photo courtesy of Eric Hunt.
Photo by © Art Vogel
Plant and Flowers in situ Mt Kinabalu Borneo
Photos by Copyright © Rogier Van Vugt and His PBase Orchid Photo Website




Common Name The Coppery Coelogyne
Flower Size 1.2" [3 cm]
Found in Sumatra and Borneo in lower montane, mossy forests at elevations of 1000 to 2500 meters as a medium sized, cool to cold growing epiphyte with 1.2 to 1.4" [3 to 4 cm] between each globose, apically narrowed pseudobulbs carrying 2, apical, oblong, slightly obtuse, wider towards the apex, plicate, 7 to 9 nerved, gradually narrowing below into the grooved petiolate base leaves that blooms in the fall on a basal, 10 to 3'4" long [25 cm to 1 m] long, gradually extending, slightly zigzag inflorescence arising on a mature pseudobulb with .35" to .6" [7 to 14 mm] between each flower.
Synonyms Coelogyne cuprea var. cuprea; Coelogyne cuprea var. planiscapa J.J.Wood & C.L.Chan 1990
References W3 Tropicos, Kew Monocot list , IPNI ; Xenia Orchidaceae Vol 3 Reichenbach 1893 drawing fide; Die Orchideen Schlechter 1915; AOS Bulletin Vol 32 No 5 1963; Encyclopedia of Cultivated Orchids Hawkes 1965; Die Orchideen 3 Auflage Bd 1 Sonderabdruck aus Schlechter Lieferung 15 881 - 944 Brieger, Maatsch and Senghas 1984 drawing good; The Plants of Mount Kinabalu Vol 2 Orchids Wood Beaman & Beaman 1993; The Plants of Mount Kinabalu Vol 2 Orchids Wood Beaman & Beaman 1993 as Coelogyne cuprea var. planiscapa; A Checklist of the Orchids of Borneo Wood & Cribb 1994 drawing fide; Orchids of Sarawak Beaman & Wood etal 2001; Orchids of Sarawak Wood, Beaman Etal 2001 as C cuprea var planiscapa; Orchids of Sumatra Comber 2001 photo fide; The Genus Coelogyne A Synopsis, D A Clayton 2002 photo fide; The Orchids of Mount Kinabalu Vol 1 Wood, Beaman, Lamb, Chu Lun and Beaman 2011 drawing fide; The Orchids of Mount Kinabalu Vol 2 Wood, Beaman, Lamb, Chu Lun and Beaman 2011; The Orchids of Mount Kinabalu Vol 2 Wood, Beaman, Lamb, Chu Lun and Beaman 2011 as Coelogyne cuprea var. planiscapa drawing good; Les Coelogynes E & J George 2011 photo fide; Of Men and Orchids Part 1 Jenny 2015 drawing fide;
--------------------------------------------------------------------------------------------------------------------------