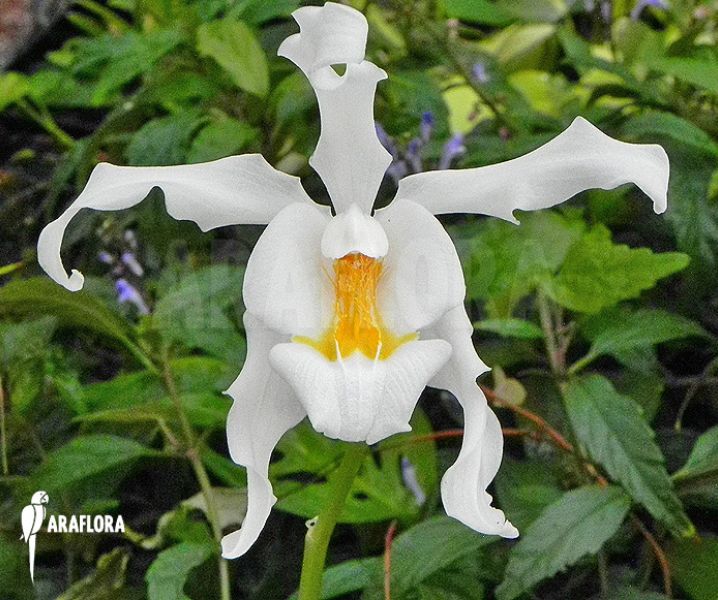 Coelogyne cristata Lindley 1824 SECTION Coelogyne TYPE for the Section
Photo by © Araflora and their Online Orchid Catalog
Photo by © Eric Hunt
Photo by © Karel & Alex Petrzelka and the Vietnam Orchid Website



To

MID

To EARLY

Common Name or Meaning The Crested Coelogyne [refers to the keels of the lip] - In China Bei Mu Lan
Flower Size Up to 4" [up to 10 cm]
Found in the western Himalayas, eastern Himalayas, Assam, Nepal, Bhutan, Sikkim and Java in lower to upper montane forests at altitudes of 1500 to 2600 meters and is a small to medium sized, cool to cold growing epiphyte and occasional lithophyte with oblong, smooth, clustered to well spaced pseudobulbs carrying 2, apical, plicate, 3 to 10 nerved, narrowly lanceolate, sessile, acute, slightly undulate leaves that blooms from mid-winter till spring on a terminal, pendulous to semi-erect, 6 to 12" [15 to 30 cm] long, racemose, 3 to 10 flowered inflorescence with persistant bracts arising basally on a mature growth and carrying fragrant banana to candy scented flowers.
They have ovoid pseudobulbs well spaced on a visible rhizome with two narrowly lanceolate, flexible leaves.
In the wild they have year round fog and mist and a very bright winter and grow on mossy trees or on exposed rock outcrops.
Synonyms Coelogyne cristata f. hololeuca (Rchb.f.) M.Wolff & O.Gruss 2007; Coelogyne cristata var. hololeuca Rchb.f. 1881; Cymbidium speciosissimum D. Don 1825; Pleione speciosissima (D.Don) Kuntze 1891
References W3 Tropicos, Kew Monocot list , IPNI ; The Orchids of Sikkim-Himalaya Part 1 King & Pantling 1898 drawing fide; The Orchids of North-Western Himalaya Vol IX Part II Duthie 1906; Die Orchideen Schlechter 1915 photo good; Die Orchideen Schlechter 1915 as C cristata var hololeuca; Die Orchideen Schlechter 1915 as C cristata var duthei; Atlas des Orchidees Cultivees Constantin 1920 drawing fide; AOS Bulletin Vol 26 No 10 1957 drawing fide; AOS Bulletin VOl 239 #2 1960 photo fide; AOS Bulletin Vol 30 No 5 1961 drawing plant only; AOS Bulletin VOl 30 # 2 1961 photo fide; AOS Bulletin Vol 32 No 5 1963; Encyclopedia of Cultivated Orchids Hawkes 1965 photo ok; AOS Bulletin Vol 39 No 10 1970 photo fide; Indian Orchids, Guide to Identification and Culture vol 2 Pradhan 1979 drawing fide; Indian Orchids, Guide to Identification and Culture vol 2 Pradhan 1979 as C ristata var maxima drawing fide; Indian Orchids, Guide to Identification and Culture vol 2 Pradhan 1979 as C cristata var hololeuca drawing fide; Indian Orchids, Guide to Identification and Culture vol 2 Pradhan 1979 as C cristata var duthei; AOS Bulletin Vol 47 No 7 1978; AOS Bulletin Vol 52 No 5 1983 photo fide; Die Orchideen 3 Auflage Bd 1 Sonderabdruck aus Schlechter Lieferung 15 881 - 944 Brieger, Maatsch and Senghas 1984 drawing fide/photo fide; AOS Bulletin Vol 53 No 1 1984 photo fide; AOS Bulletin Vol 54 No 3 1985; AOS Bulletin Vol 55 No 6 1986 photo fide; Orchids of North West Himalaya Deva & Naithanis 1986 drawing fide; Orchids Travel By Air A Pictoral Safari Mulder, Mulder-Roelfsema and Schuiteman 1990 photo fide; AOS Bulletin Vol 61 No 3/238 1991 photo; Orchids of Kumaun Himalayas Pangtey, Samant and Rawat 1991; AOS Bulletin Vol 61 #3 1992 photo fide; The Manual of Cultivated Orchids Bechtel, Cribb, Launert 1992 drawing/photo fide; AOS Bulletin Vol 63 No 10 1994 photo fide; Identification of the Orchids [Orchidaceae Juss.] Vietnam Averyanov 1994; Orchids of Nagaland Deorani & Naithani 1995 drawing fide; Living with Orchids in Sumatra Landau 1996 photo fide; AOS Bulletin Vol 69 No 12 2000 drawing; Beautiful Orchids of Nepal Rajbhandari & Bhattarai 2001; Australian Orchid Review Vol 67 No 4 2002 photo; The Genus Coelogyne A Synopsis, D A Clayton 2002 photo fide; Orchids of Bhutan Pearce & Cribb 2002 photo fide; Australian Orchid Review Vol 69 No 2 2004 photo; AOS Bulletin Vol 73 No 3 2004; The World's Most Beautiful Orchids Allikas & Nash 2005 photo fide; AOS Bulletin Vol 75 No 1 2006; Miniature Orchdis Frownie 2007; Orchids of India A Glimpse Misra 2007; Orchid Digest Vol 72 #2 2008 photo fide; AOS Bulletin vol 78 No 8 2009 photo fide; Flora of China Vol 25 Zhengyi, Raven & Deyuan 2009; Genera Orchidaceaerum Volume 4 Epidendroideae Part 1 Pridgeon, Cribb and Chase 2010; Les Coelogynes E & J George 2011 photo fide; Orchideen Series C Band 74 Thiv & Worz 2012 photo fide; AOS Bulletin Vol 84 #12 2015 photo fide; LANKESTERIANA 15(1): 7—50. Jeewan Singh Jalal & J. Jayanthi 2015 photo fide; Atlas of Native Orchids of China Vol 1 Jin Xiaohua, Li Jianwu and Ye Deping 2019 photo fide;

Coelogyne cristata Lindley 1821 var alba
Photo by Roger Crisp
Coelogyne cristata Lindley var. lemoniana Lindley 1821
Photo courtesy of Greg and Kerri Steenbeeke and their Orkology Kreations Website
Flower Size under 4" [6 to 9 cm]
--------------------------------------------------------------------------------------------------------------------------