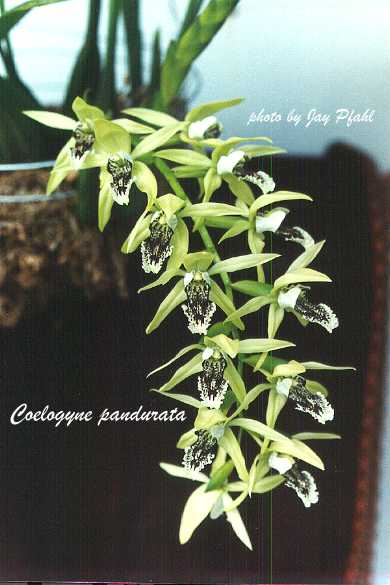 Coelogyne pandurata Lindley 1853 SECTION Verrucosae Pfitzer & Kraenzlin.
Close up of flower. Photos by Jay Pfahl
Flower closeup Photos by Patricia Harding
Plant and Flowers in situ Sarawak, Borneo Photo courtesy of André Schuiteman, Dr. E.F. de Vogel, and Jaap Vermeulen and Their Netherlands National Herbarium Website



LATE

To

Common Name The Lute-Shaped Coelogyne
Flower Size More than 3" [more than 7.5 cm]
Found in Malaysia, Sumatra, Borneo and the Philippines as a large sized, hot growing epiphyte found on large trees near rivers or terrestrial with well-spaced, strongly compressed, oblong or suborbicular, sulcate pseudobulb carrying 2, apical, plicate, elliptic-lanceolate, leaves with a stout petiole that blooms in late spring-summer out of the center of newly emerging growths with up to 15 flowers on a terminal, arched to pendant, 6 to 12" [15 to 30 cm] long, racemose inflorescence. The simultaneously opening flowers are highly fragrant of honey but are short lived.
This orchid needs wire basket culture as it spreads out quite rapidly and sphagnum with wood chips as media works best and the best time to repot is when the new lead emerges.
Synonyms Coelogyne peltastes var. unguiculata J.J.Sm. 1927; Pleione pandurata (Lindl.) Kuntze 1891
References W3 Tropicos, Kew Monocot list , IPNI ; Xenia Orchidaceae vol 2 Rchb.f 1862 drawing fide; Die Orchideen Schlechter 1915; Atlas des Orchidees Cultivees Constantin 1920 drawing fide; Flora of Malaya Vol 1 Holttum 1957; AOS Bulletin Vol 27 No 5 1958 drawing; AOS Bulletin Vol 32 No 5 1963; Encyclopedia of Cultivated Orchids Hawkes 1965; Orchid Digest Vol 36 No 3 1972 photo fide; The Complete Writings on Philippine Orchids Vol 1 Quisumbing 1981; The Complete Writings on Philippine Orchids Vol 2 Quisumbing 1981 drawing fide; Die Orchideen 3 Auflage Bd 1 Sonderabdruck aus Schlechter Lieferung 15 881 - 944 Brieger, Maatsch and Senghas 1984 drawing ok/photo hmm to not; Orchidiana Philipiniana Vol 1 Valmayor 1984; The Orchids of Penninsular Malaysia and Singapore Wood & Seidenfaden 1992 drawing/photo fide; The Manual of Cultivated Orchids Bechtel, Cribb, Launert 1992 drawing/photo fide; The Plants of Mount Kinabalu Vol 2 Orchids Wood Beaman & Beaman 1993 fide; Phylogeny and Classification of the Orchid Family Dressler 1993 photo fide; A Checklist of the Orchids of Borneo Wood & Cribb 1994 drawing/photo fide; Oasis Vol 1 No 3 2000 photo; Orchid Australia Vol 12 No 3 2000 photo; Orchids of Sumatra Comber 2001 photo fide; Orchids of Sarawak Beeman & Wood 2001 photo fide; A to Z of South East Asian Orchid Species Vol 1 O'Byrne 2001 photo fide; The Genus Coelogyne A Synopsis, D A Clayton 2002 photo fide; Flora Malesiana Orchids of the Philippines Vol I Agoo, Shuiteman and de Vogel 2003; Orchid Digest Vol 71 No 1 2007 photo; Philippine Native Orchid Species Cootes 2011 photo fide; The Orchids of Mount Kinabalu Vol 1 Wood, Beaman, Lamb, Chu Lun and Beaman 2011 drawings/photos fide; The Orchids of Mount Kinabalu Vol 2 Wood, Beaman, Lamb, Chu Lun and Beaman 2011; Wild Orchids of Penninsular Malaysia Ong, O'Byrne, Yong & Saw 2011 photo fide; Les Coelogynes E & J George 2011 photo fide; A Guide to the Orchids of Kinabalu Wood 2013 photo fide;
--------------------------------------------------------------------------------------------------------------------------