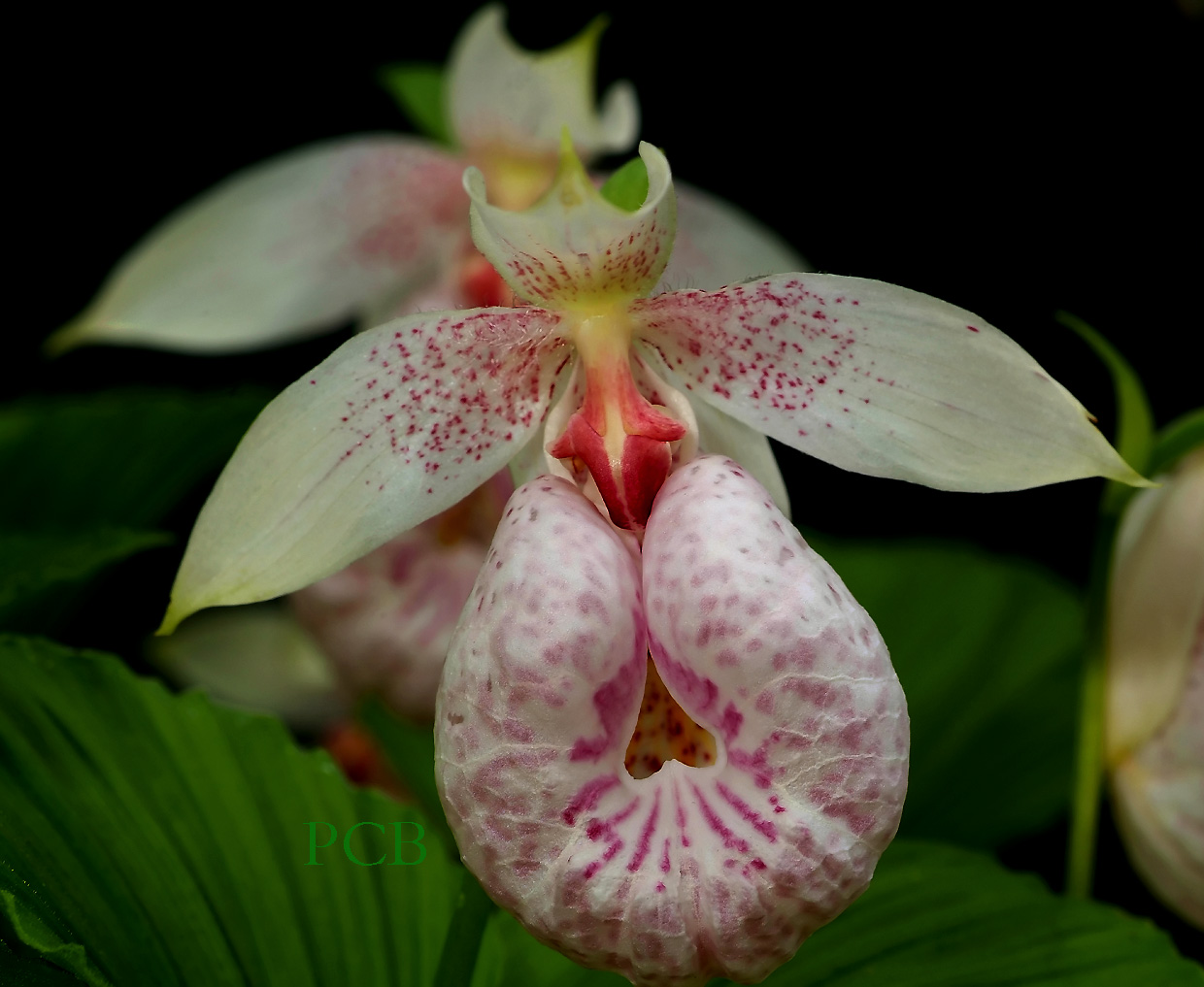 Cypripedium formosanum Hayata 1916 SECTION Flabellinervia Photo by © Pieter C. Brouwer and his Nature Photo Website
Plant and Flowers Photo courtesy of Jan Hrolv Larsen and KJ Orchids Webpage.
Another Plant Photo courtesy of Patricia Harding.



Common Name The Beautiful Cypripedium - Formosa's Lady's Slipper - In China Tai Wan Shao Lan
Flower Size 2 1/2 to 2 3/4" [6 to 7 cm]
Found in China on shaded seepage slopes at elevations of 1500 to 2000 meters as a small sized, cold growing terrestrial with a stem carrying 2, apical, ovate to round, plicate leaves with the veins radiating out like a fan that blooms with a terminal, slender, 4" [10 cm] long, single flowered inflorescence occuring in the spring.
Synonyms Cypripedium japonicum var. formosanum (Hayata) S.S.Ying 1975
References W3 Tropicos, Kew Monocot list , IPNI ; Orchid Digest Vol 48 No 1 1984 photo fide; Orchid Digest Vol 51 No 4 1987 photo fide; Native Orchids of China in Colour Singchi, Zhanhuo and Yibo 1999 photo fide; AOS Bulletin Vol 69 No 10 2000 photo; Rudolf Schlechter Die Orchideen Band 1C lieferung 40 pg 2492 - 2564 Brieger 2000; AOS Bulletin Vol 71 No 11 2002 drawing; AOS Bulletin Vol 75 No 1 2006 photo; AOS Bulletin Vol 76 No 1 2007 photo; Orchid Digest Vol 71 No 1 2007 photo; A Field Guide to the Orchids of China Singchi, Zhongjian, Yibo, Xiaohua and Zhanhuo 2009 photo fide; Flora of China Vol 25 Zhengyi, Raven & Deyuan 2009; Flora of China Vol 25 Illustrations Zhengyi, Raven & Deyuan 2010 drawing fide;

Cypripedium formosanum 'Trident's Twinkle Toes' CCM/AOS Hayata 1916

Photo courtesy of Wilford Neptune who also is the grower of this awarded plant.


--------------------------------------------------------------------------------------------------------------------------