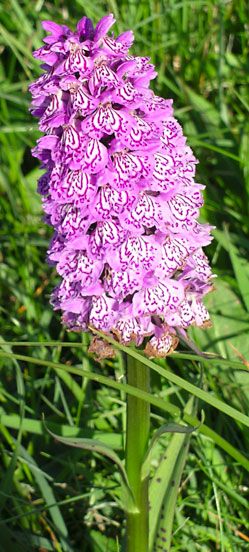 Dactylorhiza cambrensis (R.H.Roberts) Aver. 1984 Photo courtesy of ?


LATE

EARLY

Dactylorhiza praetermissa Group
Common Name The Welsh Dactylorhiza
Flower Size 3/4" [1.8 cm]
Found in Great Britain in marshy dune slacks and damp areas near rivers at elevations up to 100 meters as a small to medium sized, cold growing terrestrial with thickset, yellowish green stem carrying 4 to 7 cauline, often basally clustering, somewhat to strongly spotted, often ring shaped marking, rarely unspotted, oblong-lanceolate leaves that blooms in the late spring and early summer on an erect, terminal, demsely many flowered inflorescence.
Synonyms Dactylorchis majalis subsp. cambrensis R.H.Roberts 1961; Dactylorhiza comosa subsp. cambrensis (R.H.Roberts) P.D.Sell 1996; Dactylorhiza latifolia subsp. cambrensis (R.H.Roberts) Soó 1962; Dactylorhiza majalis var. cambrensis (R.H.Roberts) R.M.Bateman & Denholm 1983; Dactylorhiza purpurella ( T.Stephenson & T.A.Stephenson ) Soó subsp. majaliformis E.Nelson 1979; Dactylorhiza purpurella var. cambrensis (R.H.Roberts) R.M.Bateman & Denholm 2005; Dactylorhiza purpurella var. majaliformis (E.Nelson ex Løjtnant) Kreutz 2006
References W3 Tropicos, Kew Monocot list , IPNI ; Rudolf Schlechter Die Orchideen Band 1C lieferung 40 pg 2492 - 2564 Brieger 2000 ; Orchids of Europe, North Africa and the Middle East Delforge 2005
--------------------------------------------------------------------------------------