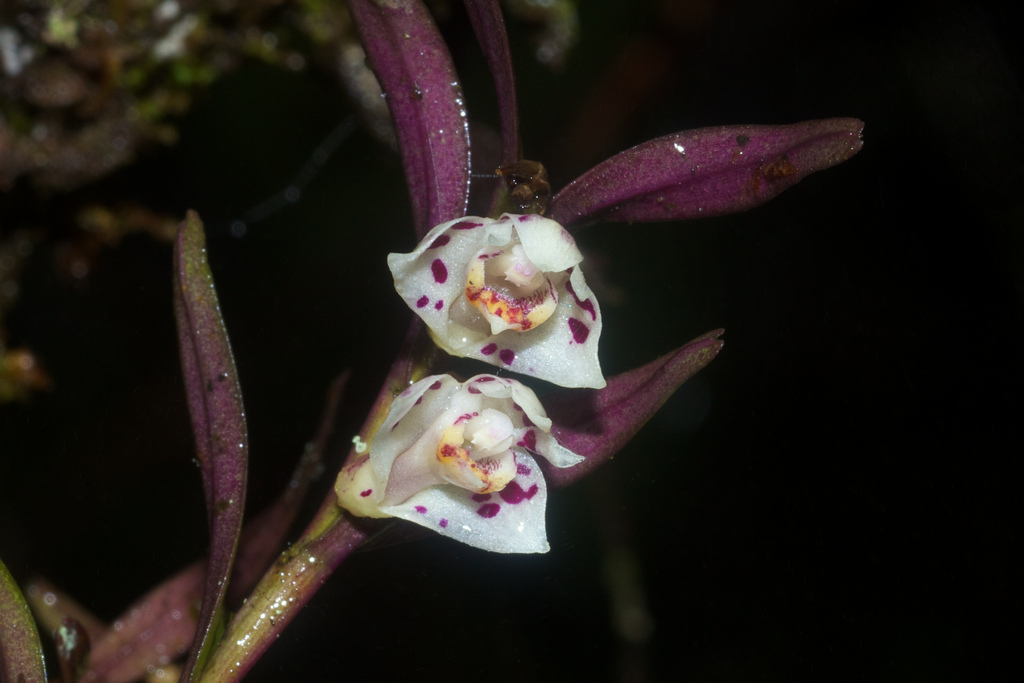 Dendrobium alabense J.J.Wood 1990 SECTION Crumenata Photo by Tom Ballinger and his Flickr Orchid Photo Website
Another Angle Photo courtesy of Eric Hunt.
Plant in situ Borneo Photo by Peter O'Byrne.




Common Name The Mt. Alab Dendrobium [A mountain in Sabah]
Flower Size .2" [5 mm]
Found in Sabah, Borneo in open areas of moss and scrub lower to upper montane forests on ridge tops at elevations of 1300 to 2400 meters as a miniature to small sized, cool to cold growing epiphyte with a swollen base and apically slender, cane-like, flattened, branching, purple in youth, straw yellow with age pseudobulbs enveloped towards the apex by leaf-bearing sheaths and carrying 4 to 8, linear leaves that blooms in the spring on a very short, successively single flowered inflorescence arising at the upper nodes of a leafless cane.
J J Wood puts together this group of related species, D lamelluliferum, D alabense, D kurashigei, D lumakuense, D pseudokurashigei and D puberulingue which may all be different or a widely variable species. More research needs to be done to address this confusing group.
Synonyms Ceraia alabensis (J.J.Wood) M.A.Clem. 2003
References W3 Tropicos, Kew Monocot list , IPNI ; The Plants of Mount Kinabalu Vol 2 Orchids Wood Beaman & Beaman 1993 drawing/photo fide; A Checklist of the Orchids of Borneo Wood & Cribb 1994; Orchids of Borneo Vol 3 Wood, Shim & Lamb 1997 drawing/photo fide; Orchids of Sarawak Beaman & Wood 2001; Orchid Species Culture, Dendrobium Bakers 1996; Orchids of Sarawak Beaman, Wood, Beaman & Beaman 2001; Dendrobiums Wood 2006; The Orchids of Mount Kinabalu Vol 1 Wood, Beaman, Lamb, Chu Lun and Beaman 2011 drawing/photo fide; The Orchids of Mount Kinabalu Vol 2 Wood, Beaman, Lamb, Chu Lun and Beaman 2011; A Guide to Dendrobium of Borneo Wood 2013 photo fide; Dendrobium of Borneo Wood 2014 photo/drawing fide
----------------------------------------------------------------------------------------------------------