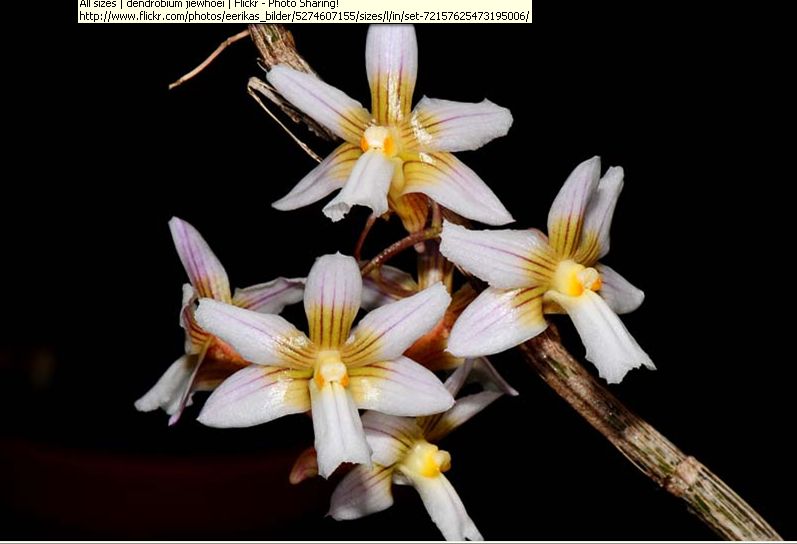 Dendrobium calcariferum Carr 1935 SECTION Calcarifera
Photo by © Eerika Schulz and Flickr Orchid Photo Website




Common Name The Spur-Like Dendrobium
Flower Size .8" [2 cm]
Found in Sabah and Sarawak Borneo in lower to upper montane forests at elevations of sea level to 1500 meters as a hot to cool, often pendent growing epiphyte with pendent canes carrying several, towards the apex, linear, acute, basally clasping leaves that blooms in the spring on a pendent, 1.4" [6 cm] long, few to several flowered inflorescence arising from the nodes towards the apex of the pendent stem.
Similar to D derryi but D calcariferum has a pedunculate, several to many flowered inflorescence, perdominently pink to pale purple sepals and petals.
Also similar to D corallorhizon but D calcariferum has generally shorter, broader leaves, the more floriferous inflorescence and the smallr, often predominently pink to pale purple lowers with a broader lip and nonretuse petals.
Wood in 2014 puts D jiewhoei as a synonym of D calcariferum
Synonyms Dendrobium jiewhoei J.J.Wood & C.L.Chan 2008; Eurycaulis calcarifer (Carr) M.A.Clem. 2003
References W3 Tropicos, Kew Monocot list , IPNI ; The Plants of Mt Kinabalu Vol 2 Wood etal 1993 as D cumulatum photo not = D jiewhoei; Orchid Species Culture Dendrobium Bakers 1996; Orchids of Sarawak Beaman, Wood, Beaman & Beaman 2001; Malesian Orchid Journal Vol 3 2009 as D jiewhoei drawing/photo fide; Malesian Orchid Journal Vol 3 2009 ; The Orchids of Mount Kinabalu Vol 1 Wood, Beaman, Lamb, Chu Lun and Beaman 2011 as D jiewhoei; The Orchids of Mount Kinabalu Vol 2 Wood, Beaman, Lamb, Chu Lun and Beaman 2011 as D jiewhoei drawing fide; Dendrobium of Borneo Wood 2014 photo/drawing fide; AOS Bulletin Vol 89 #2 2020 photo fide
----------------------------------------------------------------------------------------------------------