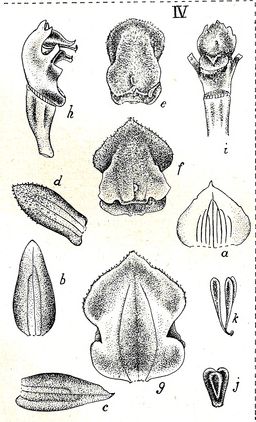 Dendrochilum lamellatum J.J.Sm.1922 SUBGENUS Platyclinis SECTION Eurybrachium TYPE Drawing by © J J Smith and The Swiss Orchid foundation at the Jany Renz Herbaria
Plant and flowers Photos by © Rici Ricardo


Common Name or Meaning The Lamina Dendrochilum
Flower Size 1/4" [8 mm]
Found in Sumatra in montane forests at elevations around 1700 meters as a small sized, cool growing epiphyte with 1"+ between each terete, almost stem-like pseduobulb and carrying erect, linear-lanceolate, acute, tough, gradually narrowing below into the petiolate base leaves that blooms on a nodding, thin, red brown, 4.6" [11.5 cm] long, densely many flowered inflorescence arising from newly maturing pseudobulbs
CAUTION I am not sure about the photo determination, anyone else? The Type Drawing by J J Smith is Absolutely correct.
J J Smith put D lamellatum close to D fuscescens but this one has an almost entire lip with curious appendages.
Comber stated that D lamellatum is also similar to D Karoense but D lammelatum is smaller in almost all respects and has 4 ribs instead of 2 on the lip, the petals are erose, and the column arms are shorter and shaped differently.
Synonyms
References W3 Tropicos, Kew Monocot list , IPNI ; Orchids of Sumatra J B Comber 2001
----------------------------------------------------------------