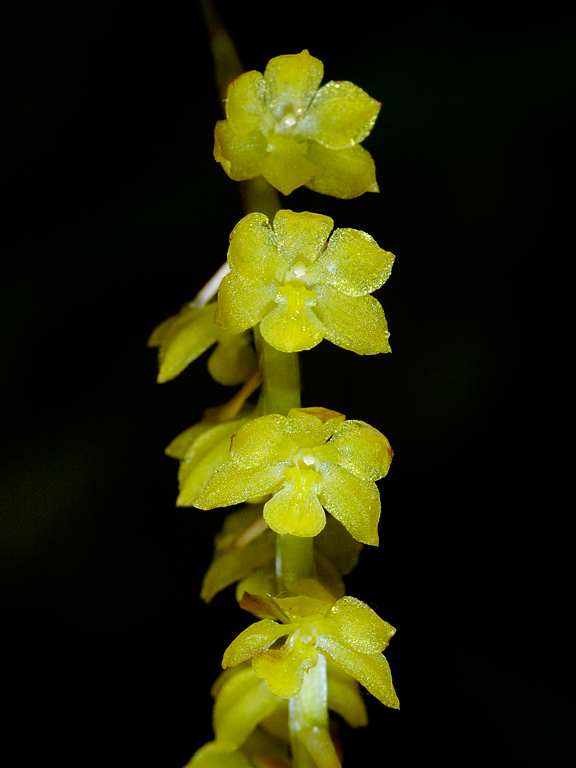 Dendrochilum filiforme Lindley 1840 SECTION Platyclinis [Benth.] Pfitzer
Photo by © Eric Hunt /font color=red>
Photo by Jay Pfahl
Photo courtesy of Andy's Orchids Copyright © 2002 All rights reserved.


to



to EARLY

Common Name The Golden Chain Orchid - The Thread-Like Dendrochilum [refers to the long, slender inflorescence]
Flower Size more than 1/4" [5 mm]
Found in the Philippines at elevations of 660 to 2250 meters as a miniature to small sized, warm to cold growing, miniature with conical or ellipsoid-fusiform pseudobulbs covered with papery sheaths carrying 2 apical, erect, petiolate, narrowly linear-ligulate, subobtuse leaves needing good light and even year round watering that blooms in the spring to early summer on a 24" [60 cm], pendulous-arcuate, slender, crowded, many flowered [100+], inflorescence arising from the apex of a newly developing pseudobulb and having papery, convolute bracts that are equal to the ovary in length. This species has highly fragrant flowers that are arranged in 2 rows.
Synonyms Acoridium filiforme [Lindley]Rolfe 1904; Dendrochilum filiforme var. ramosii (Ames) L.O.Williams 1937; Dendrochilum ramosii Ames 1913 publ. 1914; Platyclinis filiformis (Lindl.) Benth. ex Hemsl. 1881
References W3 Tropicos, Kew Monocot list , IPNI ; Studies in the Family Orchidaceae Vol 2 Ames 1908 drawing fide; Studies in the Family Orchidaceae Vol 5 Ames 1915; Studies in the Family Orchidaceae Vol 5 Ames 1915 as D ramosii; Die Orchideen Schlechter 1915 photo ok; Atlas des Orchidees Cultivees Constantin 1920 drawing good; AOS Bulletin Vol 26 No 2 1957; Orchid Digest Vol 23 #1 1959 as Platyclinis filiformis photo fide; AOS Bulletin Vol 28 No 8 1959 as Platyclinis filiformis photo fide; Encyclopedia of Cultivated Orchids Hawkes 1965; AOS Bulletin Vol 37 # 6 1968; Orchidiana Philipiniana Vol 1 Valmayor 1984; Orchidiana Philipiniana Vol 1 Valmayor 1984 as D filiforme var ramosii; Die Orchideen 3 Auflage Bd 1 Sonderabdruck aus Schlechter Lieferung 15 881 - 944 Brieger, Maatsch and Senghas 1984 drawing ok; The Manual Of Cultivated Orchid Species Bechtel, Cribb & Launert 1992 photo fide; AOS Bulletin Vol 65 Vol 7 1996 photo ok; AOS Bulletin Vol 66 No 8 1997 photo fide; Orchid Australia Vol 13 No 1 2001 photo; The Orchids of The Philippines Cootes 2001 photo fide; Flora Malesiana Orchids of the Philippines Vol I Agoo, Shuiteman and de Vogel 2003; A to Z of South East Asian Orchid Species Vol 2 O'Byrne 2011 photo fide; Philippine Native Orchid Species Cootes 2011 photo fide; AOS Bulletin Vol 84 #7 2015 photo fide;
--------------------------------------------------------------------------------------------------------------------------