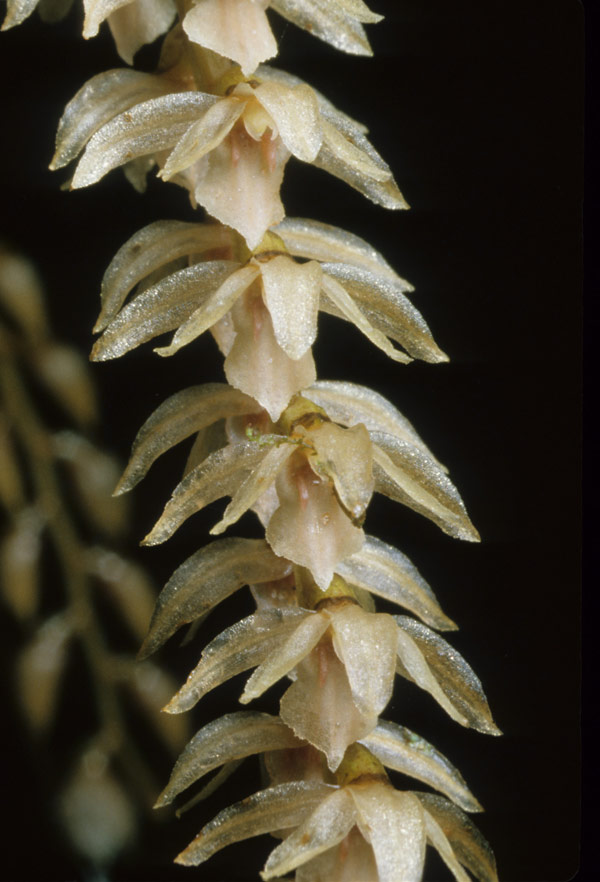 Dendrochilum cornutum Blume 1826 SUBGENUS Platyclinis SECTION Eurybrachum Photo by J B Comber and The Swiss Orchid Foundation A t the Jany Renz Herbaria Website
Inflorescence Photo courtesy of Eric Hunt, plant grown by Howard Gunn


to


to EARLY

Common Name The Horned Dendrochilum
Flower Size 1/4" [.6 cm]
Found as a medium sized, warm to cool growing epiphyte in Borneo, Java and Sumatra at elevations of 200 to 2400 meters as a warm to cool growing epiphyte with close set, long-ovate, pale green speudobulbs carrying a few narrowly lanceolate, acute, petiolate leaves that blooms on a very slender, gracefully arching, 8" [20 cm] long, inflorescence arising on newly matured pseudobulbs occuring in the summer and early fall.
J J Smith put D ophiopogonoides close to D cornutum even though it has well developed side lobes to the lip.
He also stated that D rigidulum was very similar but it differs in the short broad stelida and the lip shape.
Synonyms Acoridium auritum (Blume) Rolfe 1904; Acoridium cornutum (Blume) Rolfe 1904; Acoridium erosum (Rchb.f.) Rolfe 1904; Dendrochilum auritum Rchb.f. 1856; Dendrochilum erosum Rchb.f. 1861; Platyclinis cornuta Benth. ex Hemsl. 1881
References W3 Tropicos, Kew Monocot list , IPNI ; Bonplandia Rchb.f 1856 as D auritum; Die Orchideen Von Java J.J.Sm. 1905; Die Orchideen Von Java Figuren Atlas J.J.Smith 1908 drawing good; Die Orchideen Schlechter 1915; Encyclopedia of Cultivated Orchids Hawkes 1965; Die Orchideen 3 Auflage Bd 1 Sonderabdruck aus Schlechter Lieferung 15 881 - 944 Brieger, Maatsch and Senghas 1984; Orchids of Java Comber 1990 photo fide; A Checklist of the Orchids of Borneo Wood & Cribb 1994; Orchids of Sumatra Comber 2002 photo maybe; Mille et Une Mini Orchideees Roguenant 2009 photo fide;
--------------------------------------------------------------------------------------------------------------------------