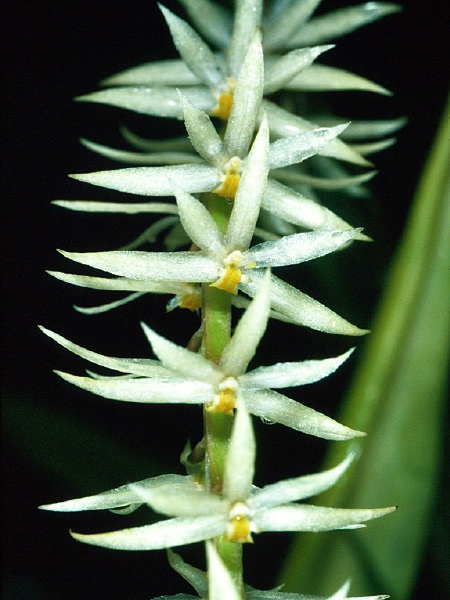 Dendrochilum glumaceum Lindl. 1878 SECTION Platyclinis [Benth.] Pfitzer
Flower Closeup Photo courtesy of Eric Hunt.
Different color Photo courtesy of Jay Pfahl Copyright © 2002 All rights reserved.
Another Flower Color Photo courtesy of Joseph Dougherty Copyright © 2002 All rights reserved.





and

Common Name The Husk-Like Dendrochilum [Refers to the appearance of the unopened inflorescence]
Flower Size about 1/2" [about 1.25 cm]
A Philippine epiphytic or lithophytic, small to medium sized, warm to cold growing species found at elevations of 500 to 2300 meters on trees and rocks with conical to ovoid, clustered pseudobulbs carrying a single, apical, grass-like, erect to narrowly elliptic or oblanceolate, plicate, acute or acuminate, longly petiolate leaves that blooms in the spring and fall on an axillary, to 12" [30 cm]long, slender, pendulous-arcuate, inflorescence with with spreading. imbricating, distichous, glumaceous bracts and many fragrant flowers arranged in 2 rows, smelling of sweet hay, and all occupying the apical half.
Synonyms Acoridium glumaceum [Lindley]Rolfe 1881; Dendrochilum glumaceum var validum [Rolfe] Pfitz. 1907; Platyclinis glumacea Benth. ex Hemsl. 1881
References W3 Tropicos, Kew Monocot list , IPNI ; Studies in the Family Orchidaceae Vol 2 Ames 1908 drawing good; Studies in the Family Orchidaceae Vol 2 Ames 1908 as D glumaceum var validum drawing ok; Studies in the Family Orchidaceae Vol 5 Ames 1915; Die Orchideen Schlechter 1915 photo ok; Atlas des Orchidees Cultivees Constantin 1920 drawing ok; AOS Bulletin Vol 33 No 5 1964; Encyclopedia of Cultivated Orchids Hawkes 1965 photo ok; Die Orchideen 3 Auflage Bd 1 Sonderabdruck aus Schlechter Lieferung 15 881 - 944 Brieger, Maatsch and Senghas 1984 photo fide; Orchidiana Philipiniana Vol 1 Valmayor 1984; Orchidiana Philipiniana Vol 1 Valmayor 1984 D glumaceum var validum; AOS Bulletin Vol 56 No 9 1987 photo; Orchid Digest Vol 59 No 1 1995 photo fide; AOS Bulletin Vol 66 No 8 1997 photo; Dendrochilum of Borneo Wood 2001 drawingfide/photo good; The Orchids of The Philippines Cootes 2001 photo fide; Flora Malesiana Orchids of the Philippines Vol I Agoo, Shuiteman and de Vogel 2003; Philippine Native Orchid Species Cootes 2011 photo fide;
--------------------------------------------------------------------------------------