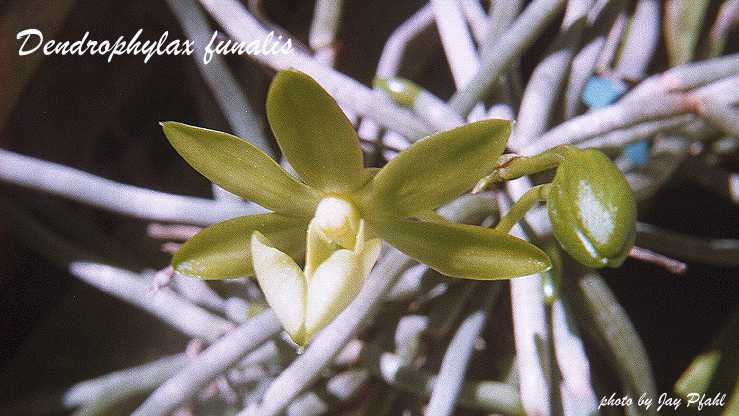 Dendrophylax funalis [Sw.]Fawcett 1889 Photo by © Jay Pfahl
Another Flower View Photo by © Eric Hunt and His Orchid Website.




to

Common Name The Rope-Like Dendrophylax - The Corded Ghost Orchid
Flower Size 2 1/4" [to 6 cm]
Found in Jamaica at elevations of 250 to 550 meters as a small sized, hot growing leafless epiphyte or lithophyte with as central short stem, giving rise to numerous, subfasciculate, often free and penduous, gray-green roots that are capable of processing the sun for food the way other plant's leaves do and can also form plantlets at the tips of older roots that blooms in the fall through the spring on a .8 to 4" [2 to 10 cm] long, laxly 1 to 3 flowered inflorescence with ocreate, ventricose, acute to acuminate floral bracts and carrying fragrant flowers.
The fragrance is said to be unpleasasnt by Rebecca Northen but I find it appealing.
It likes high humidity and bright indirect light, and is best mounted on wood or in a wood slat basket,
Synonyms Aeranthes funalis (Lindl.) Rchb. f. 1864; Aeranthus funalis Rchb.f; 1864; Angorchis funalis (Sw.) Kuntze, 1891; Angraecum funale Lindl. 1846; *Epidendrum funale Sw. 1788; Limodorum funalis [Sw.]Sw 1806; Oeceoclades funalis Lindley 1833; Polyrrhiza funalis [Sw.] Pfitzer 1889; Trichocentrum funale (Sw.) Lindl. 1837
References W3 Tropicos, Kew Monocot list , IPNI ; Symbolae Antillanae Vol VI Orchidaceae Urban 1909 as Polyrhiza funalis; Flora of Jamaica Fawcett & Rendle 1910 Drawing fide; Die Orchideen Schlechter 1915 as Polyrrhiza funalis photo fide; AOS Bulletin Vol 31 No 1 1962 photo; AOS Bulletin Vol 31 No 10 1962 as Polyrhiza funalis; AOS Bulletin Vol 32 No 10 1963 photo; Encyclopedia of Cultivated Orchids Hawkes 1965 as Polyrrhiza funalis; Rudolph Schlechter Die Orchideen Band 1B lieferung 16/17/18 945-1128 Brieger 1985 as Polyrhizza funalis drawing/photo fide; AOS Bulletin Vol 61 No 10 1992 photo; Orchids of Jamaica Gloudon & Tobisch 1995 photo fide; Orchidaceae Antillanae Nir 2000; Orchid Flora of the Greater Antilles Ackerman 2014
--------------------------------------------------------------------------------------------------------------------------