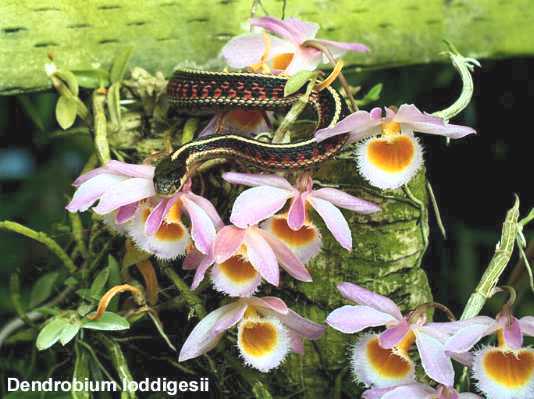 Dendrobium loddigesii Rolfe 1887 SECTION Dendrobium
Photo by © Dale and Deni Borders
Photo by Jay Pfahl Copyright © 2002 All rights reserved
Photo by Eric Hunt, plant grown by Ted & Angela Foin.



LATE

to

Common Name Loddiges' Dendrobium [English Botanist 1800's] - In China Mei Hua Shi Hu
Flower Size about 2" [about 5 cm]
This is a miniature to small sized, cool growing epiphyte, lithophyte or terrestrial that comes from Laos, Vietnam, Guangdong, Guangxi, Guizhou, Hainan and Yunnan provinces of China and Hong Kong and is found in humid, mossy, mixed and coniferous forests at elevations of 1000 to 1500 meters with tufted, pendant, subterete, striated, several noded, white sheathed stems carrying alternate, fleshy, oblong, acute leaves and has a dry winter and a wet spring and summer. The longlasting, fragrant sweetly floral scented flowers are found from February through June on short to 3" [7.5 cm], single flowered inflorescence that arise from the nodes of leafless canes.
Synonyms Callista loddigesii (Rolfe) Kuntze 1891; Dendrobium pulchellum Loddiges not Roxb. 1933; Dendrobium seidelianum Rchb.f ?
References W3 Tropicos, Kew Monocot list , IPNI ; Orchidaceae Monandre-Dendrobiinae Fr. Kraenzlin 1910 drawing good; Die Orchideen Schlechter 1915; Atlas des Orchidees Cultivees Constantin 1920 as Eudendrobium loddigesii drawing fide; Die Orchideen 2 Auflage Schlechter 1927; AOS Bulletin Vol 15 # 6 1946 drawing fide; AOS Bulletin Vol 29 No 5 1960 photo fide; Encyclopedia of Cultivated Orchids Hawkes 1965; AOS Bulletin Vol 35 No 6 1966 photo fide; AOS Bulletin Vol 36 No 6 1967 photo fide; AOS Bulletin Vol 36 #10 1967 photo fide; AOS Bulletin Vol 37 # 6 1968; The Genera of Orchidaceae in Hong Kong Shiu-ying Hu 1977 drawing fide; AOS Bulletin Vol 48 No 3 1979 photo fide; Die Orchideen lieferung 11/12 633 - 752 Brieger 1981 photo ok; A Guide to Orchids of the World Hodgson, Paine & Anderson 1991 Photo fide; The Manual Of Cultivated Orchid Species Bechtel, Cribb & Laurent 1992 photo fide; The Illustrated Encyclopedia of Orchids Pridgeon 1992 photo fide; Orchid Digest Vol 57 Vol 3 1993 photo fide; Identification of the Orchids [Orchidaceae Juss.] Vietnam Averyanov 1994; Manual of Orchids Stewart 1995; Orchid Species Culture; Dendrobium Bakers 1996; Wild Orchids of China Tsi, Chen Mori 1997 photo fide; Native Orchids of China in Colour Singchi, Zhanhuo and Yibo 1999 photo fide; Lindleyana Vol 15 No 4 2000; Dendrobium and its Relatives Lavarack, Harris and Stocker 2000 photo fide; Botanica's Orchids 2002 photo fide; Hainan Island Wild Orchid illustrations 2005 photo fide; Turczaninowia 19 (3): 5–58 L. V. Averyanov, Khang Sinh Nguyen etal 2016 ; The Dendrobiums H. P. Wood 2006 photo fide; Australian Orchid Review Vol 72 No 2 2007 photo; Orchid Digest Vol 73 #1 2009 drawing fide; Mille Et Une mini Orchidees Roguenant 2009 photo fide; A Field Guide to the Orchids of China Singchi, Zhongjian, Yibo, Xiaohua and Zhanhuo 2009 photo fide; Flora of China Vol 25 Zhengyi, Raven & Deyuan 2009; Orchid Digest Vol 74 #4 2010 photo fide; Flora of China Vol 25 Illustrations Zhengyi, Raven & Deyuan 2010 drawing fide; The Atlas of Wild Orchids in Hainan Island, China Shenyan and Junmei 2010 photo fide; AOS Bulletin Vol 80 #10 2011 photo fide; The Wild Orchids of Hong Kong Barretto, Cribb and Gale 2011 drawing/photo fide; Of Men and Orchids Part 1 Jenny 2015 photo fide; Orchid Digest Vol 82 #3 2018; AOS Bulletin Vol 88 #10 2019 photo fide; Atlas of Native Orchids of China Vol 1 Jin Xiaohua, Li Jianwu and Ye Deping 2019 photo fide;
Dendrobium loddigesii Rolfe 1887 var albescens
Photo by © Arnold Gum
--------------------------------------------------------------------------------------------------------------------------