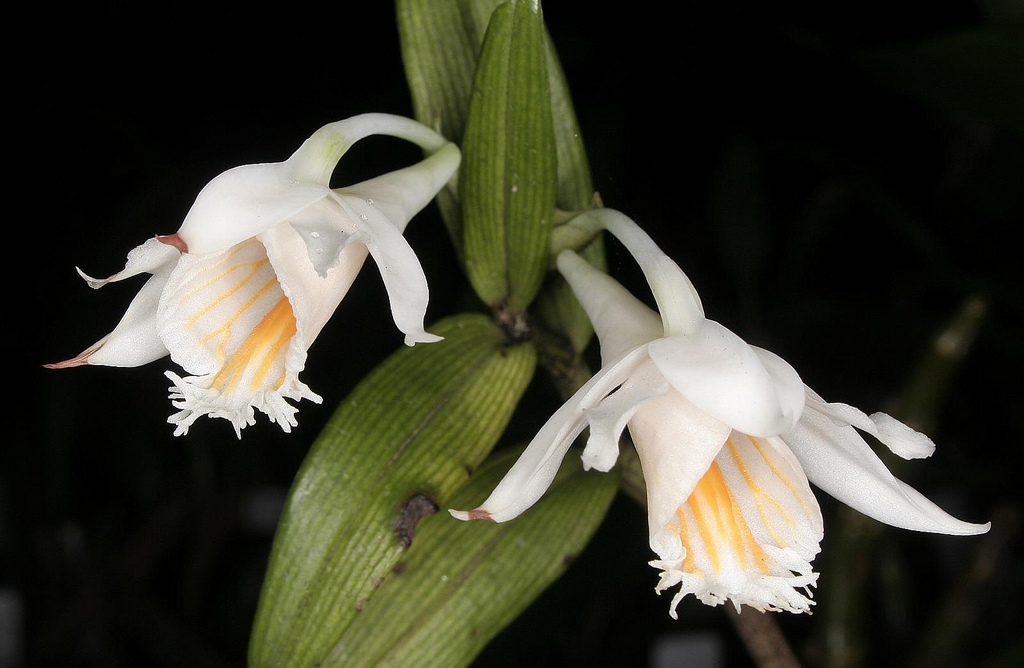 Dendrobium longicornu Lindl. 1828 SECTION Formosae
Photos by © Lourens Grobler.





Common Name The Long-Horned Dendrobium [refers to the mentum] - In China Chang Ju Shi Hu
Flower Size about 1 1/2" [to 3.75 cm]
Found in the eastern Himalayas, Assam, Bangladesh, Nepal, Bhutan, Sikkim, Myanmar, southern China and Vietnam in humid, mossy, mixed and coniferous forests on mossy branches of old, dwarf, gnarled trees and primary montane forests at elevations of 1200 to 3000 meters on mossy trees, or terrestrially on sandy banks in pine forests or in mist forests on ridges as a small sized, cool to cold growing epiphyte or terrestro-lithophyte where there is high light and the plant can dry quickly. This species has tufted, minutely sulcate, somewhat fractiflex, several noded, covered in black hairs stems and carrying 5 to 11, deciduous, linear-lanceolate, obliquely acute leaves that blooms in the fall on very short, axillary racemes that arise from near the top of leafed canes with 1 to 3, fragrant, waxy, longlasting flowers and needs a short dry winter rest of 1 or 3 months at most.
Synonyms Callista longicornis (Lindl.) Kuntze 1891; Dendrobium bulleyi Rolfe 1913; Dendrobium flexuosum Griff. 1851; Dendrobium fredianum hort.; Dendrobium hirsutum Griff. 1851; Froscula hispida Raf. 1838
References W3 Tropicos, Kew Monocot list , IPNI ; The Orchids of Sikkim-Himalaya Part 1 King & Pantling 1898 drawing fide; Orchidaceae Monandre-Dendrobiinae Fr. Kraenzlin 1910; Die Orchideen Schlechter 1915; Die Orchideen 2 Auflage Schlechter 1927; AOS Bulletin Vol 27 No 3 1958 drawing ok; AOS Bulletin Vol 33 No 10 1964 drawing fide; Encyclopedia of Cultivated Orchids Hawkes 1965; Beautiful Indian Orchids and How to grow them Ghose 1968; Orchid Digest Vol 38 #4 1974 photo fide; AOS Bulletin Vol 44 #9 1975 photo fide; AOS Bulletin Vol 47 No 7 1978; Indian Orchids: A guide to Identification and Culture Vol II Pradhan 1979 drawing fide; Die Orchideen lieferung 11/12 Schlechter/Brieger 1981; Orchids of Arunachal Pradesh Hegde 1984; AOS Bulletin Vol 54 No 3 1985; The Manual Of Cultivated Orchid Species Bechtel, Cribb & Laurent 1992 photo fide; Identification of the Orchids [Orchidaceae Juss.] Vietnam Averyanov 1994; AOS Bulletin Vol 64 no 1 1995 photo; Manual of Orchids Stewart 1995; Orchid Species Culture; Dendrobium Bakers 1996; Wild Orchids of China Tsi, Chen Mori 1997 phot ogood; Native Orchids of China in Colour Singchi, Zhanhuo and Yibo 1999 photo fide; Lindleyana Vol 15 No 4 2000; Beautiful Orchids of Nepal Rajbhandari & Bhattarai 2001 photo fide; Orchids of Bhutan Pearce & Cribb 2002 photo fide; Slipper Orchids of Vietnam Averyanov, Cribb, Loc and Hiep 2003 photo fide; Wild Orchids in Myanamar Vol 2 Tanaka 2004 photo hmm; The Dendrobiums H. P. Wood 2006 photo fide; Orchids of India A Glimpse Misra 2007; AOS Bulletin Vol 78 #6 2009 photo fide; Native Orchids From Gaoligongshan Mountains, China Xiaohua, Xiaodong and Xiaochun 2009 photo good; A Field Guide to the Orchids of China Singchi, Zhongjian, Yibo, Xiaohua and Zhanhuo 2009 photo fide; Flora of China Vol 25 Zhengyi, Raven & Deyuan 2009; Orchid Digest Vol 74 #4 2010 photo fide; The Wild Orchids in Yunnan Xu Xiang Ye & Liu 2010 photos fide; Wild Orchids of Myanmar Hyan Tun [Mr Myanmar] 2014 Photo fide; Genera Orchidacearum Vol 6 Epidendrodeae Part 3 Pridgeon, Cribb, Chase and Rasmussen 2014; LANKESTERIANA 15(1): 7—50. Jeewan Singh Jalal & J. Jayanthi 2015; AOS Bulletin Vol 85 #2 2016 photo fide; Atlas of Native Orchids of China Vol 1 Jin Xiaohua, Li Jianwu and Ye Deping 2019 photo fide;
--------------------------------------------------------------------------------------------------------------------------
-------------------------------------------------------------------------------------------------------------