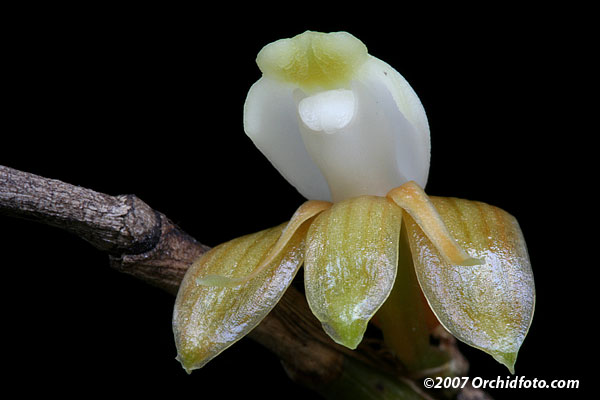 Dendrobium pachyglossum Parish & Rchb. f. 1874 SECTION Conostalix Photo by © Manorot Tangsaveepha and the The Butterfly & Orchid Website
Inflorescence Photo by © Karel & Alex Petrzelka and the Vietnam Orchid Website
Back Side of Flowers Photo courtesy of Andy's Orchids, Copyright © 2002 All rights reserved


To


Common Name The Broad Lipped Dendrobium - In Thailand Ueang Khon Mu
Flower Size 1/2" [1.25 cm]
Found in Myanmar, Thailand, Malaysia, Laos and Vietnam in primary montane forests as a small to large sized, warm to cool growing epiphyte or lithophyte found low on trees or mossy rocks at elevations of 610 to 1220 meters with slender, somewhat pendant, basally and apically narrowed, clustered stems carrying many, grass-like, linear leaves with black, hairy leaf sheaths that blooms on a very short, lateral, one to few flowered inflorescence arising from the center of the leaf cluster with 1 to 2, color variable flowers.
D pachyglossum is allied to D deflexilobum but it differs in the sparsely brown hairy leaves and the sharply defexed lip mid lobe that almost touches the unerside of the blade.
Slightly reduce water and fertilizer through the winter months and resume regular watering in the spring with the onset of new growth.
Synonyms Callista pachyglossa (Parish & Rchb. f.) Kuntze 1891; Conostalix pachyglossa (C.S.P.Parish & Rchb.f.) Rauschert 1983; Dendrobium abietinum Ridley 1896; Dendrobium fallax Guillam. 1956
References W3 Tropicos, Kew Monocot list , IPNI ; A Century of Indian Orchids Vol 5 Hooker 1895 drawing ok; Orchids of Burma Grant 1895/1995; Materials For a Flora of the Malayan Penninsula Part 1 Ridley 1907; Orchidaceae Monandre-Dendrobiinae Fr. Kraenzlin 1910 as D abientum; Orchidaceae Monandre-Dendrobiinae Fr. Kraenzlin 1910; Flora of Malaya Vol 1 Orchids Holttum 1953; The Orchids of Thailand Seidenfaden & Smitinand 1960; The Orchids of Thailand Seidenfaden & Smitinand 1965 corrections photo ok; Opera Botanica #83 Orchid Genera in Thailand XII Dendrobium Sw. Seidenfaden 1985 drawing/photo fide; The Orchids of Penninsular Malaysia Wood & Seidenfaden 1992 drawing fide; Identification of the Orchids [Orchidaceae Juss.] Vietnam Averyanov 1994; Orchid Species Culture; Dendrobium Bakers 1996; Dendrobium and its Relatives Lavarack, Harris and Stocker 2000 photo fide; Orchids of Sarawak Beaman, Wood, Beaman & Beaman 2001 as D aff pachyglossum; A field Guide to the Wild Orchids of Thailand Vaddhanaphuti 2005 photo ok; A field Guide to the Wild Orchids of Thailand Vaddhanaphuti 2005 photo ok; The Dendrobiums H. P. Wood 2006 photo fide; Wild Orchids of Penninsular Malaysia Ong, O'Byrne, Yong & Saw 2011 photo fide; Dendrobium of Borneo Wood 2014 photo fide; Wild Orchids of Myanmar Hyan Tun [Mr Myanmar] 2014 Photo fide ;
--------------------------------------------------------------------------------------------------------------------------