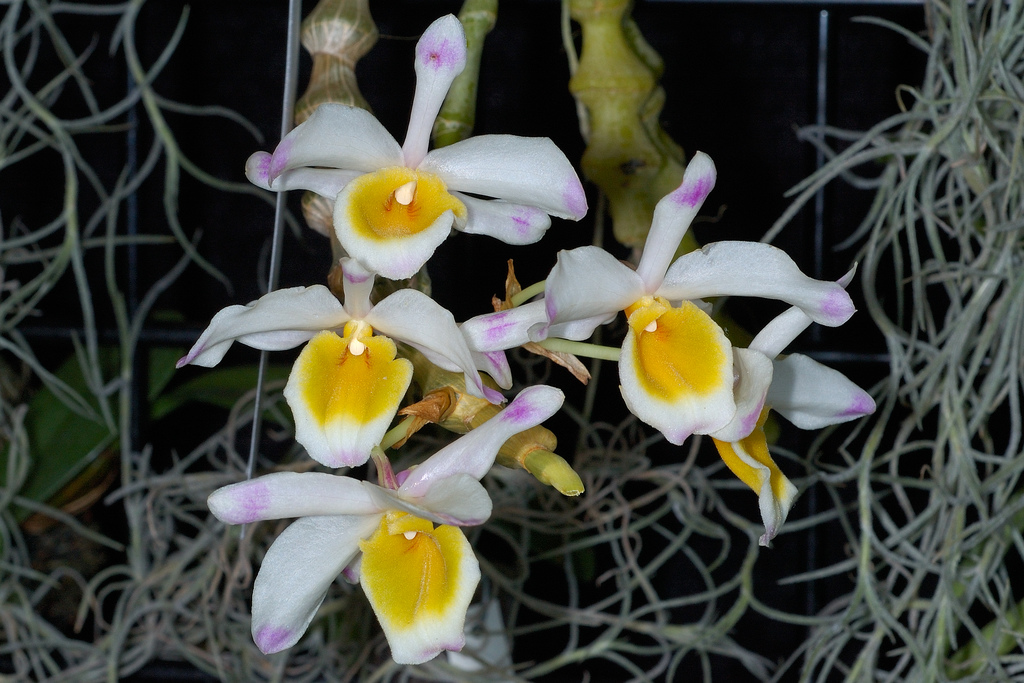 Dendrobium pendulum Roxb. 1832 SECTION Dendrobium Photo by © Eric Hunt and His Orchid Website.
Plant and Flowers Photo by Marius Wasbauer




LATE

and EARLY

Common Name The Pendant Growing Dendrobium - in Thailand - Mai Thao Rusi- - Wai pom - In China Zhong Jie Shi Hu
Flower Size 1.6 to 2.8" [4 to 7 cm]
Found in Hainan and Tibet China, Assam, Bangladesh, Myanmar, Thailand, Laos and Vietnam in open forests on tree trunks as a small to large sized, warm to cool growing epiphyte or lithophyte in full sun at elevations of 760 to 1600 meters with tufted masses, decurved or pendulous, 7 to 16 noded, swollen at each node, sulcate, dull olive-green stems carrying deciduous, lanceolate, semi-amplexicaul, acute leaves that blooms on an axillary, short, few flowered inflorescence with boat-shaped, papery floral bracts that arise from the upper nodes on leafy and old leafless canes carrying fragrant, long-lasting flowers occuring in the fall through spring but mostly in the late winter and early spring.
Reduce water from fall until md-winter but do not let the plant become too dry, in late winter give only mistings until the new growth arises in the spring. Fertilizer may be curtailed or greatly reduced through the same period.
Synonyms Callista crassinodis (Benson & Rchb.f.) Kuntze 1891; Callista pendula (Roxb.) Kuntze 1891; Dendrobium crassinode Benth. & Rchb. f. 1869; Dendrobium crassinode f. albiflorum Rchb.f 1875; Dendrobium crassinode var. barberianum Rchb.f. 1875; Dendrobium melanophthalmum Rchb.f 1886
References W3 Tropicos, Kew Monocot list , IPNI ; Otia Botanica Hamburgensia Rchb.f 1878 as D crassinode; Orchids of Burma Grant 1895/1995 as D crassinide; Orchids of Burma Grant 1895/1995 as D melanopthalmum; Orchids of Burma Grant 1895/1995; Orchidaceae Monandre-Dendrobiinae Fr. Kraenzlin 1910; Atlas des Orchidees Cultivees Constantin 1920 drawing good; Flora of Malaya Vol 1 Orchids Holttum 1953 as D crassinode; The Orchids of Thailand Seidenfaden & Smitinand 1960 as D crassinode drawing good; Encyclopedia of Cultivated Orchids Hawkes 1965; Beautiful Indian Orchids and How to grow them Ghose 1968 As D crassinode; AOS Bulletin Vol 44 #9 1975 as D crassinodephoto fide; Beautiful Thai Orchid Species Kamemoto & Sagarik 1975 as D crassinode photo fide; Indian Orchids: A guide to Identification and Culture Vol II Pradhan 1979 photo fide; Opera Botanica #83 Orchid Genera in Thailand XII Dendrobium Sw. Seidenfaden 1985 drawing/photo fide; A Guide to Orchids of the World Hodgson, Paine & Anderson 1991 Photo fide; Thai Orchid Species Rakpaibulsombay 1992 as D crassinode photo fide; The Manual Of Cultivated Orchid Species Bechtel, Cribb & Laurent 1992 photo fide; The Illustrated Encyclopedia of Orchids Pridgeon 1992 photo fide; Identification of the Orchids [Orchidaceae Juss.] Vietnam Averyanov 1994; Manual of Orchids Stewart 1995 drawing fide; Orchid Species Culture; Dendrobium Bakers 1996; Wild Orchids of China Tsi, Chen Mori 1997 photo fide; Native Orchids of China in Colour Singchi, Zhanhuo and Yibo 1999 photo fide; A Field Guide to the Wild Orchids of Thailand Vaddhanaphuti 2001 photo fide; Orchid Digest Vol 66 #3 2002 as D crassinode photo fide; A field Guide to the Wild Orchids of Thailand Vaddhanaphuti 2005 photo fide; The Dendrobiums H. P. Wood 2006 photo fide; The Orchids of India A Glimpse Misra 2007 drawing ok; A Field Guide to the Orchids of China Singchi, Zhongjian, Yibo, Xiaohua and Zhanhuo 2009 photo fide; Flora of China Vol 25 Zhengyi, Raven & Deyuan 2009; Orchid Digest Vol 74 #4 2010 photo fide; Flora of China Vol 25 Illustrations Zhengyi, Raven & Deyuan 2010 drawing good; The Wild Orchids in Yunnan Xu Xiang Ye & Liu 2010 photos fide; Wild Orchids of Myanmar Hyan Tun [Mr Myanmar] 2014 Photo fide; Wild Orchids of Myanmar Hyan Tun [Mr Myanmar] 2014 as D pendulum var alba Photo fide; AOS Bulletin Vol 85 #1 2016 photo fide;
--------------------------------------------------------------------------------------------------------------------------
-----------------------------------------------------------------------------------------------------------