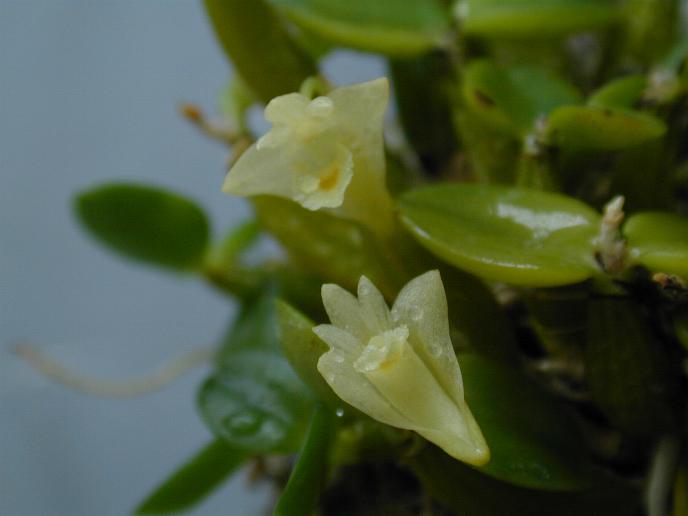 Dendrobium hymenanthum Rchb.f not Hkr. 1855 SECTION Bolbodium
Photo by © Jay Pfahl.
Photo by © Lourens Grobler
Photo by © Ekkehard Schwadtke and Lanta Orchid Nursery and Orchid Garden Khaolak Website



LATE

TO EARLY

Common Name The Membranous Dendrobium refers to the thin textured flowers]
Flower Size 1" [2.5 cm]
Found in India?, Myanmar, Thailand, Malaysia, Vietnam, Borneo and the Philippines as a mini-miniature sized, hot growing epiphyte found from sealevel to 300 meters with slender, rigid, erect, sharply 4 angled stems carrying 2, apical, oblong, leathery leaves and blooms in the late spring or early summer on an axillary, very short, single flowered, fragrant inflorescence that arises from the nodes near the apex of the cane and between the leaves with short-lived, fragrant, successively opening flowers.
For 3 to 4 months in the winter, water and fertilizer should be reduced, yet leaving the plants from drying completely. Resumption of regular water and fertilizer should begin with the onset of new growth in the spring.
Synonyms Bolbodium hymenanthum (Rchb. f.) Rauschert 1983; Bolbodium quadrangulare (Rchb. f.) Brieger 1981; Callista hymenantha (Rchb. f.) Kuntze 1891; Callista quadrangularis (Rchb. f.) Kuntze 1891; Dendrobium hymenanthum Vidal ?; Dendrobium pumilum C.S.P.Parish & Rchb.f. 1894; Dendrobium quadrangulare Rchb.f 1886; Dendrobium quadrangulare Parish ex Hook. f. 1895; Dendrochilum hymenanthum Vidal ?; Dendrobium pumilum C.S.P.Parish & Rchb.f. 1894
References W3 Tropicos, Kew Monocot list , IPNI ; *Bonplandia Rchb.f 1855; Orchids of Burma Grant 1895/1995 as D quadrangulare; Materials For a Flora of the Malayan Penninsula Part 1 Ridley 1907; Orchidaceae Monandre-Dendrobiinae Fr. Kraenzlin 1910 as D borneese; Orchidaceae Monandre-Dendrobiinae Fr. Kraenzlin 1910; Orchidaceae Monandre-Dendrobiinae Fr. Kraenzlin 1910 as D quadrangulare; Contributions to the Knowledge of the Orchid Flora of Sumatra Schlechter 1911; as D quadrangulareFlora of Malaya Vol 1 Orchids Holttum 1953 as D quadrangulare drawing good; The Orchids of Thailand Seidenfaden & Smitinand 1960 as D quadrangulare; Die Orchideen lieferung 11/12 633 - 752 Brieger 1981 as Bolbidium quadrangulare drawing fide; The Complete Writings on Philippine Orchids Vol 1 Quisumbing 1981; Orchidiana Philipiniana Vol 1 Valmayor 1984; Opera Botanica #83 Orchid Genera in Thailand XII Dendrobium Sw. Seidenfaden 1985 as D quadrangulare drawing fide; The Orchids of Penninsular Malaysia and Singapore Seidenfaden & Wood 1992 drawing fide; A Checklist of the Orchids of Borneo Wood & Cribb 1994 as D qudrangulare; ; Identification of the Orchids [Orchidaceae Juss.] Vietnam Averyanov 1994; Orchid Species Culture; Dendrobium Bakers 1996; Dendrobium and its Relatives Lavarack, Harris and Stocker 2000 photo fide; The Orchids of the Philippines Cootes 2001 photo fide; Orchids of Sarawak Beaman, Wood, Beaman & Beaman 2001 as D quadrangulare; A to Z of South East Asian Orchid Species Vol 1 O'Byrne 2001 photo fide; Flora Malesiana Orchids of the Philippines Vol I Agoo, Shuiteman and de Vogel 2003; Philippine Native Orchid Species Cootes 2009 photo fide; A Compendioum of Minaiture Orchid Species Vol 1 Parsons and Gerritsen 2013 photo fide; A Guide to the Dendrobium of the Philippines Cootes & Tiong 2015 photo fide; Orchid Digest Vol 82 #3 2018 photo fide;
--------------------------------------------------------------------------------------------------------------------------
------------------------------------------------------------------------------------------------------------