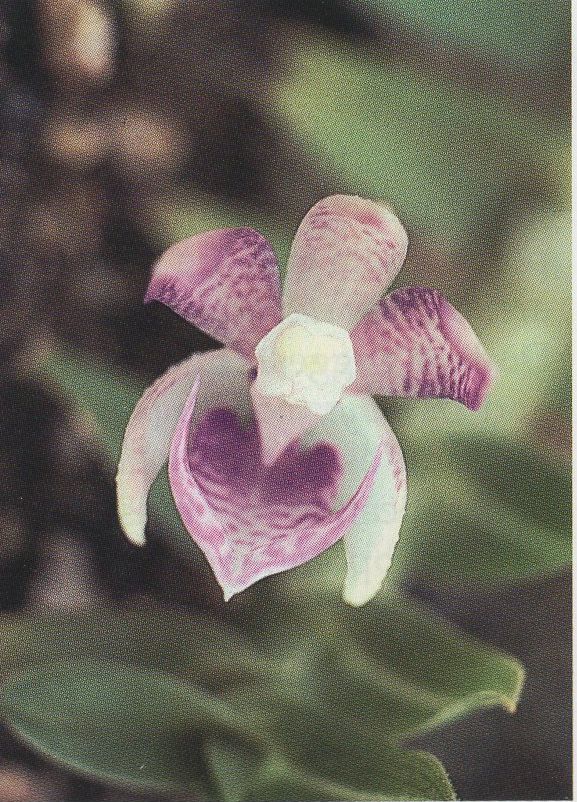 Dichaea muyuyacensis Dodson 1993 SECTION Dichaeopsis
Photo by © James P Folsom
TYPE Drawing by © Dodson and The Epidendra Website




Common Name The Bahia Muyuyo Dichaea [a beach Community to the southwest of Guayaquil]
Flower Size .4" [1 cm]
Found in Panama, Colombia and Ecuador at elevatiosn of 260 to 1100 meters as a miniature to small sized, hot to cool growing epiphyte with a pendant, simple to basally branched stem enveloped by imbricating sheathing leaf bases carrying distichous, dense, horizontally spreading, not articulated, dark green, elliptic-oblong, obtuse, apiculate, cross veins in between the principal parelell veins leaves that blooms in the fall on an axillary, suberect, longer than the leaves, filiform, to .8" [2 cm] long, single flowered inflorescence with densely muricate ovary and capsule ad carrying pale pink flowers with the tepals heavilly flecked with blue, the white lip also blue spotted and the column and anther are white.
Dodson 1993 "This species is distinguished by the pendant habit of the plant, the presence of cross veins in the nondeciduous leaves, the lip with tubercules around the inner margin of the apex, and the large stigma with a glabrous, blunt, triangular ligule on the underside."
Synonyms Dichaea tuberculilabris Folsom 1994
References W3 Tropicos, Kew Monocot list , IPNI ; *Orquideologia 19: 109 Dodson 1993 Drawing fide; Field Guide to the Orchids of Costa Rica and Panama Dressler 1993 as D tuberculabris; Orchid Digest Vol 58 #2 1994 as D tuberculatbris drawing fide; Orchid Digest Vol 60 #4 1996 as D tuberculilabris photo fide; Orquideas de la Serrania del Baudo Misas Urreta 2006 as D tuberculabris drawing/photo good; Flora of Ecuador No 87 225[3] Orchidaceae Dodson & Luer 2010; Orchids, A Colombian Treasure Vol 1 Ortiz & Uribe 2014 drawing fide/photo ok?
-------------------------------------------------------------------------------------------------------------------------