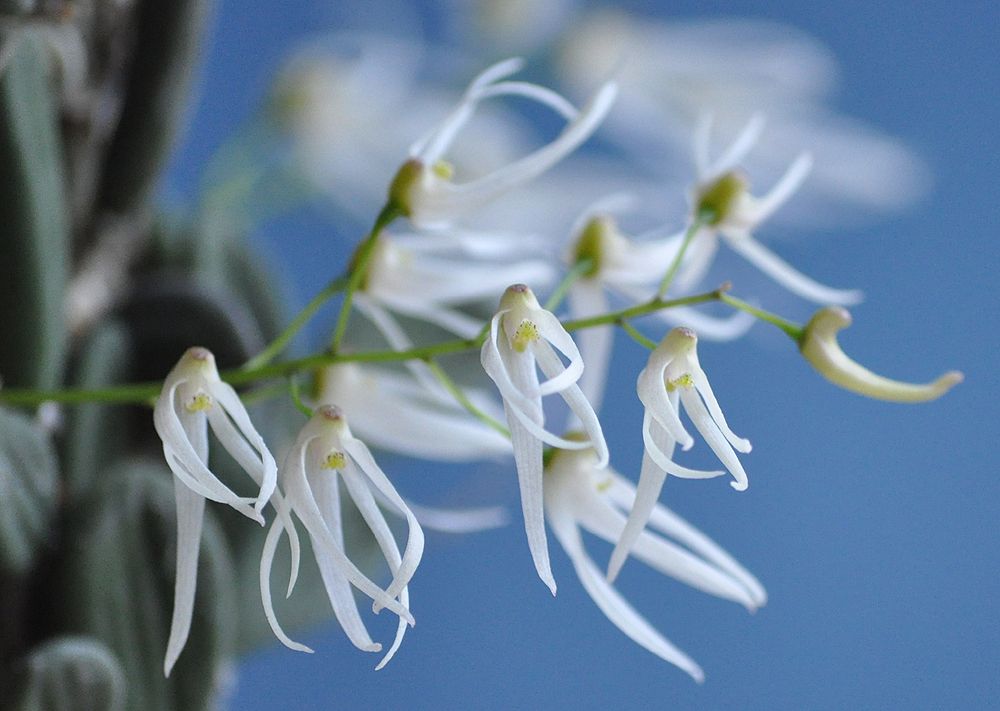 Dockrillia linguiforme (Sm.) Brieger 1981 SECTION Dockrillia
Plant and Flowers Photo by © Gerry Sinclair
Specimen Plant Photo by Wilford Neptune.



to


to

Common Name Tongue-Like Dockrillia In Australia Thumbnail Orchid - Button Orchid - Tick Orchid
Flower Size Less than 1" [less than 2.5 cm]
Found in the rainforests of Queensland and New South Wales Australia from sealevel to 1200 meters in elevation as a miniature sized, cool to warm growing epiphyte or lithophyte that forms large matted clumps with a terete stem and a creeping, branching rhizome, enveloped by sheaths and carrying sessile, alternate, ovate, oblong or obovate, very thick, smooth, longitudinally furrowed above leaves that blooms in the fall and winter on an erect, to 6" [6 to 15 cm] long, 15 to 20, fragrant flowered racemes.
This species is often found in conjunction with ants and may benefit from their presence. It certainly appreciates bright light and a drier winter rest.
Synonyms Callista linguiformis [Sm.]O. Ktze. 1891; Dendrobium linguaeforme Sw. 1800; *Dendrobium linguiforme Sm. 1806; Dendrobium linguiforme var. huntianum Rupp 1942; Dockrillia linguiforme var. huntianum Jones 2006
References W3 Tropicos, Kew Monocot list , IPNI ; Die Orchideen Schlechter 1915 as Dendrobium linguiforme; Die Orchideen 2 Auflage Schlechter 1927 as Dendrobium linguiforme; AOS Bulletin Vol 27 No 7 1958 as Dendrobium linguiforme photo fide; AOS Bulletin Vol 28 No 9 1959 as Dendrobium linguiforme; AOS Bulletin Vol 32 No 8 1963 as Dendrobium linguiforme photo good; Encyclopedia of Cultivated Orchids Hawkes 1965 as Dendrobium linguaeforme photo ok; AOS Bulletin Vol 35 No 4 1966 as Dendrobium linguiforme; AOS Bulletin Vol 37 No 7 1968 photo fide; Orchids of Australia Nicholls 1969 as Dendrobium linguiforme drawing fide; The Orchids of New South Wales Rupp 1969 as Dendrobium linguiforme; Flore de la Nouvelle-Caledonie et Dependences Vol 8 Orchidaceae Halle 1977 as Dendrobium linguiforme drawing fide; Miniature Orchids Northern 1980 as Dendrobium linguiforme photo fide; Die Orchideen lieferung 11/12 633 - 752 Brieger 1981 drawing ok; Dendrobium Orchids of Australia Upton 1989 drawing fide; A Guide to Orchids of the World Hodgson, Paine & Anderson 1991 as Dendrobium linguiforme Photo good; Miniature Orchids McQueens 1992 as Dendrobium linguiforme photo fide; The Manual Of Cultivated Orchid Species Bechtel, Cribb & Laurent 1992 as Dendrobium linguiforme drawing/photo fide; AOS Bulletin Vol 63 No 1 1994 as Dendrobium linguiforme photo fide; Manual of Orchids Stewart 1995 as Dendrobium linguiforme; Australian Orchid Review Vol 71 No 5 2006 photo; The Dendrobiums H. P. Wood 2006 as Dendrobium linguiforme photo fide; AOS Bulletin Vol 73 No 8 2004 as Dendrobium linguiformelia Jones 2006; Native Australian Orchids Jones 2006 photo good; Native Australian Orchids Jones 2006 as D linguiforme var huntiana photo good; Mille Et Une miniOrchidees Roguenant 2009 as Dendrobium linguiforme photo fide; AOS Bulletin Vol 85 #3 2016 as Dendrobium linguiforme drawing fide; AOS Bulletin Vol 88 #2 2019 as Dendrobium linguiforme drawing fide;
--------------------------------------------------------------------------------------------------------------------------