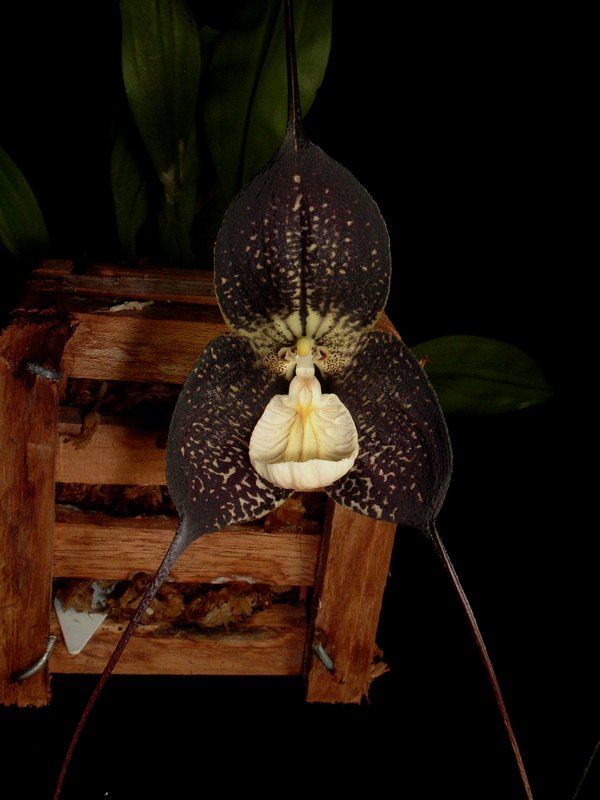 Dracula ubangina Luer 1980 SUBGENUS Dracula SECTION Dracula SUBSECTION Dracula Series Dracula Photo by © Gary Meyer and his The Dracula Website.
Flower and Plant Photo by © Patricia Harding.




Common Name or Meaning The Black Dracula
Flower Size 4" x 6" [10 x 15 cm]
Found in northwestern Ecuador in cloud forests at elevations around 1800 meters as a miniature to small sized, cool growing epiphyte with stout, erect ramicauls enveloped basally by 2 to 3 loose, tubular sheaths and carrying a single, apical, thinly coriaceous, carinate, narrowly elliptical, acute, gradually narrowing below into the conduplicate, indistinct, petiolate, base leaf that blooms in the winter and spring on a horizontal to descending, 4 to 6" [10 to 15 cm] long, loose, successively single, few flowered inflorescence arising from low on the ramicaul and carrying a tubular, oblique floral bract.
Synonyms Dracula vampira var. ubangina (Luer & Andreetta) O.Gruss & M.Wolff 2007
References W3 Tropicos, Kew Monocot list , IPNI ; Thesaurus Dracularum Vol 6 Luer, Escobar and Dalstroem 1993 watercolor/drawing fide; Icones Pleurothallidinarum X Systematics of Dracula Luer 1993 drawing fide; Native Ecuadorian Orchids Vol 1 Dodson 1993 photo fide; AOS Bulletin Vol 74 No 10 2005 photo fide; Draculas Del Ecuador Pupulin, Merino and Medina 2009; Flora of Ecuador No 87 225[3] Orchidaceae Dodson & Luer 2010; Orchid Digest Vol 76 #2 2012 photo fide; Orchids Masdevallia with its segregates including Dracula Zelenko 2014 photo fide
----------------------------------------------------------------------------------------------------------