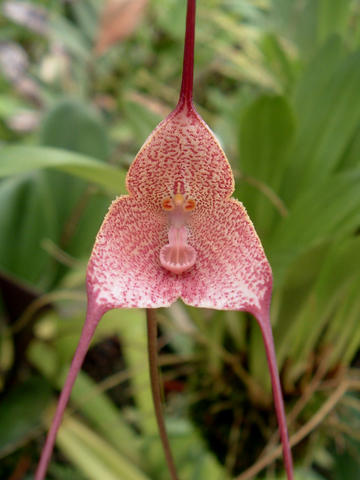 Dracula erythrochaete (Rchb.f.) Luer 1978 SUBGENUS Dracula SECTION Dracula SUBSECTION Dracula SERIES Parviflorae
Photo by Copyright © Gary Meyer
Photo byAndy's Orchids Copyright © 2002 All rights reserved.



to

Common Name The Red-Tufted Dracula
Flower Size to about 2" [5 cm]
CAUTION!!!! See Below -- The species photo and description here, which has been accepted as this species for a century, !!! may not be correct!!! !!!I am searching for the correct species photo!!!!!! Here is a drawing by Consantine in the manner that Reichenbach describes
Found from Costa Rica to Panama at altitudes up to 1250 meters, as a small sized, cool growing epiphytic plant with a short creeping rhizome and short, erect ramicauls carrying a single, apical, erect, coriaceous, oblanceolate or linear-lanceolate, tridenticulate at the obtuse apex, 8" [20 cm] long, bright green leaves that are close together on the rhizome, that blooms in spring and summer on thin pendulous, to 10" [25 cm] long, slender, terete, basally sheathed, successively single flowered inflorescence with ovate bracts carrying non-fragrant, apical flowers that slowly open one at a time.
CAUTION!!!!!!!!! D erythrochaete has been misidentified for at least 100 years. Here is Reichenbach's original description of Masdevallia erythrochaete, the basionym of Dracula erythrochaete, which states that it has an erect 4" [10 cm] long inflorescence with pure white and light yellow sepals with reddish purple tails.!!!!!!!!!!!!!!!!!
They do best in baskets so as to accomodate the multi-pendulous spikes that radiate in all directions on a mature well grown plant.
Synonyms Dracula burbidgeana (Rolfe) Luer 1978 ; Dracula erythrochaete var gaskelliana [Rchb.f]Luer 1987; Dracula gaskelliana [Rchb.f] Luer 1978; Masdevallia astuta Rchb.f 1886; Masdevallia burbidgeana Rolfe 1893; *Masdevallia erythrochaete Rchb.f 1882; Masdevallia erythrochaete var. gaskelliana (Rchb. f.) Woolward 1896; Masdevallia gaskelliana Rchb.f 1883
References W3 Tropicos, Kew Monocot list , IPNI ; Die Orchideen Schlechter 1915 as Masdevallia erythrochaete; Atlas des Orchidees Cultivees Constantin 1920 as Masdevallia erythrochaete drawing hmm; Encyclopedia of Cultivated Orchids Hawkes 1965 as Masdevallia erythrochaete; AOS Bulletin Vol 48 No 7 1979 photo fide; Orquideologia Vol 13 No 1 1978; AOS Bulletin Vol 56 No 8 1987 photo fide; Orchids Travel By Air A Pictoral Safari Mulder, Mulder-Roelfsema and Schuiteman 1990 photo fide; The Manual of Cultivated Orchids Bechtel, Cribb & Laurent 1992 photo fide; The Illustratred Encyclopedia of Orchids Pridgeon, 1992 photo fide; Thesaurus Dracularum Vol 6 Luer, Escobar and Dalstroem 1993 watercolor/drawing fide; Icones Pleurothallidinarum X Systematics of Dracula Luer 1993 drawing fide; Manual of Orchids Stewart 1995; Orchid Digest Vol 61 #4 1997 photo fide; Australian Orchid Review Vol 65 No 6 2000 photo; Manual de Plantas de Costa Rica Vol 3 Hammel, Grayum, Herrera and Zamora 2003 drawing fide; Vanishing Beauty, Native Costa Rican Orchids Vol 1 Pupulin 2005 photo fide; Vanishing Beauty, Native Costa Rican Orchids Vol 1 Pupulin 2005 as D erythrochaete var alba; AOS Bulletin vol 78 No 10 2009 photo fide; Orchids Masdevallia with its segregates including Dracula Zelenko 2014 photo fide; --------------------------------------------------------------------------------------