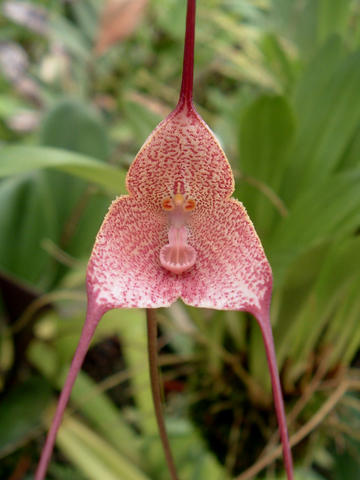 Dracula erythrochaete (Rchb.f.) Luer 1978 SUBGENUS Dracula SECTION Dracula SUBSECTION Dracula SERIES Parviflorae Photo by Copyright © Gary Meyer
Another Flower Photo courtesy of Andy's Orchids Copyright © 2002 All rights reserved.


to


to

Common Name The Red-Tufted Dracula
Flower Size to about 2" [5 cm]
Found from Costa Rica to Panama at altitudes up to 1250 meters, as a small sized, cold to cool growing, psuedobulbless, epiphytic plant with a short creeping rhizome and short, erect stems carrying a single, apical, erect, coriaceous, oblanceolate or linear-lanceolate, tridenticulate at the obtuse apex, 8" [20 cm], bright green leaves that are close together on the rhizome. The thin pendulous, to 10" [24 cm] long, slender, terete, basally sheathed inflorescence with ovate bracts and has one to 3, non-fragrant, apical flowers that slowly open one at a time and appear in spring and summer. They do best in baskets so as to accomodate the multi-pendulous spikes that radiate in all directions on a mature well grown plant.
Synonyms Dracula burbidgeana (Rolfe) Luer 1978 ; Dracula erythrochaete var gaskelliana [Rchb.f]Luer 1987; Dracula gaskelliana [Rchb.f] Luer 1978; Masdevallia astuta Rchb.f 1886; Masdevallia burbidgeana Rolfe 1893; *Masdevallia erythrochaete Rchb.f 1882; Masdevallia erythrochaete var. gaskelliana (Rchb. f.) Woolward 1896; Masdevallia gaskelliana Rchb.f 1883
References W3 Tropicos, Kew Monocot list , IPNI ; Die Orchideen Schlechter 1915 as Masdevallia erythrochaete; Atlas des Orchidees Cultivees Constantin 1920 as Masdevallia erythrochaete drawing hmm; Encyclopedia of Cultivated Orchids Hawkes 1965 as Masdevallia erythrochaete; AOS Bulletin Vol 48 No 7 1979 photo; Orquideologia Vol 13 No 1 1978; AOS Bulletin Vol 56 No 8 1987 photo; Thesaurus Dracularum Vol 6 Luer, Ecobar and Dalstroem 1993 watercolor/drawing fide; Icones Pleurothallidinarum X Systematics of Dracula Luer 1993 drawing fide; Australian Orchid Review Vol 65 No 6 2000 photo; Vanishing Beauty, Native Costa Rican Orchids Vol 1 Pupulin 2005 photo fide; Vanishing Beauty, Native Costa Rican Orchids Vol 1 Pupulin 2005 as D erythrochaete var alba
--------------------------------------------------------------------------------------