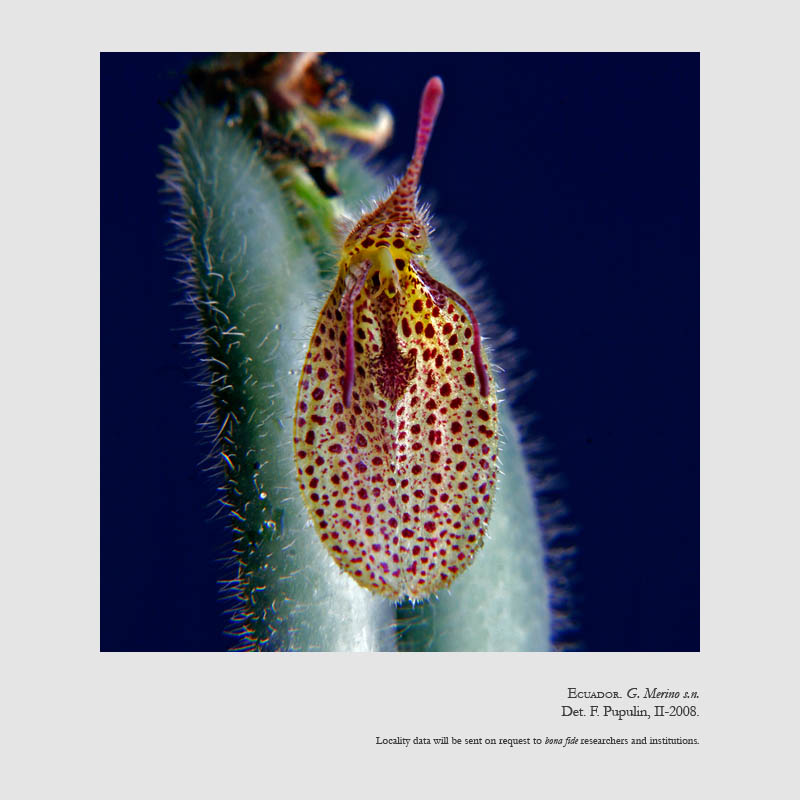 Dresslerella hirsutissima (C. Schweinf.) Luer 1978 SUBGENIS Pilositas Luer 1988
Side View of Flower Photos by © Merino and The Epidendra Website.
Another Side View of Flower Photo by © Ron Parsons.


To





Common Name The Hairiest Dresslerella
Flower Size 3/8" [1 cm]
Found in Peru and Ecuador as a miniature, cool to warm growing epiphyte at elevations of 900 to 1800 meters with horizontal to suberect, stout ramicauls enveloped by 3 fugacious, pilose, imbricating sheaths and carrying a single, apical, suberect to horizontal, fleshy, verruculose, elliptical, obtuse,light green, speckled with purple underneath, gradually narrowing below into the broadly cuneate, short petiolate base leaf that is covered on both sides by white trichomes that blooms at any time of the year on a short to 1/2" [12 to 14 mm] long, slender, pubescent, successively single flowered inflorescence arising from the leaf base.
CAUTION!!!! This species and D lasiocampa have been confused for years and I am not sure that I have them correct here either.
Synonyms *Pleurothallis hirsutissima C. Schweinf. 1951; Restrepiella hirsutissima (C. Schweinf.) Garay & Dunst. 1966
References W3 Tropicos, Kew Monocot list , IPNI ; Lankester's Epidendra Website CR ; Bot. Mus. Leafl. 15(3): 94. 1951 as Pleurothallis hirsutissima; Fieldiana Biology, Vol 33, 1st Supple. to the Orchids of Peru Schweinfurth 1970 as Restrepiella hirsutissima; Systematics of the Pleurothallidinae Vol 1 1986; Icones Pleurothallidinarum Systematics of Dresslerella And Scaphosepalum Vol 5 1988 drawing not = D lasiocampa; AOS Bulletin Vol 69 No 2 2000 photo fide; Native Ecuadorian Orchids Vol 2 Dodson 2002 photo ok; Icones Pleurothallidinarum Vol XXVII Luer 2005 drawing fide; Orchid Species of Peru Zelenko Bermudez 2009 photo ok; Orchid Digest Vol 74 #2 2010 photo fide; Flora of Ecuador No 87 225[3] Orchidaceae Dodson & Luer 2010 photo as D lasiocampa fide; Orchid Digest Vol 80 #2 2016 photo fide;
--------------------------------------------------------------------------------------------------------------------------