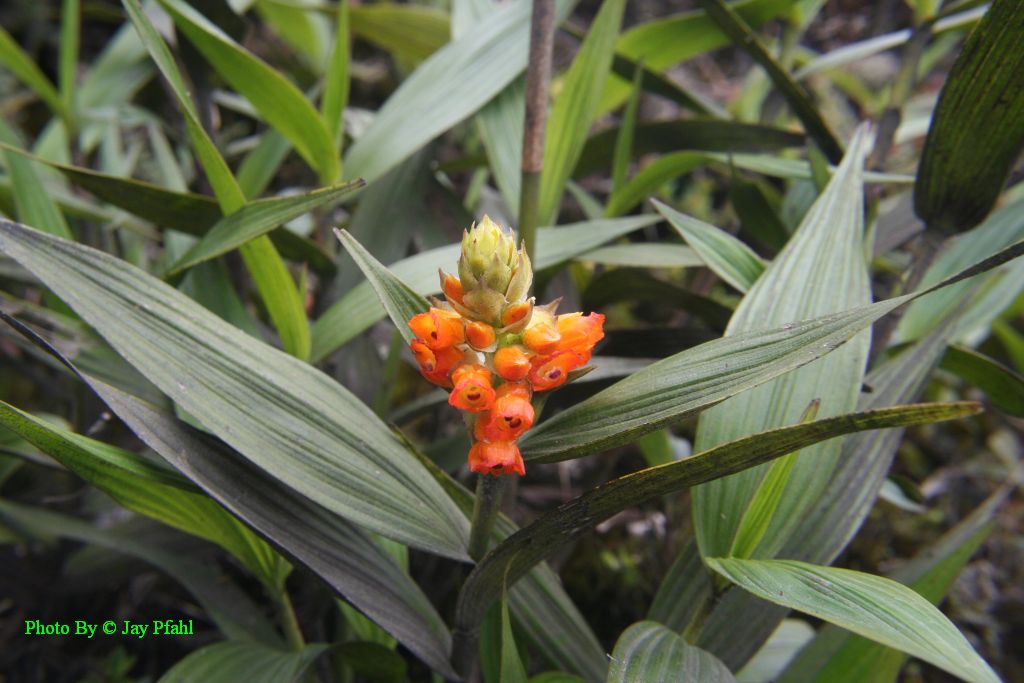 Elleanthus aurantiacus (Lindl.) Rchb. f. 1862
Photo by © Jay Pfahl
Photo by Andy's Orchids Copyright © 2002 All rights reserved.


to




Common Name The Orange Elleanthus
Flower Size .2" [5 mm]
Found from Honduras, Nicaragua, Costa Rica, Panama, Colombia, Venezuela, Ecuador, Peru and Bolivia as a small to large sized, warm to cold growing terrestrial or occasional epiphyte on rocky slopes, cliffs and clay banks at elevations of 800 to 3700 meters with a frequently branched stem carrying variable, lanceolate, mucronate, coriaceous, plicate, basally clasping leaves, that can bloom at any time of the year on a terminal, to 4" [to 10 cm] long inflorescence with ovate, lanceolate, acute to abruptly subacuminate, shorter than the flowers floral bracts and carrying a few to many successive flowers.
The first photo is of a plant located in Cundinamarca Colombia at an elevation of 3100 meters as a small sized terrestrial blooming in the spring.
Synonyms Elleanthus bractescens (Lindl.) Rchb.f. 1862; Elleanthus cajamarcae Schltr. 1921; Elleanthus galipanensis Schltr. 1919; Elleanthus hallii (Rchb.f.) Rchb.f. 1863; Elleanthus hoppii Schltr. 1924; Elleanthus lindenii (Rchb. f.) Rchb. f. 1862; Elleanthus lindenii var. cymbibracteus (Linden & Rchb.f.) Rchb.f. 1862; Elleanthus pallidiflavus Schltr. 1921; Elleanthus pallidiflorus Schltr. ex Mansf. 1929; *Evelyna aurantiaca Lindl. 1844; Evelyna bractescens Lindl. 1846; Evelyna hallii Rchb.f. 1852; Evelyna lindenii Rchb. f. 1852; Evelyna lindenii var. cymbibractea Linden & Rchb.f. 1854
References W3 Tropicos, Kew Monocot list , IPNI ; Bonplandia Rchb.f 1854 as E lindenii var cymbibractea; Die Orchideen der Sudamerikanischen Kordillerenstaaten I Venezuela Schlechter 1919 as E galipanensis; Repert. Spec. Nov. Regni Veg. Beih. 8: 37 Schlechter Ecuador 1921; Repert. Spec. Nov. Regni Veg. Beih. 8: 37 Schlechter Ecuador 1921 as E hallii; Repert. Spec. Nov. Regni Veg. Beih. 9: 45 Peru Schlechter 1921 as E bractescens; Repert. Spec. Nov. Regni Veg. Beih. 9: 45 Peru Schlechter 1921 as E cajamarcae; Repert. Spec. Nov. Regni Veg. Beih. 9: 45 Peru Schlechter 1921 as E hallii; Repert. Spec. Nov. Regni Veg. Beih. 9: 45 Peru Schlechter 1921 as E pallidiflorus; Die Orchideen der Sudamerikanischen Kordillerenstaaten IV Peru Schlechter 1921 as E cajamarcae; Die Orchideen der Sudamerikanischen Kordillerenstaaten IV Peru Schlechter 1921 as E pallidiflavus; Beitrage Zur Orchideenkunde Von Colombia 27:15 Schlechter 1924 as E hoppii; Flora Brasilica Vol XII II 13-43 Hoehne 1945; Flora Brasilica Vol XII II 13-43 Hoehne 1945 as E bractescens; Flora Brasilica Vol XII II 13-43 Hoehne 1945 as E cajamarcae; Flora Brasilica Vol XII II 13-43 Hoehne 1945 as E gallipanensis; Flora Brasilica Vol XII II 13-43 Hoehne 1945 as E hallii; Flora Brasilica Vol XII II 13-43 Hoehne 1945 as E hoppii; Flora Brasilica Vol XII II 13-43 Hoehne 1945 as E lindenii; Flora Brasilica Vol XII II 13-43 Hoehne 1945 as E pallidiflavus; The Orchids of Panama L.O. Williams & P Allen 1946; AOS Bulletin Vol 27 No 6 1958; Orchids of Peru Vol 1 Schweinfurth 1958; Orchids of Peru Vol 1 Schweinfurth 1958 as E hallii; Orchids of Peru Vol 1 Schweinfurth 1958 as E bractescens; Venezuelan Orchids Vol 4 Dunsterville & Garay 1966 drawing ok; Flora de Venezuela Foldats Volumen XV Part 1 1969 drawing ok; Flora of Ecuador No 9 225[1] Garay 1978 drawing fide; Flora of Ecuador No 9 225[1] Garay 1978 as E hallii drawing ok; drawing fide; Orchids of Venezuela An Illustrated Field Guide Vol 1 Dunsterville & Garay 1979 drawing ok; Icones Planetarum Tropicarum Plate 807 Dodson 1983 drawing hmm; Selbyana Vol 10 Orchids of Central America Hamer 1988 drawing hmm; Icones Planetarum Tropicarum Plate 450 Dodson 1989 as E hallii drawing hmm; The Illustrated Encyclopedia of Orchids Pridgeon 1992 photo fide; Field Guide to the Orchids of Costa Rica and Panama Dressler 1993; Manual of Orchids Stewart 1995; Orchids of Venezuela [An illustrated field guide] Vol. 1 Ramiro and Carnevali 2000 drawing ok; Native Ecuadorian Orchids Vol 2 Dodson 2001 drawing ok; Native Ecuadorian Orchids Vol 2 Dodson 2001 as E hallii drawing ok; Manual de Plantas de Costa Rica Hammel, Grayum, Herrera and Zamora 2003; Orquideas Nativas del Tachira Cesar Fernandez 2003 as E auranthiacus photo fide; Orchids of Bolivia Vol 2 Laelinae Vasquez and Ibisch 2004 photo fide; Australian Orchid Review Vol 73 No 2 2008 photo; Orchid Species of Peru Zelenko Bermudez 2009 photo fide; Orchids of Costa Rica Vol 2 Morales 2009 photo fide; Flora of Ecuador No 87 225[3] Orchidaceae Dodson & Luer 2010 drawing hmm; Flora of Ecuador No 87 225[3] Orchidaceae Dodson & Luer 2010 as E hallii; Orchids of the Department of Valle de Cauca Colombia Vol 1 Kolanowska & Szlachetko 2012 drwaing good/photos fide; Orquideas Del Valle de Aburra Medellin Colombia COS 2014 photo fide; Orchid Digest Vol 81 #1 2017 photo fide; Orquideas de Farallones de Cali Galindo-Tarazona, Haelterman, Zuluaga Trochez and Sebastian Moreno 2020 photo fide
----------------------------------------------------------------------------------------------------------