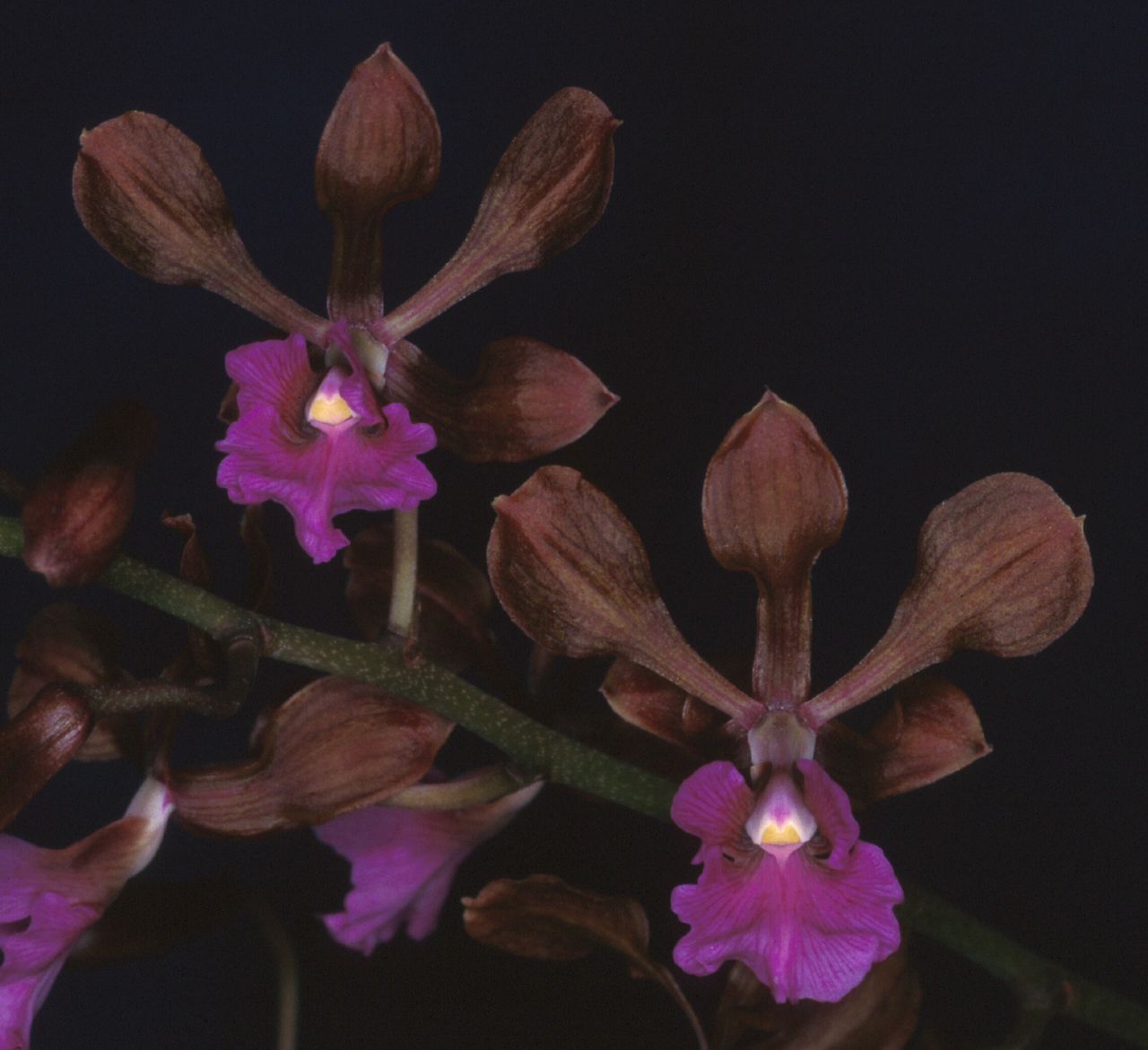 Encyclia hanburyi (Lindl.) Schltr. 1914
Photo by © Lourens Grobler.
Photo by © Andy's Orchids Copyright © 2002 All rights reserved.
font color=red> Photo by © Patricia Harding.



LATE


to EARLY

Common Name Hanbury's Encyclia [English Orchid Enthusisast early 1900's]
Flower Size 2" [5 cm]
A Mexican and Guatemalan, medium sized, cool growing, terrestrial species found in well drained clay soil amid dry oak and pine forests on trees or occasionally rocks at elevations of 1200 to 1800 meters with clustered, ovoid-conical pseudobulbs carrying 1 or 2, elliptic-lanceolate or elliptic oblong, obtuse leaves that flowers in the late winter through early summer on an apical, erect, to 3'4" [100 cm] long, racemose or branched, many [35] flowered inflorescence.
Synonyms Epidendrum atropurpureum var. roseum (Bateman) Rchb. f. 1854; Epidendrum hanburyanum B.S.Williams 1862; *Epidendrum hanburii Lindl. 1844
References W3 Tropicos, Kew Monocot list , IPNI ; Die Orchideen Schlechter 1915; The Genus Epidendrum Ames 1936; AOS Bulletin Vol 31 No 3 1962 as Epidendrum hanburgii; Orchid Digest Vol 34 #9 1970 as Epidendrum hanburyi drawing fide; The Genus Encyclia in Mexico Dressler & Pollard 1974 photo fide; Orquídea (Mexico City), n.s., 7[3]: 1979 drawing/photo fide; An Introdution to the Orchids of Mexico Wiard 1987 photo fide; A Guide to Orchids of the World Hodgson, Paine and Anderson 1991 photo fide; Manual of Cultivated Orchid Species Bechtel, Cribb, & Launert 1992; Manual Of Orchids Stewart 1995 drawing ok; Cattleyas and Their Relatives Vol 5 Withner 1998 photo fide; Botanicas Orchids Laurel Glen 2002 photo fide; Icones Orchidacearum 5 & 6 Orchids Of Mexico Parts 2 & 3 Plate 559 Hagsater, Soto 2002 drawing fide; Flora's Orchids Nash & La Croix 2005 photo fide; Orchids of Mexico Hagsater, Soto, Salazar, Jimenez, Lopez & Dressler 2005 photo fide; Guia de Orquideas de Chiapas Carlos Rommel Beutelspacher Baigts 2013 photo fide; Orchid Genera and Species in Guatemala Archila, Szlachchetko, Chiron, Lipinska, Mystkowska and Bertolini 2018
--------------------------------------------------------------------------------------------------------------------------