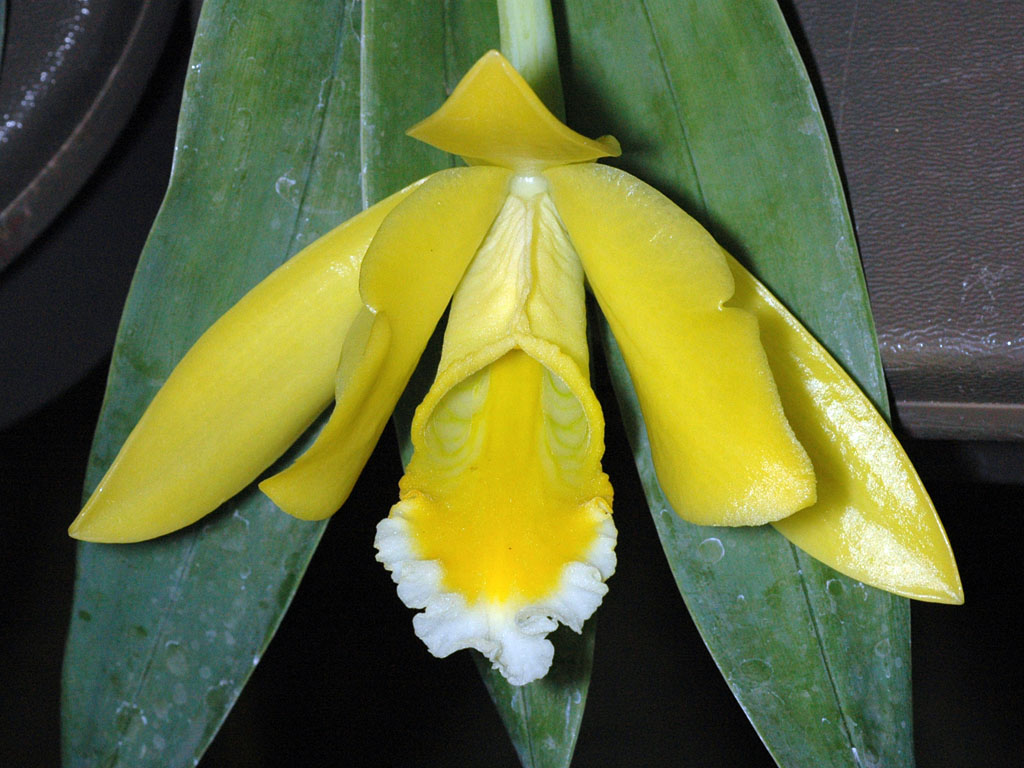 Euchile citrina [La Llave & Lex.] Withner 1998
Photos by © Eric Hunt
Photo courtesy of Noble Bashor
Cut flowers for sale in Mexico
Photo courtesy of Weyman Bussey





and EARLY

Common Name Daffodil or Tulip Orchid - in Mexico - Limoncito [Little Lemon] - The Citrus Euchile
Flower Size 3 - 3 1/2" [7.5 to 8.7 cm]
Endemic to central and southern Mexico, this small sized, pendant, epiphytic, cool to cold growing orchid with gray green foliage and pseudobulbs is found growing in light shade in oak and pine forests at elevations of 1300 to 2600 meters with clustered, pendant, ovoid, conical or fusiform pseudobulbs carrying 2 to 4 towards the apex, elliptic, obtuse or acute leaves that blooms in the spring or early summer on an apical, pendant racemose inflorescence that is the 8" [20 cm] long, or the length of the leaves, with 1 or 2 fragrant waxy flowers smelling of citrus.
This plant is best mounted on tree fern or cork in a pendant position where it should recieve waterings while in growth and a long rest in the winter after growth has matured.
The citrina flower is said to relieve stomach disorders and the pseudobulbs are used to make poulstices.
Synonyms Cattleya citrina [La Llave & Lex.] Lindl. 1824; Cattleya sulfurina Lem. 1854; Encyclia citrina (La Llave & Lex.) Dressler 1961 Epidendrum citrinum (La Llave & Lex.) Rchb. f. 1862; Hormidium citrinum [La Llave & Lex.] Brieger 1977; Prosthechea citrina (Lex.) W.E.Higgins 1998; *Sobralia citrina La Llave & Lex. 1825
References W3 Tropicos, Kew Monocot list , IPNI ; Xenia Orchidaceae Rchb.f 1862 as Epidendrum citrinum; Die Orchideen Schlechter 1915 as Cattleya citrina; Atlas des Orchidees Cultivees Constantin 1920 as Cattleya citrina drawing fide; AOS Bulletin Vol 29 No 3 1960 as Cattleya citrina; AOS Bulletin Vol 30 No 9 1961 as Cattleya citrina; Encyclopedia of Cultivated Orchids Hawkes 1965 as Cattleya citrina; AOS Bulletin Vol 38 #11 1969 as Cattleya citrina photo fide; Die Orchideen 3 Auflage Bd 1 Sonderabdruck aus Schlechter Lieferung 9 513 - 576 Brieger, Maatsch and Senghas 1977 as Hormidium citrinum; AOS Bulletin Vol 48 No 5 1979 as Encyclia citrina; Orquídea (Mexico City), n.s., 7[3]: 1979; AOS Bulletin Vol 49 No 1 1980 as Encyclia citrina photo fide; Orquideologia Vol 15 #1 Luer & Escobar 1981 as Cattleya citrina; AOS Bulletin VOl 51 No 9 1982 as Encyclia citrina photo fide; Flora Novo-Galaciana Vol 16 McVaugh 1985 as Encyclia citrina; AOS Bulletin Vol 54 No 7 1985 as Encyclia citrina photo fide; An Introdution to the Orchids of Mexico Wiard 1987 as Encyclia citrina photo fide; The Manual Of Cultivated Orchid Species Bechtel, Cribb & Launert 1992 as Encyclia citrina drawing/photo fide; AOS Bulletin Vol 64 No 6 1995 as Encyclia citrina photo fide; AOS Bulletin Vol 64 No 10 1995 photo as Encyclia citrina; *The Cattleyas and Their Relatives Vol V Withner 1998 photo fide; Australian Orchid Review Vol 65 No 6 2000 photo; Rudolf Schlechter Die Orchideen Band 1C lieferung 42 - 43 pg 2626 - 2762 Brieger 2001; AOS Bulletin Vol 71 No 6 2002 as Encyclia citrina photo fide; Orquideas del Estado de Morelos ORQUÍDEA (MÉX.) VOLUMEN 16 NÚMERO ÚNICO enero 2002 drawing/photo fide; Australian Orchid Review Vol 68 No 4 2003 photo; AOS Bulletin Vol 73 No 6 2004 as Encyclia citrina photo fide; *The Cattleya and Their Relatives Vol 7 The Debateable Epidendrum Withner & Harding 2004; AOS Bulletin Vol 74 No 5 2005 as Encyclia citrina photo fide; AOS Bulletin vol 78 No 7 2009 photo fide; Mille et Une Mini Orchideees Roguenant 2009 as Prosthechea citrina photo fide; Orchid Digest Vol 80 #2 2016 as Prosthechea citrina
--------------------------------------------------------------------------------------