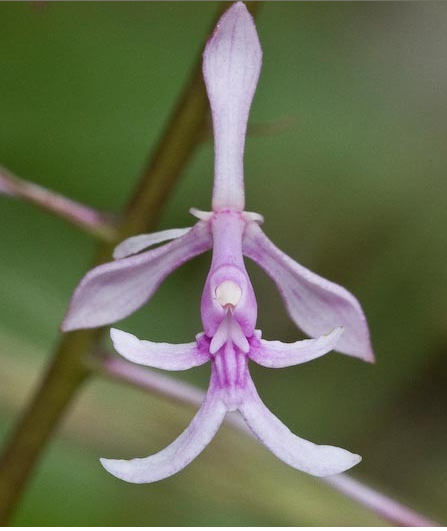 Epidendrum amplum D.E.Benn. & Christenson 1998 GROUP Pseudepidendrum SUBGROUP Porphyreum
Photo by © Quintin Lake and his Architectural Photography website.
Photo by © Eric Hunt.



LATE


Common Name The Extensive Inflorescence Epidendrum [refers to the massive inflorescence with the branches all held in a single plane]
Flower Size .6" [1.5 cm]
Found in Ecuador, Peru and Bolivia in wet montane forests on steep brush covered slopes at elevations of 1100 to 2000 meters as a giant sized, cool growing terrestrial reed stem orchid with erect, terete, cane-like stems enveloped by persistent leaf bearing sheaths and carrying many coriaceous, lanceolate, acute-acuminate, basally clasping leaves that as the plant matures are held more towards the apex and blooms in the late winter and spring on a terminal, paniculate, many branched, each branch 10"+ [25 cm+] and held in a single plane, many flowered inflorescence carrying pink, fragrant flowers.
The flower in the second photo according to Dr Eric Christenson is or is close to E amplum, the first photo is much closer to the type.
Synonyms Epidendrum paniculatum var longicrure Lindl. 1853
References W3 Tropicos, Kew Monocot list , IPNI ; The Orchids of Sikkim-Himalaya Part 1 King & Pantling 1898 as Dendrobium amplum drawing fide;Icones Orchidacearum Peruviarum plate 447 Christenson & Bennett 1998 drawing fide [for 1st flower photo]; AOS Bulletin Vol 68 No 2 1999 photo; Rudolf Schlechter Die Orchideen Band 1C lieferung 42 - 43 pg 2626 - 2762 Brieger 2001; Orchids of Bolivia Vol 2 Laelinae Vasquez and Ibisch 2004; Orchid Species of Peru Zelenko Bermudez 2009 photo fide; Icones Orchidacearum 13 Plate 1303 Hagsater & Sanchez 2010 drawing fide; Las Orquideas del Peru Izerskyy & Bezverhov 2011 photo fide to second photo
--------------------------------------------------------------------------------------------------------------------------