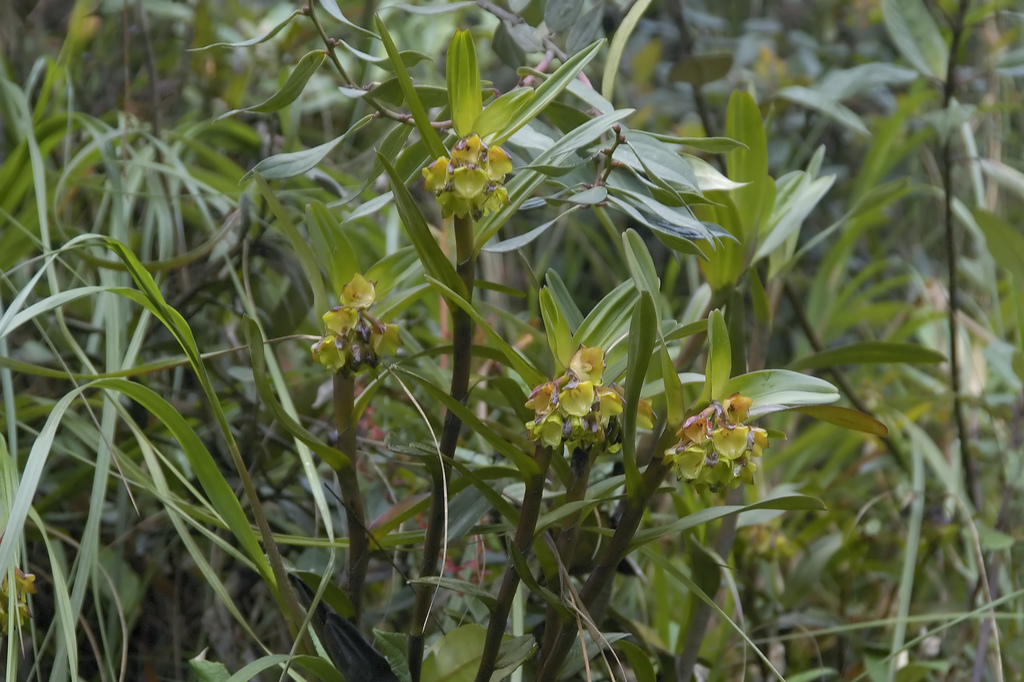 Epidendrum anderssonii Hágsater & Dodson 1993 GROUP Andean SUBGROUP Renilabium Photo by © Eric Hunt
Photo by © Patricia Harding
TYPE Drawing by © Jimenez, Hágsater & E.Santiago and The AMO Herbario Website


to





Common Name Andersson's Epidendrum [Ecuadorian Orchid Specialist and Collector current]
Flower Size 1/5" [5 mm]
Found in Colombia, Ecuador, Peru and Bolivia in very wet, cool montane forests on steep embankments with mosses at elevations of 1900 to 3000 meters as a medium to large sized, cool to cold growing terrestrial or lithophytic orchid with an elongate, woody, cane-like stem that can branch either apically or basally and is enveloped by close, tubular, scarious sheaths and carries elliptic, acute leaves that are basally clasping to the stem and blooms at most any time of the year on a short, few flowered, terminal, racemose inflorescence carrying subsessile, thick, fleshy, non-fragrant flowers.
The pictured orchid was photographed in situ near Machu Picchu Peru.
Hagsater in his assesment of the species in Icones Orchidacearum 12 Plate 1225 Hagsater 2009 included E andersonii as a synonym of E colombianum but in a personal communication [5 2017] he stated "that is what we thought 8 years ago based on herbarium specimens, but now that I have seen live material in flower again in Ecuador, I am not too sure and would like to discuss this with Elizabeth Santiago, but we have not gotten down to it." I have had the 2 species separate all along.
Synonyms Epidendrum inamoenum var. robustum C.Schweinf. 1953
References W3 Tropicos, Kew Monocot list , IPNI ; Orchids of Peru Vol 2 Fieldiana Schweinfurth 1959 as Epidendrum inamoenum var robustum; *Icones Orchidacearum 2 The Genus Epidendrum Part 1 Plate 107 Hagsater 1993 drawing fide; Icones Orchidacearum Peruviarum Plate 449 Bennett & Christenson 1998 drawing fide; Icones Orchidacearum 4 Plate 469 Hagsater 2001 see recognition section; Icones Orchidacearum 4 Plate 479 Hagsater 2001 see recognition section; Machu Picchu Orchids Christenson 2003; Orchids of Bolivia Vol 2 Laelinae Vasquez and Ibisch 2004 photo fide; Icones Orchidacearum 12 Plate 1225 Hagsater 2009 as synonym of E colombianum in error
--------------------------------------------------------------------------------------------------------------------------