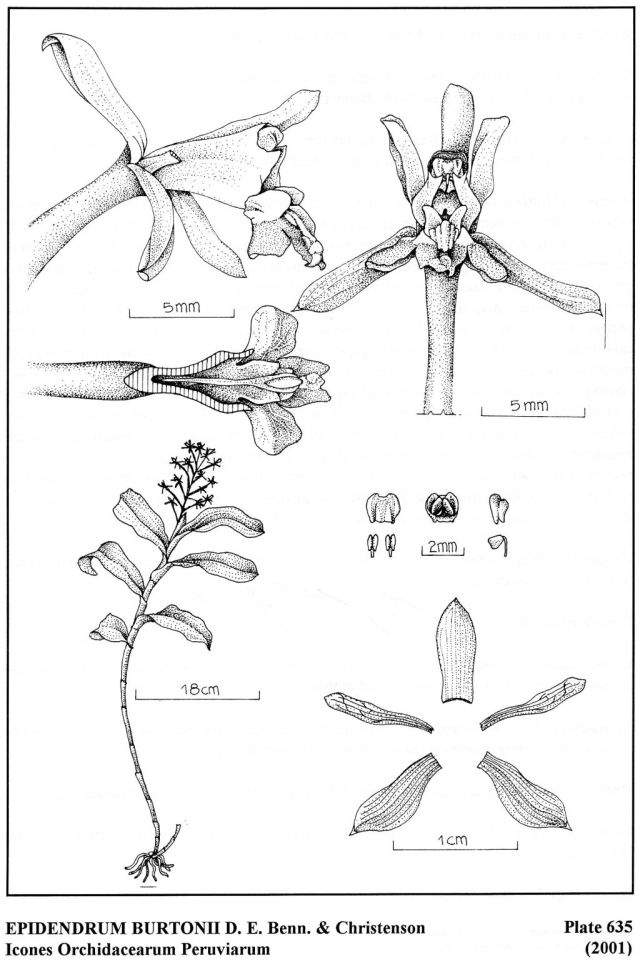 Epidendrum burtonii D.E.Benn. & Christenson 2001 GROUP Excisum SUBGROUP Leucochilum
TYPE Drawing by © Bennett & Christenson



Common Name Burton's Epidendrum [American Orchid Enthusiast and Coordinator for expedition that resulted in this find - Current]
Flower Size .6" [1.5 cm]
Found in Peru on exposed rock or in fine layer of rock debris on exposed montane slopes at elevations around 1700 meters as a giant sized, cool growing lithophyte with erect stems carrying narrowly oblong-elliptic, basally clasping, acuminate leaves in the upper third of the stem and blooms in the spring on a terminal, racemose, 2.4 to 2.8" [6 to 7 cm] long, several flowered inflorescence enveloped by 2 to 3 basal, imbricating, acuminate bracts and has fleshy flowers.
CAUTION!!!!!!!!!!!!!!!!! The net is full of photos of an orchid reported to be E burtonii, but to me all of these are E radicans within the Secundum group.
E burtonii according to the authors is in the GROUP Excisum SUBGROUP Leucochilum characterized by the caespitose plants with cane-like, erect stems, fleshy leaves, the base of the inflorescence with 1 to 2, spathe-like bracts, star-shaped flowers with narrow sepals and pctals, and a prominent, acuminate, lip. The species is similar to E euspathum [E lehmannii] and the flower color is described as, sepals clear green within, exterior wine red, the petals are clear green with the base being reddish brown, the lip is cream white and the column apex is cream white while the rest is greenish with wine red dorsal mottling.
Synonyms
References W3 Tropicos, Kew Monocot list , IPNI ; *Icones Orchidacearum Peruviarum Plate 635 Bennett & Christenson 2001 drawing fide; LANKESTERIANA 14(1) 2014
--------------------------------------------------------------------------------------------------------------------------