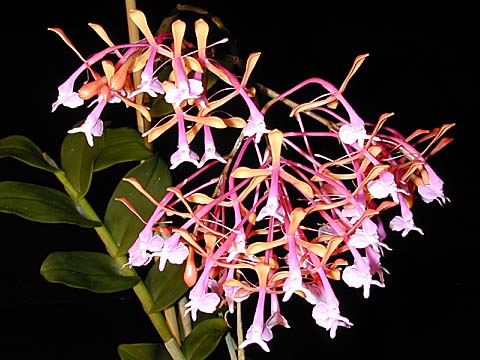 Epidendrum capricornu Kraenzl. 1916 GROUP Pseudoepidendrum SUBGROUP Porphyreum Photo by Andy's Orchids Copyright © 2002 All rights reserved.
Flower Closeup Photo by © Lourens Grobler
Flower Closeup Side View Photos by © Jay Pfahl


to





Common Name The Goat-Horned Epidendrum
Flower Size 1.2" [3 cm]
Found in Ecuador and Peru at elevations of 1700 to 2750 meters as a small to medium sized, cool to cold growing epiphyte with simple, cane-like, terete towards the base, laterally compressed towards the apex, erect, straight stems enveloped in the basal 1/3, by tubular, nonfoliaceous, scarious sheaths carrying to 11, along the upper 2/3 of the stem, distichous, erect to sub spreading, unequal in size, oblong-elliptic, acute, grass-like, entire margin, articulate below into the clasping base leaves that blooms on a erect, lax, thin, laterally compressed, ancipitose, many [70] flowered paniculate inflorescence with 8 subspreading, few flowered racemose branches each with a basal, narrowly triangular, acuminate bract, and a shorter than the ovary, narrowly triangular, acuminate, amplexicaul floral bract and carrying non-fragrant, simultaneously opening, resupinate flowers occuring at most any time of the year.
References W3 Tropicos, Kew Monocot list IPNI ; Orchids of Peru, Vol 2 Fieldiana Schweinfurth 1959; AOS Bulletin Vol 64 no 1 1995 photo;; Orchid Species of Peru Zelenko Bermudez 2009 photo fide; Icones Orchidacearum 13 Plate 1309 Hagsater & Sanchez 2010 drawing fide; Icones Orchidacearum 13 Plate 1332 Hagsater 2010 see recognition section; Icones Orchidacearum Part 13 Plate 1369 Hagsater 2010 see recognition section
--------------------------------------------------------------------------------------------------------------------------