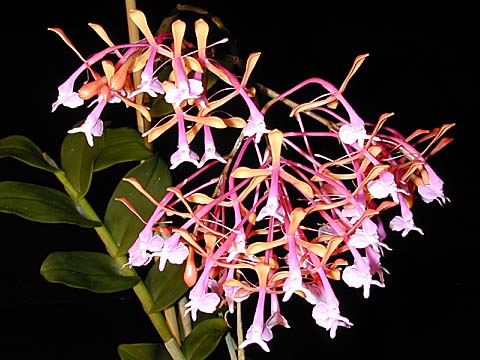 Epidendrum capricornu Kraenzl. 1916 GROUP Pseudepidendrum SUBGROUP Porphyreum
Photo by Andy's Orchids Copyright © 2002 All rights reserved.
Photo by © Lourens Grobler
Photos by © Jay Pfahl
Drawing by © Jimenez, Hágsater & E.Santiago and The AMO Herbario Website


to





Common Name The Goat-Horned Epidendrum
Flower Size 1.2" [3 cm]
Found in Ecuador and Peru at elevations of 1700 to 2750 meters as a small to medium sized, cool to cold growing epiphyte with simple, cane-like, terete towards the base, laterally compressed towards the apex, erect, straight stems enveloped in the basal 1/3, by tubular, nonfoliaceous, scarious sheaths carrying to 11, along the upper 2/3 of the stem, distichous, erect to sub spreading, unequal in size, oblong-elliptic, acute, grass-like, entire margin, articulate below into the clasping base leaves that blooms on a erect, lax, thin, laterally compressed, ancipitose, many [70] flowered paniculate inflorescence with 8 subspreading, few flowered racemose branches each with a basal, narrowly triangular, acuminate bract, and a shorter than the ovary, narrowly triangular, acuminate, amplexicaul floral bract and carrying non-fragrant, simultaneously opening, resupinate flowers occuring at most any time of the year.
"Epidendrum capricornu belongs to the GROUP Pseudepidendrum is characterized by caespitose plants, canelike stems, acute to acuminate leaves, apical inflorescence, lacking a spathaceous bract, the petals filiform and the lip usually 3-lobed, with 3 parallel fleshy keels, the apical lobe often bifurcate, and the pollinia "bird-wing" type and SUBGROUP Porphyreum which has flowers colored reddish orange, deep purple or lilac-pink, the calli generally prominent, sometimes horn-like. The species is recognized by the flowers with the sepals purple-brown, the ventral surface pale yellow and a purple lip, the somewhat reflexed sepals, .52 to .6" [14 to 15 mm] long, the lateral lobes of the lip slightly falcate, and the mid-lobe deeply emarginate, forming a pair of linear, horn-like, somewhat divaricate lobes. Epidendrum peraltum Schltr. has taller plants, to 100" {2.5 meters], with lanceolate leaves, 2.2 to 8" x 1 to 1.84" [5.5 to 20 x 2.5 to 4.6 cm]; sepals .56 to .64" {14 to 16 mm] long greenish yellow tinged with pink to totally dirty pink, sepals spreading, lateral lobes of the lip strongly falcate, midlobe forming a rectangular isthmus with an apical pair of linear, strongly divaricate lobes." Hagsater etal 2010
References W3 Tropicos, Kew Monocot list , IPNI ; Orchids of Peru, Vol 2 Fieldiana Schweinfurth 1959; AOS Bulletin Vol 64 no 1 1995 photo fide; Orchid Digest Vol 63 #1 1999 photo fide; Orchid Digest Vol 70 #1 2006 photo fide; AOS Bulletin Vol 78 #6 2009 photo fide;Orchid Species of Peru Zelenko Bermudez 2009 photo fide; Icones Orchidacearum 13 Plate 1309 Hagsater & Sanchez 2010 drawing fide; Icones Orchidacearum 13 Plate 1332 Hagsater 2010 see recognition section; Icones Orchidacearum Part 13 Plate 1369 Hagsater 2010 see recognition section; Icones Orchidacearum 14 Plate 1432 Hagsater & Santiago 2013 See recognition section; Icones Orchidacearum 15 [1] Plate 1526 Hagsater & Sanchez 2015 see recognition section; AOS Bulletin Vol 86 # 3 2017 photo fide;
--------------------------------------------------------------------------------------------------------------------------