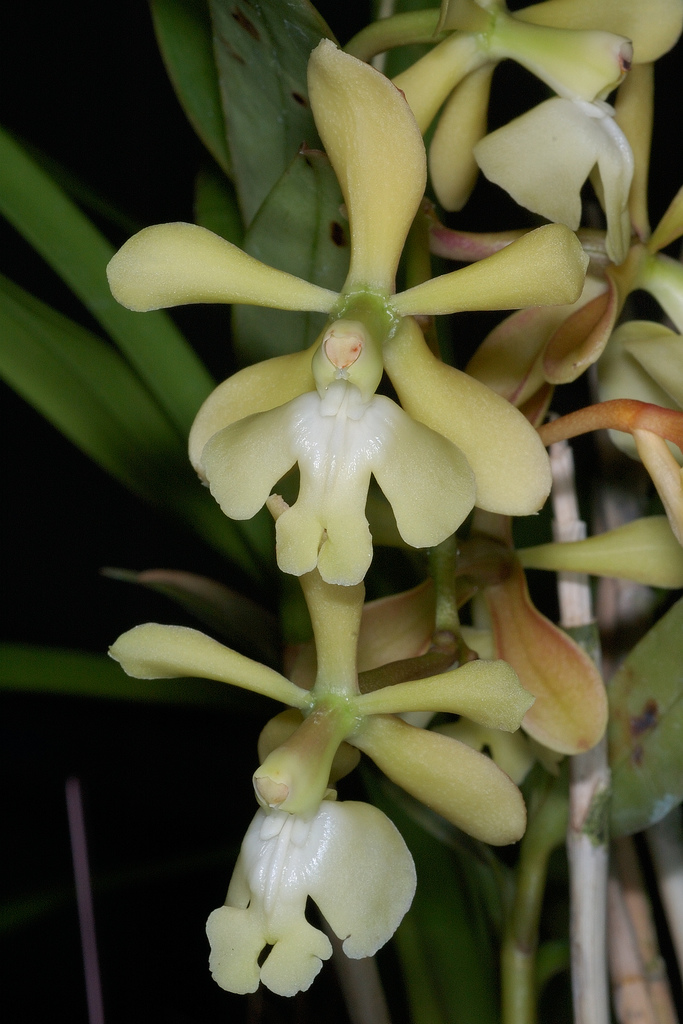 Epidendrum coronatum Ruiz & Pav. 1798 GROUP Coronatum Photo by © Eric Hunt and His Orchid Website
Inflorescence Photo by © Patricia Harding
Flower Closeup Photo by © Carlos Hajek






Common Name The Crown-Like Epidendrum [refers to the inflorescence that crowns the stem]
Flower Size 1 3/4" [4 cm]
This is a large sized, hot to cool growing, caespitose epiphytic or lithophytic, reedstem species that is found in rainforests on trunks and branches of trees and occasionally on rocky slopes from Mexico, Guatemala, Belize, Costa Rica, Panama, Trinidad & Tobago, Venezuela, Colombia, Ecuador, Peru, Bolivia and Brazil at elevations of 100 to 1500 meters with erect, unbranched, lightly fractiflex stems with the lower portion having 4 to 5, tubular, scarious sheaths and the upper portion having articulated, elliptic to oblong-elliptic leaves that has a terminal, arching to pendant, 1 3/4' [4 cm] long, densely many [10 to 35] flowered, racemose inflorescence with 2 to 3 close bracts arising on a mature cane occurring in the winter and spring with simultaneously opening flowers with a day scent of slight sweet green tea and night scent of lemon,.
The first photo does not jive exactly to the drawings as the lobes of the lip apex is twice as large as drawn. The second photo is an exact match.
This species is recognized by its large, ivory colored flowers, the leaves arfe somewhat succulent and the inflorescence generally lacks basal bracts.
Synonyms Epidendrum amazonicum Schltr. 1925; Epidendrum benignum Ames 1923; Epidendrum compositum Vell. 1860; Epidendrum moyobambae Kraenzl. 1905; Epidendrum subpatens Schltr. 1922; Epidendrum sulphuroleucum Barb. Rodr. 1877
References W3 Tropicos, Kew Monocot list , IPNI ; Lankester's Epidendra Website CR ; *Syst. Veg. Fl. Peruv. Chil. 1: 242. 1798; Repert. Sp. Nov. Regni. Veg. Beih. 17: 40. Panama Schlechter 1922 as E subpatens; Repert. Sp. Nov. Regni. Veg. Beih. 19: 34. Costa Rica Schlechter 1923 as E benignum; The Genus Epideendrum Ames 1936 as Epidendrum subpatens; The Orchids of Panama L.O. Williams & P Allen 1946 as E moyobambae; Ceiba Vol 5 No 1 L O Williams 1956 as E moyobambe; AOS Bulletin Vol 27 No 6 1958 as E moyobambae; AOS Bulletin Vol 28 No 3 1959 photo as E moyobambe; Orchids of Peru Vol 2 Fieldiana Schweinfurth 1959; Orchids of Peru Vol 2 Fieldiana Schweinfurth 1959 as Epidendrum moyobambae; Native Orchids of Trinidad Schultes 1960 as E moyobambae; AOS Bulletin Vol 31 No 3 1962 as Epidendrum moyobambae; Encyclopedia of Cultivated Orchids Hawkes 1965 as Epi moyobambae; Venezuelan Orchids Illustrated Vol 3 Dunsterville & Garay 1965 drawing fide; Flora de Venezuela Volumen 15 Parte 3 Foldats 1970 Drawing fide; Fieldiana Biology, Vol 33, 1st Supple. to the Orchids of Peru Schweinfurth 1970; Orchidaceae Brasiliense Band 1 Pabst & Dungs 1975 drawing fide; Die Orchideen 3 Auflage Bd 1 Sonderabdruck aus Schlechter Lieferung 9 513 - 576 Brieger, Maatsch and Senghas 1977 as E sulphuroleucum photo fide; Orchids of Venezuela, An Illustrated Field Guide Vol 1 Dunsterville & Garay 1979 drawing fide; The Orchids of Surinam Werkhoven 1986; Selbyana Vol 10 Orchids of Central America Hamer 1988 drawing fide; Icones Planetarum Tropicarum Series II Orchids of Bolivia plate 0329 Dodson & Vasquez 1989 drawing fide to the second photo; Icones Planetarum Tropicarum Plate 465 Dodson 1989 drawing fide; The Manual Of Cultivated Orchid Species Bechtel, Cribb & Launert 1992 drawing/photo fide; The Illustrated Encyclopedia of Orchids Pridgeon 1992 photo fide; Icones Orchidacearum Peruviarum Plate 043 Bennett & Christenson 1993 drawing fide; Field Guide to the Orchids of Costa Rica and Panama Dressler 1993; Native Colombian Orchids Vol 5 COS 1994 photo ok; Icones Orchidacearum 4 Plate 450 Hagsater & Sanchez 2001 see recognition section; Orchids of Venezuela [An illustrated field guide] Vol. 1 Ramiro and Carnevali 2000 drawing fide; Botanica's Orchids Laurel Glen 2002 photo fide; Flora of the Venezuelan Guayana Vol 7 Steyermark, Berry, Yatskievych and Holst 2003; Manual de las Plantas de Costa Rica Vol 3 Hammel, Grayum, Herrera and Zamora 2003; Orchids of Bolivia Vol 2 Laelinae Vasquez and Ibisch 2004; Vanishing Beauty, Native Costa Rican Orchids Vol 1 Pupulin 2005 photo fide; Icones Orchidacearum Vol 11 Plate 1113 Hagsater & Sanchez 2008 drawing fide; Orchid Species of Peru Zelenko Bermudez 2009 photo fide; Orchids of Costa Rica Vol 3 Morales 2009 photo fide; Orquideas de Roirama Luz & Franco 2012 photo fide; Orchidees du Bresil As Orquideas da Serra Do Castello Vol 3 Chiron & Bolsanello 2013 Drawing/photo fide; Orchids of the Darien Gap Kolanowska 2014 drawing fide; Orquideas, Tesoro de Colombia Vol 2 Ortiz & Uribe 2017 drawing/photo fide;
--------------------------------------------------------------------------------------------------------------------------