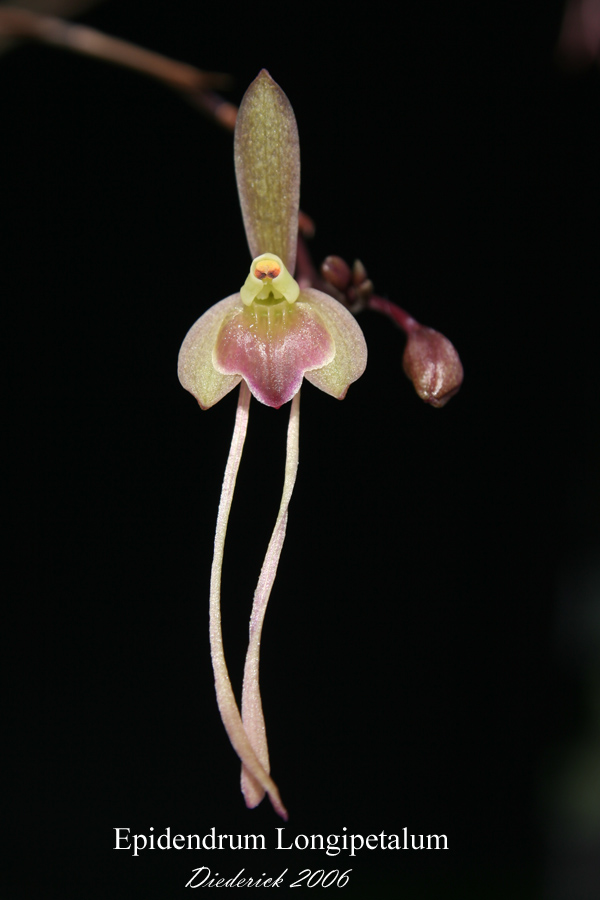 Epidendrum longipetalum A. Rich. & Galeotti 1845
Photo by © Diederick Antoni Copyright ©
Photo by © Weyman Bussey.

to






Common Name The Long-Petaled Epidendrum
Flower Size 3/4" wide [2 cm] but the petals continue to elongate as the flower matures and can reach 1 3/4" to 2" [4 to 5 cm]
This is a Mexican mini-miniature sized, cool to cold growing epiphytic and sometimes lithophytic species from the northwestern Gulf coast mountains where it occurs in cloud and oak forests at elevations of 1700 to 2200 meters with short, gradually widening stems enveloped by tubular, scarious sheaths and carrying 2 to 3 apical, elliptic to ovate, basally clasping leaves and flowers throughout the year on a terminal, long-pedunculate, 20 to 30" [50 to 75 cm] long, erect to arcuate, racemose inflorescence arising on mature or maturing pseudobulbs in the late winter subtended by many elliptic bracts with one to two successive flowers that open one at a time.
The old spikes can rebloom in future seasons so be sure to leave them until you are sure that they are dead.
Very similar to Epidendrum tortipetalum but it is a larger plant and flowers with shorter petals and a differently shaped lip.
Synonyms Epidendrum antenniferum Lindley & Paxton 1851
References W3 Tropicos, Kew Monocot list , IPNI ; Refugium Botanicum Reichenbach 1869 as Epidendrum antenniferum drawing fide; The Genus Epidendrum Ames 1936; AOS Bulletin Vol 26 No 10 1957; AOS Bulletin Vol 49 No 5 1979; Orquídea (Mexico City), n.s., 7[3]: 1979; Miniature Orchids Northen 1980 photo good; Icones Orchidacearum I Plate 34 Hagsater and Salazar 1990 drawing fide; The Illustrated Encyclopedia of Orchids Pridgeon 1992 photo fide; Miniature Orchids Mcqueen 1992 photo fide; Manual Of Orchids Stewart 1995; Botanica's Orchids Laurel Glen 2002 photo fide; Orchids of Mexico Hagsater, Soto, Salazar, Jimenez, Lopez and Dressler 2005; Miniature Orchids, A Compendium Parsons and Gerritson 2013 photo fide; Algunas Orquideas de Mexico Tomo 1 Suarez 2013 photo fide; AOS Bulletin Vol 84 #2 2015 photo fide;
--------------------------------------------------------------------------------------------------------------------------